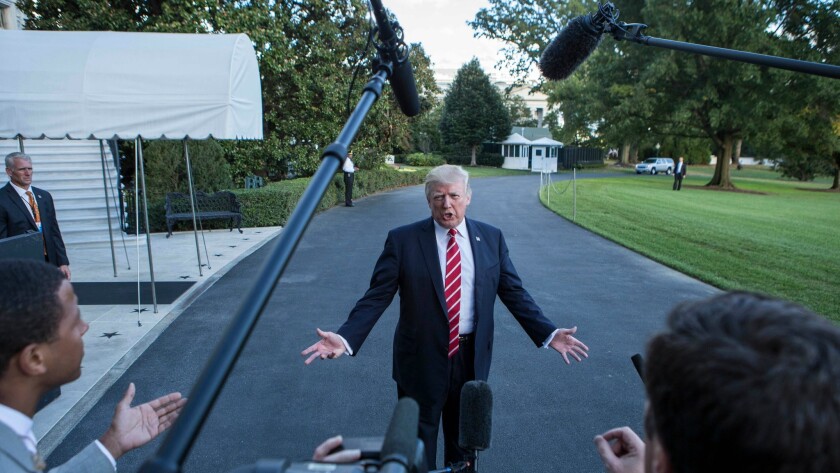 President Trump suggested that he invented the word "fake," or the term "fake news" in an interview on Saturday, prompting a weekend correction from dictionary Merriam-Webster.
"The media is really, the word, one of the greatest of all [the] terms I've come up with, is 'fake,'" Trump told former Arkansas Gov. Mike Huckabee on the Trinity Broadcasting Network, CNN reports. "I guess other people have used it, perhaps, over the years, but I've never noticed it. And it's a shame. And they really hurt the country. Because they take away the spirit of the country."
Some have speculated that Trump was using "fake" as shorthand for "fake news," one of his favorite phrases, which he's used several times in interviews, speeches and on Twitter.
The Fake News Media hates when I use what has turned out to be my very powerful Social Media - over 100 million people! I can go around them

— Donald J. Trump (@realDonaldTrump) June 16, 2017
Wow, so many Fake News stories today. No matter what I do or say, they will not write or speak truth. The Fake News Media is out of control!

— Donald J. Trump (@realDonaldTrump) October 4, 2017
Dictionary Merriam-Webster used Trump's favorite social media platform to point out that the phrase "fake news" dates at least back to the 19th century.
In a blog post, Merriam-Webster cited three examples of the phrase "fake news" from three American newspapers in 1890 and 1891.
If Trump was claiming he'd coined the word "fake," he'd be even more wrong. According to Merriam-Webster, the word first appeared in English in the 15th century.
"Fake news" doesn't have its own entry in the Merriam-Webster dictionary, and probably won't in the near future.
"The reason 'fake news' is unlikely to be entered in our dictionary anytime soon is that it is a self-explanatory compound noun — a combination of two distinct words, both well known, which when used in combination yield an easily understood meaning," Merriam-Webster explained.
But, as CNN points out, other dictionaries have decided the term warrants an entry of its own. Dictionary.com announced last month that it will add the phrase with this definition: "false news stories, often of a sensational nature, created to be widely shared online for the purpose of generating ad revenue via web traffic or discrediting a public figure, political movement, company, etc."
And the Cambridge English Dictionary already has the term on its website, with the definition "false stories that appear to be news, spread on the internet or using other media, usually created to influence political views or as a joke."
---