With writers and editors being murdered, free speech is at risk in Bangladesh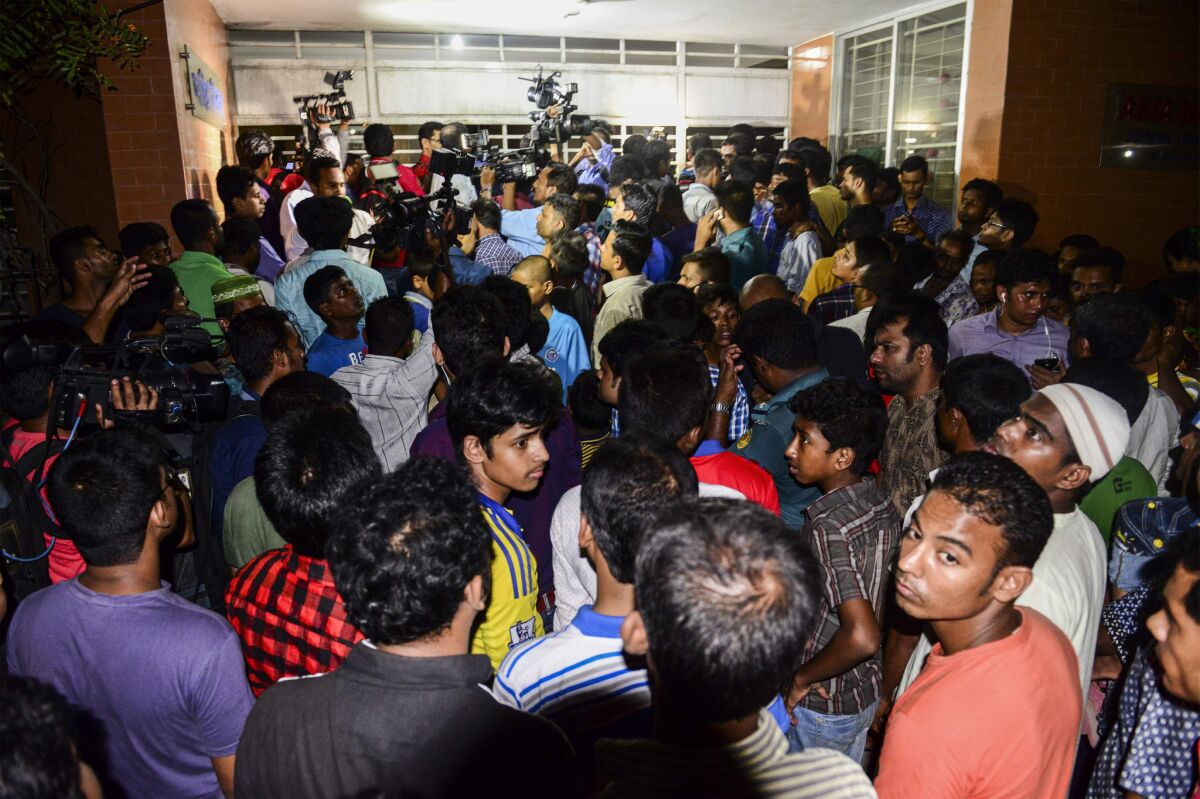 The threat to free speech in the nation of Bangladesh was highlighted by two recent slayings of journalists there, the latest in a long line of murders targeting secular writers in the South Asian country.
Xulhaz Mannan, the editor of Roopbaan, Bangladesh's only LGBT magazine, and a U.S. Embassy worker, was hacked to death Monday in a Dhaka apartment, the Dhaka Tribune reports. U.S. Ambassador to Bangladesh Marcia Bernicat has urged the government in the "strongest terms" to apprehend the assailants.
Mannan's friend Tanay Mojumdar was also killed in the attack, which was allegedly conducted by five or six young men disguised as couriers. According to the report, Mannan's mother and a domestic aide were present at the time of the attack. A security guard who went to investigate when he heard shouting was also injured.
The attack on Mannan took place two days after the killing of Rezaul Karim Siddique, an English professor at Rajshahi University, who was slain by machete-wielding assailants on his way to work.
These are only the latest in a recent string of killings of writers and journalists in Bangladesh. In a searing editorial Monday, the Dhaka Tribune called on authorities to work harder to arrest and prosecute the killers, who frequently attack in broad daylight, in front of witnesses. "Not only has the government failed to stop such killings or bring the perpetrators to justice, it has appeased their supporters by pointing fingers at victims and feeding the mind-set that people need to watch what they say and write, or suffer the consequences," the newspaper wrote, lamenting the closing down of free speech.
In New Dehli, expatriate Bangladeshi author Taslima Nasreen explained, "Atheist bloggers are not around, all left the country, or hiding. So Islamists [are] killing secular progressive people."
The terrorist group Islamic State claimed it was responsible for Siddique's slaying, and in a statement accused the literary magazine editor of "calling to atheism." The Bangladeshi government denied this, saying that Islamic State has no presence in Bangladesh.
It is clear that free speech in Bangladesh is in peril. The murders of Mannan and Siddique follow several other killings of writers and bloggers who have been accused of atheism by militant Islamic groups.
Earlier this month, law student Nazimuddin Samad was killed in Dhaka; the 28-year-old often criticized religious extremists online. And four other bloggers known for their secular views have been hacked to death in Bangladesh from 2013 to 2015.
The Dhaka Tribune criticizes the government for not protecting "secular writers and intellectuals" from terrorist violence. "What matters is that such fanatics are targeting individuals in Bangladesh to be slaughtered in public in cold blood. And they are acting with impunity," the editors wrote. "The government must catch the killers and fulfill its duty to protect all citizens."
Bangladesh is a constituional republic, but it has been criticized for having a state religion, Islam, and laws that have been used to crack down on citizens with dissenting viewpoints.
Amnesty International has taken notice of the recent killings in the country. "The situation in Bangladesh is becoming increasingly dangerous for those brave enough to speak their own minds. The latest heinous criminal attacks are a deliberate assault against freedom of expression in the country," said Abbas Faiz, the organization's Bangladesh researcher.
"Given the horrific pattern of violence, we have reason to believe many other lives are now at risk," Faiz added. "The cycle of violence and impunity must stop here. The right to freedom of expression, of all people, must be respected, protected and fulfilled."
PEN America has called for the U.S. State Department to assist writers at risk in Bangladesh. "For more than a year, Bangladesh has been ravaged by a spate of bloody attacks on bloggers and other writers who espouse secular viewpoints," Karin Deutsch Karlekar, director of Free Expression Programs, said after the death of Samad earlier this month. "We urge the Bangladeshi police and other authorities to do everything in their power to investigate and prosecute this vicious attack on free speech and thought, and halt this terrible pattern of murders. We also reiterate our demand for the United States and other countries that are able to provide refuge to shelter those writers who are still at grave risk before more lives are lost. This killing is a cruel illustration of the costs of inaction."
No arrests have been made yet in the murder of Mannan, the LGBT magazine editor. His slaying was condemned by Marcia Bernicat, the U.S. ambassador to Bangladesh. "I am devastated by the brutal murder of Xulhaz Mannan and another young Bangladeshi," she said, according to the Guardian. "We abhor this senseless act of violence and urge the government of Bangladesh in the strongest terms to apprehend the criminals behind these murders."
Get the latest news, events and more from the Los Angeles Times Book Club, and help us get L.A. reading and talking.
You may occasionally receive promotional content from the Los Angeles Times.