Harper Lee wrote that Trump casino was 'the worst punishment' in a letter up for auction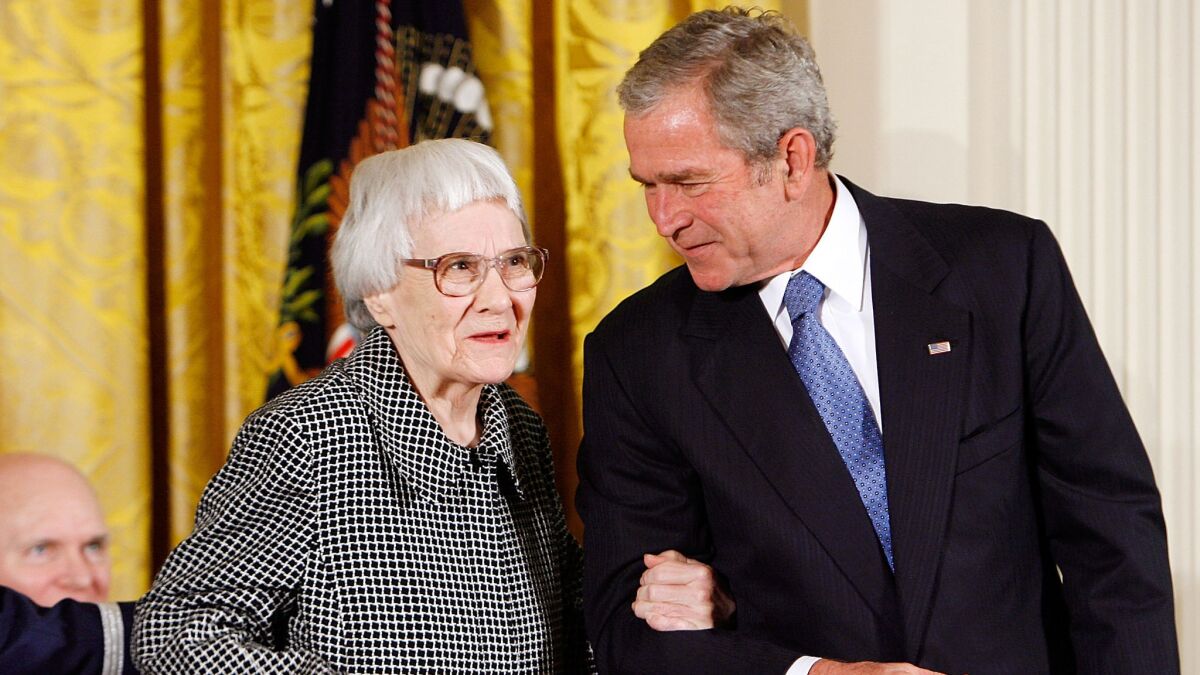 What did Harper Lee think of Donald Trump's Taj Mahal Casino in Atlantic City? That it was "the worst punishment God can devise," according to a letter that has come to light.
Twenty-nine letters from Lee, the author of "To Kill a Mockingbird" who died in February, are now up for auction. One reveals that the late author was no fan of Trump's New Jersey casino.
The letter, written by Lee in 1990 to her friend Doris Leapard, opens with a quote from King Edward VIII. "'At last I am able to say a few words...' (and I wish they were coming from Windsor Castle)."
They weren't. Lee continued, "The last set of Visitors departed today: the worst punishment God can devise for this sinner is to make her spirit reside eternally at the Trump Taj Mahal in Atlantic City."
Trump opened the Taj Mahal in 1990 after pouring millions into its luxurious accommodations. "I mean, the worst thing to happen with the Taj Mahal is for the building to open and for people to have been disappointed with it," he told officials at the time. "Because word of mouth on something like this, it's like a Broadway show." The Washington Post has reported about the complex financial dealings behind the casino and Trump's claims about them on the campaign trail.
Lee visited the casino less than five months after it opened. The letter she wrote about it is being sold by Los Angeles-based Nate D. Sanders Auctions. Other letters to Leapard and her husband, Bill, and to Lee's admirer Don Salter are also up for auction. Bidding will start at $750 for each of the letters, all of which are signed by Lee.
In another letter written to the Leapards, Lee complains about fans invading her privacy. "There has evolved a new holiday sport in Monroeville, that of people bringing their visiting relatives to look at me. There is so little in the way of entertainment, looking at Harper Lee is something to do."
Monroeville, Ala., was Lee's hometown. She died there in February at the age of 89.
Lee seemed to have mixed feelings about the town, writing about "a day of Old Monroeville reminiscence at shouting volume, tea-cakes and coffee. New Monroeville's collective memory goes back as far as the Building of Wal-Mart."
Another letter to Doris Leapard detailed Lee's horror at being asked for money and gifts by strangers. "You will never believe what people take it into their heads to ask for: everything from, 'Send two autographed first editions of Mockingbird' to 'Send $850 to help me get a new TV-VCR machine so I can look at the movie.' They don't even say please."
Lee also expressed her admiration for Vivian Malone Jones, one of the African American students who was blocked from enrolling at the University of Alabama by then-Gov. George Wallace.
Doris Leapard had sent Lee Jones' autograph. "I shall treasure it always," Lee wrote in a 1999 thank you letter to Leapard. "Looking back, it's incredible what people had to endure just for their basic rights. Today's young haven't a clue what their parents went through; they seem bored to hear about it."
Lee displayed a sense of humor in her letters to Salter, a fan of Lee's who corresponded with her for years. In one letter to Salter, she thanks him for books he sent her as gifts.
"'Hot Flashes, etc.' is a delightful companion-piece to 'White Trash Cooking,' which I'm already into with much delight," Lee wrote. "I hadn't known of its existence, which made it a lovely surprise. The photographs are something else again, and besides being beautiful, tell me where the white trash is these days. Like everybody else I know with two dimes and a trailer, they've gone to Florida!"
As of Monday morning, many of the letters had already attracted bids. Lee's letter bashing the Trump casino had fetched two bids, with the most recent one at $1,209.
---
Get the latest news, events and more from the Los Angeles Times Book Club, and help us get L.A. reading and talking.
You may occasionally receive promotional content from the Los Angeles Times.