14 Images
Writers recommend: Reading across the lines
I loved "Five Star Billionaire" by Tash Aw, a sprawling, multi-dimensional novel about contemporary China. And my favorite character was a woman, who was wonderfully drawn and human: ambitious, vulnerable, grasping, kind and unkind.
(Jennifer S. Altman / For The Times; Spiegel & Grau)
The Library of America reasserted its mission —publishing America's best and most significant writing — with "Susan Sontag: Essays of the 1960s & 70s." Page after page, Sontag enlightens with her provocative insights and delights with her compelling prose. These pieces at once evoke their era and prove to be timeless.
(Jay L. Clendenin / Los Angeles Times; Library of America)
Percival Everett rocks! That's all I can say. He can tell the heck out of a story, inside out, upside down, in ways you would never think of or expect. "Percival Everett" by Virgil Russell (Graywolf, $15 paperback) offers more than ample proof of that, not that if you needed it if you've been reading him for a while. He is the kind of writer who demands a lot from his reader, but he gives so much back, layers upon layers of narrative and language that leaves you both dazed and in awe, acrobatic plot lines, emotion, humor and just plain breathtaking brilliance.
(Jonathan Demme; Graywolf Press)
Ruth Ozeki's "A Tale for the Time Being" (Viking, $28.95), no question. An exquisite, complex, heartfelt novel — three stories folded into one beautiful gift. A transpacific tale of Japan and its diaspora that reveals how resilience and love and confusion and hope and survival tie us all together across time and space. Funny and powerful.
(Nina Subin / Riverhead Books; Viking)
"The Supremes at Earl's All-You-Can-Eat" by Edward Kelsey Moore
(Knopf, $24.95) because he captures the world of black women in the '60s, and because there are so few African American male novelists. I should also mention that he's an outstanding writer. He should be widely read.
(Barbara Davidson / The Los Angeles Times; Alfred A. Knopf)
A new
Edwidge Danticat
novel is a gift: It is language delicately calibrated to bring to your senses a different kind of music.
"Claire of the Sea Light"
(Knopf, $25.95) is filled with family love and loss, the salt shock of the Caribbean sea, and a quiet radiance that changes everything you know.
(Kirk McKoy / Los Angeles Times; Knopf)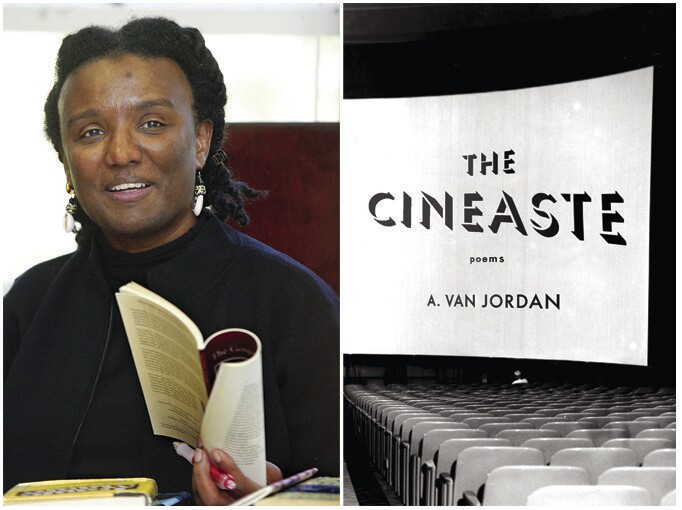 In "
The Cineaste: Poems"
(W.W. Norton, $26.95),
A. Van Jordan
's imaginative work is an ekphrasis of moving pictures with the power to enthrall us as we surrender to the cinema's dark theater.
(Barbara Davidson / The Los Angeles Times; Alfred A. Knopf)
I read
"Going Clear"
(Knopf, $28.95)
by Lawrence Wright
in two days. Every time I drive by that huge spooky blue building on Fountain Avenue on my way home, I shudder. His vast investigative skills finally cracked the hard litigious shell around Scientology, which scared off scores of journalists before him. We now know how L. Ron Hubbard and his minions hold their followers hostage with bizarre beliefs. Wright never parodies these beliefs, but instead is fascinated by the power they hold.
(Amy Stuart; Ed Jones / AFP/Getty Images)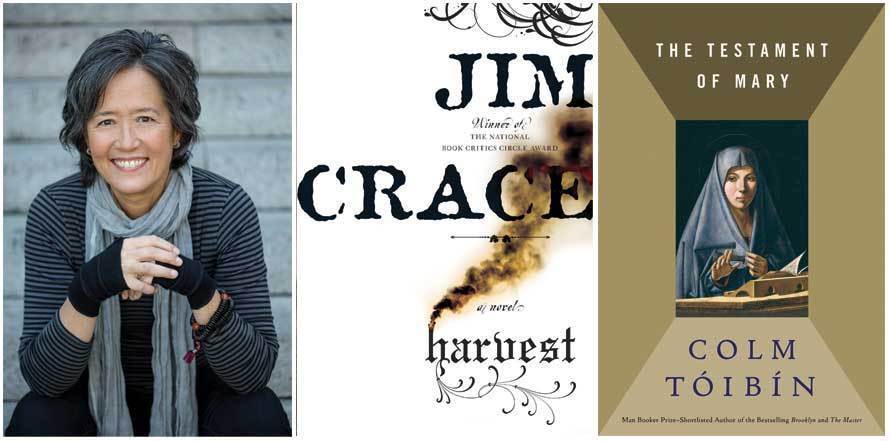 Two of my favorite books of 2013 were the Man Booker short-listed novels
"Harvest" by Jim Crace
and
"The Testament of Mary" by Colm Tóibín
. I know I'm supposed to choose only one book, but unfortunately I can't. I will, however, give a singular reason for loving them both: the language. Of course, the stories they tell are riveting too, but the beauty of the language is what I find stunning. You want to wrap your mouth around the words — utter them, mutter them, cry them and sing them out loud.
(Kris Krug / Viking; Random House; Scribner)
Every year I ask Santa Claus for a new book by Monica Drake, Katherine Dunn, Amy Hemple or Fran Lebowitz. This year
Monica Drake
came through with
"The Stud Book,"
a quiet masterpiece. Drake's brilliant without being a clever showoff, and she's funny without being snarky or shtick-y. Even Santa Claus loves her fiction.
(Bryan Bedder / Getty Images; Hogarth)
A book I love, have given to many people, now in a new, expanded, redesigned edition: "
A Field Guide to American Houses: The Definitive Guide to Identifying and Understanding America's Domestic Architecture" by Virginia Savage McAlester and Lee McAlester.
This book makes driving around in any American residential neighborhood a pleasure, like a walk in the woods.
(Eric Antoniou / Scribner; Alfred A. Knopf)
A.S. King's "Reality Boy."
We could make quite a few constellations using the starred reviews Amy has rightfully earned throughout her career. "Reality Boy" is timely, incisive and compassionate. All of A.S. King's novels are must-reads.
(Macmillan.com; Hachette Book Group)
David Levithan's "Two Boys Kissing"
is a Young Adult book, but I keep pushing it on my 30- and 40-something friends. It so beautifully captures how much has changed for gay teenagers in the last 20 years; and how much hasn't; and why the sight of two boys kissing in public is such a miracle to anyone who came of age during the AIDS crisis.
(Augusten Burroughs / St. Martin's Press; Alfred A. Knopf Books for Young Readers)
"
Five Days at Memorial"
is an extraordinary work of narrative nonfiction. I have great admiration for the way that
Sheri Fink
has told a complex story with eloquence, intelligence and compassion.
(Stephen Lovekin / Getty Images; Crown)