Q&A: Mary Karr calls liars on their lies and discusses 'The Art of Memoir'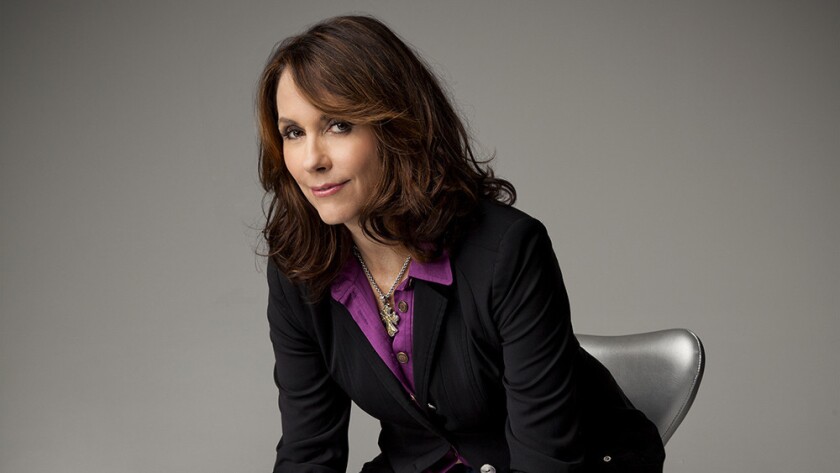 Mary Karr, 60, is the author of three memoirs -- "The Liars' Club" (1995), "Cherry" (2000) and "Lit" (2009) -- four volumes of poetry and the book currently holding steady on bestseller lists, "The Art of Memoir." The short volume is not just for people working on their own memoirs; Karr's comments apply to any prose that involves the first person and the presentation of a memory, an object both fluid and stubborn. "The Art of Memoir" (Harper, $24.99) also works as a reader's guide, addressing Karr's own shifts in perspective as she's written down her life.
A Texan who's lived in L.A., she now lives in New York. We met Sept. 24 at the Standard Downtown before her conversation with David Ulin that night at the Mark Taper Auditorium. She speaks almost exactly as she writes, delivering blunt answers in graceful, quick sentences (except the real-time Karr curses more than the published author). Sitting outdoors, in 90-degree heat, she improvised a cooling method, soaking two napkins in ice water.
"Put this on the back of your neck. It's gonna change your life," Karr said. "In Mexico City, everybody walks around the street with a towel on their neck."
What are you doing here, other than the talk tonight?
I'm working on a show for Showtime, a combination of "The Liars' Club" and "Lit." I have a meeting at 4 o'clock, so I'll go to the gym in between you and me and that. And shower. And then my best friend from high school is coming in with a friend, who's a drug dealer I used to live in a pink Lincoln continental with. He's coming in with my friend Joey, who's in the witness protection program. I'm not kidding. This is my former peer group.
You've written about them. In "The Art of Memoir," you wrote about Greg Mortenson and James Frey, two authors who had to admit parts of their own memoirs were fabricated (unlike Joey).
If I got busted for something that was untrue, I would fall on my sword. I would be humiliated. I would say, "You know, I can't believe I did this ... forgive me, bla bla." All these guys who get busted like that take it to the nth degree of defending it. It was interesting to that Mortenson and Frey both talk about their lies in the same passive voice -- "mistakes were made." I'm thinking about all my friends who work in nonfiction, and these are people who kill themselves to get it right. Junot Diaz said something to me when Frey was going on TV and saying all that stuff. I remember Junot saying, "You know, I don't think he lied, because who would do that? Who would make that stuff up, and have to go sit down and eat dinner with your whole family over the holidays? Think about it."
It must be like giving yourself an ulcer. You must know, at any moment, that your time bomb could go off.
I have that sense anyway. When I send the pages out, I have this feeling that I haven't been honest, or this can't be right, or I can't remember all this. That's really how I feel. I worry about the bone of it.
Do you worry especially when you're discussing people who are still alive?
I tell people in advance. I call people up and say look, "I want to write about growing up. It'll mostly be about me. Here are the things I'm gonna write about that might make you uncomfortable. I lost my virginity at your mother's house; if I write that, your mother might be upset." Stuff like that.
There's a bit in "Art of Memoir" where you sort of apologize for not having suffered as much as others, and you go right into that sentence about seeing your mother's mouth turn into a straight line, which meant she was drunk. So many people would recognize a moment like that.
Even if your parents are nice all the time, there's the day their mouth became a straight line, or the time your dad was screwing his secretary, or someone got cancer and went broke and had to sell the house, and your sister went to live with your aunt, whatever. Very few people get out -- that's why the stories are interesting. Because we all suffer. I think the writing is just honoring what your suffering is, trying to occupy it as you did when it was happening.
There's another passage where you look back on your childhood and decide you weren't the genius kid you thought you were. What happened?
After I wrote my books, I looked up my school records. I never did before, only after. I missed 87 days of school in the sixth grade. I essentially didn't get a high school degree because I just didn't go to school on Monday or Friday. I just didn't. In a way, that's a more interesting story than if I had been a genius kid, to an average reader. Because we all delude ourselves, we all have things that we like to think about ourselves.
Do you feel like when people read these books that they know you? Or does it just feel like a process you go through for yourself?
No, I always do it for readers. The readers I had in mind for my first book were my mother and sister. And someone like Don DeLillo.
If you hadn't become a writer, what might have happened?
I would have been a massage therapist. I'm a body person. I gave everybody in my family massages. My fella gets a massage from me like, three nights a week.
Sounds kinda L.A. Can you talk about what's going on with Showtime?
Yes. We pretty much have the pilot written. Mary Louise Parker is playing my mother. Who knows? It's television.
What was the process for writing the screen adaption?
It was me, and my son helped me on the pilot with a lot of the "Liars' Club" stuff, the first third. ... I think he's better than most of the scriptwriters out here. He's a 29-year-old filmmaker, but he's a good writer.
Who's playing you?
Some 8-year-old. Who knows? ...
Do you have a dream casting?
Not really. I'm open. I swear to God, I would love to see the young Tommy Lee Jones as my dad, or Bradley Cooper or Brad Pitt, one of those great blue-eyed pretty boys. I need a man who's a man, you know. Not somebody whose eyebrows are so perfectly waxed that you don't know how much hair they have.
---
Get the latest news, events and more from the Los Angeles Times Book Club, and help us get L.A. reading and talking.
You may occasionally receive promotional content from the Los Angeles Times.