Masha Gessen, Jesmyn Ward, Robin Benway and Frank Bidart win National Book Awards
Jesmyn Ward won her second National Book Award for fiction — for "Sing, Unburied, Sing" on Wednesday night at a ceremony in New York. She took the stage and looked down at her phone, explaining that she wasn't being rude — "my speech is on my phone." She said that she had been rejected by gatekeepers who told her the characters she writes about — poor people, black people, Southerners — were not universal stories. But she thanked those in the room who read them, and who knew they were.
Masha Gessen took the nonfiction award for "The Future Is History: How Totalitarianism Reclaimed Russia." Gessen, a Russian American, began by saying, "I had never thought a Russia book could be a finalist for the National Book Award," adding, "but things have changed." Russia has been in the news since she undertook the project. "It ended up being a book," she said, "about the nature of a country's turn away from democracy, about opportunities not taken, and things that didn't happen."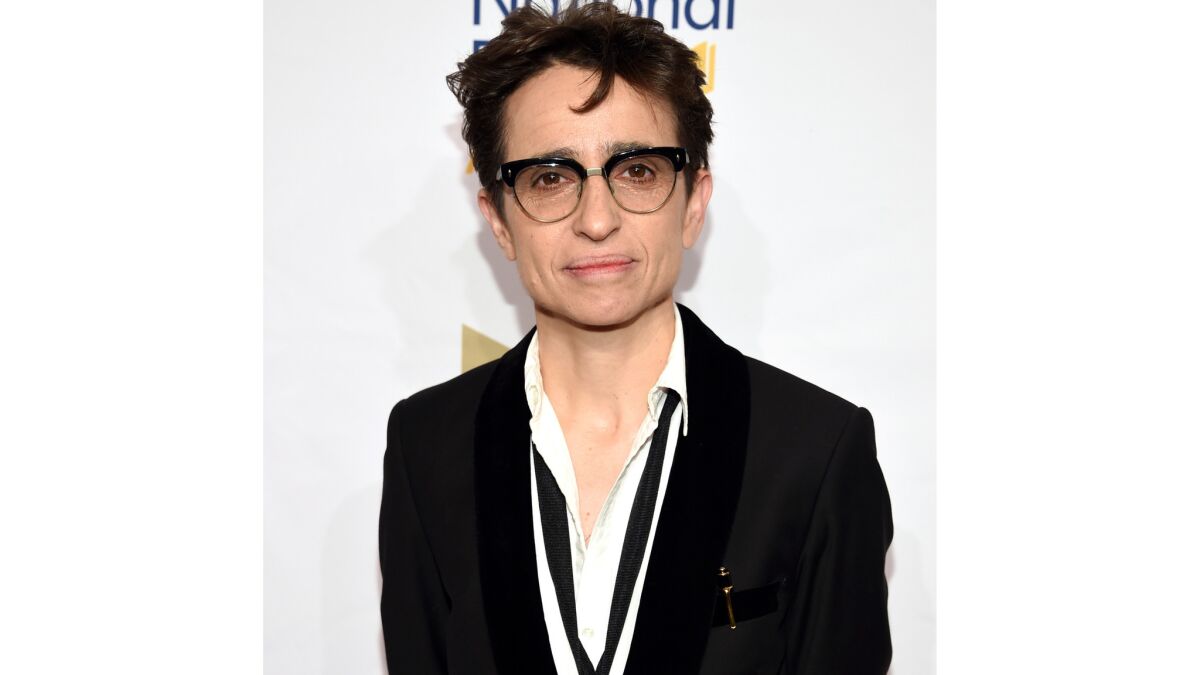 The prize in young people's literature went to Robin Benway for "Far From the Tree." Benway, a native Southern Californian, teared up as she thanked the judges, her fellow finalists and the authors on the longlist in the category. "Far From the Tree" is about family, Benway said, and thanked hers, including her brother. When she told him her fear — of she wrote something, what if no one liked it? — he replied, "What if someone does?"
The award in poetry went to Frank Bidart for "Half-Light: Collected Poems, 1965-2016." Bidart, 78, is the eldest of the 20 finalists and spoke of his work as one long project. "I thank you for honoring it."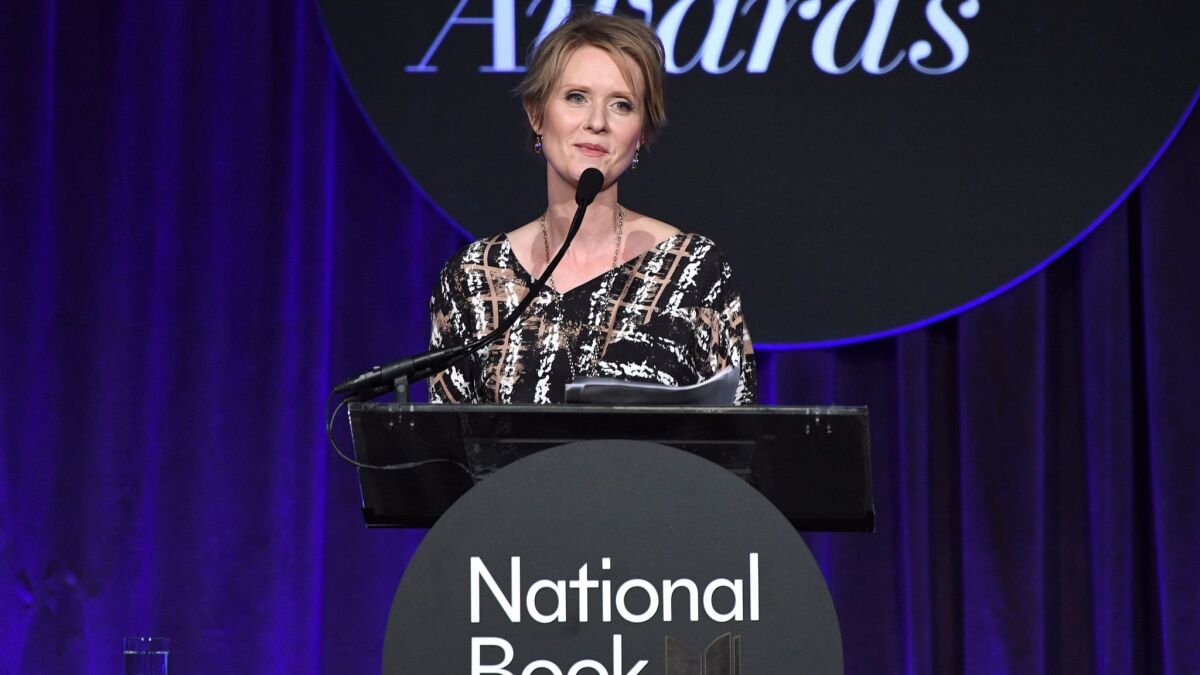 Hosted by actress Cynthia Nixon, the ceremony started with two pre-announced awards, and with a presenter who was recognizable to everybody. But Nixon valiantly introduced him as planned, even as the room took to its feet for a standing ovation. "Please sit down while I tell you a little bit about the president," she said, Bill Clinton standing behind her with a grin.
Clinton presented an award to Dick Robinson, the president and CEO of Scholastic, which publishes children's books that have long been a staple of classrooms. Scholastic has given hundreds of thousands of books to nonprofits that are getting books into the hands of lower-income children. Additionally, Clinton noted he was grateful to Robinson: "He sent Hillary and me copies for the Harry Potter books so we didn't have to wait in line at the bookstore."
Robinson recalled with passion and conviction the myriad ways the company has spoke of the importance of "reading for all," giving equal opportunity to children of diverse backgrounds across the nation. "The future depends on all people having access to reading, literature and education," he said.
Author Annie Proulx was given the Medal for Distinguished Contribution to American Letters, a lifetime achievement award for her work such as "The Shipping News," "Barkskins" and "Brokeback Mountain." She was presented the prize by actress Anne Hathaway, who appeared in the film adaptation of "Brokeback Mountain." Hathaway didn't know Proulx personally, she said, but "I do know her characters …. I am haunted by them."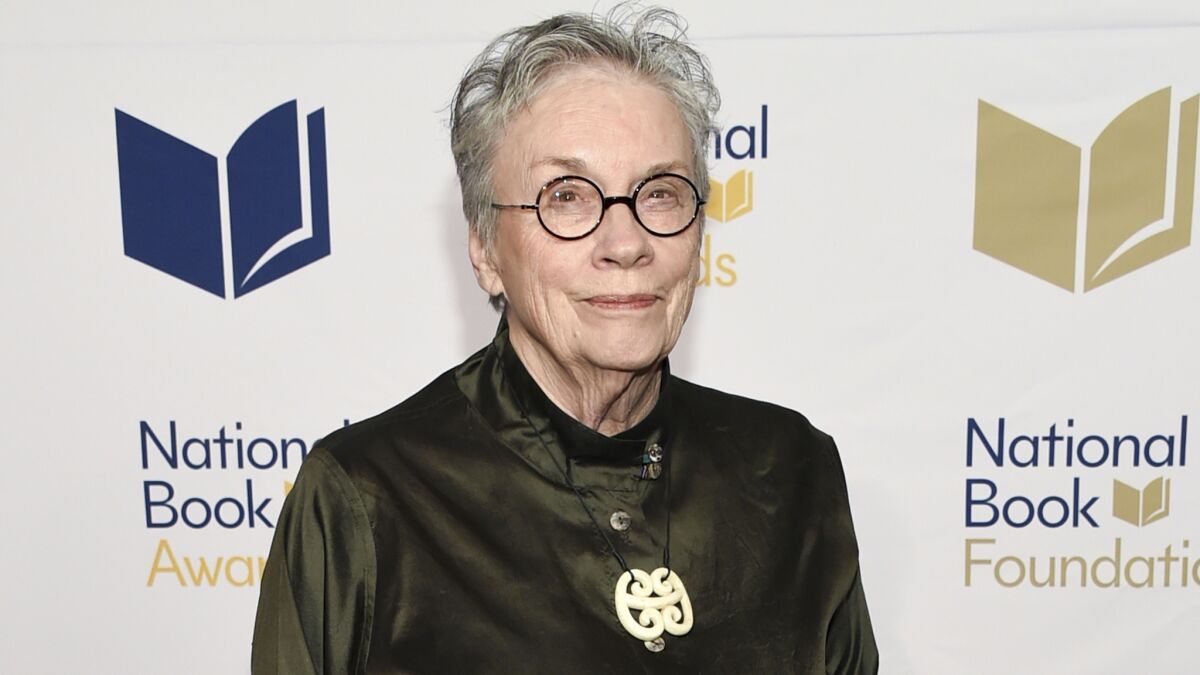 Taking the stage, Proulx, who is 82, noted that she was getting a lifetime achievement award — and hadn't started writing until she was 58. She used the occasion of her speech to address not the world of letters, but the world at large, and humans' role in it, lamenting environmental degradation and urging people do what they can on a small scale, close to home. "We still hope and believe that we can save ourselves and our damaged earth, an incredibly difficult task," she said. "The happy ending still beckons, and it is in the hope of grasping it that we go on."
---
Get the latest news, events and more from the Los Angeles Times Book Club, and help us get L.A. reading and talking.
You may occasionally receive promotional content from the Los Angeles Times.