Obama: 'The most important stuff I've learned I think I've learned from novels'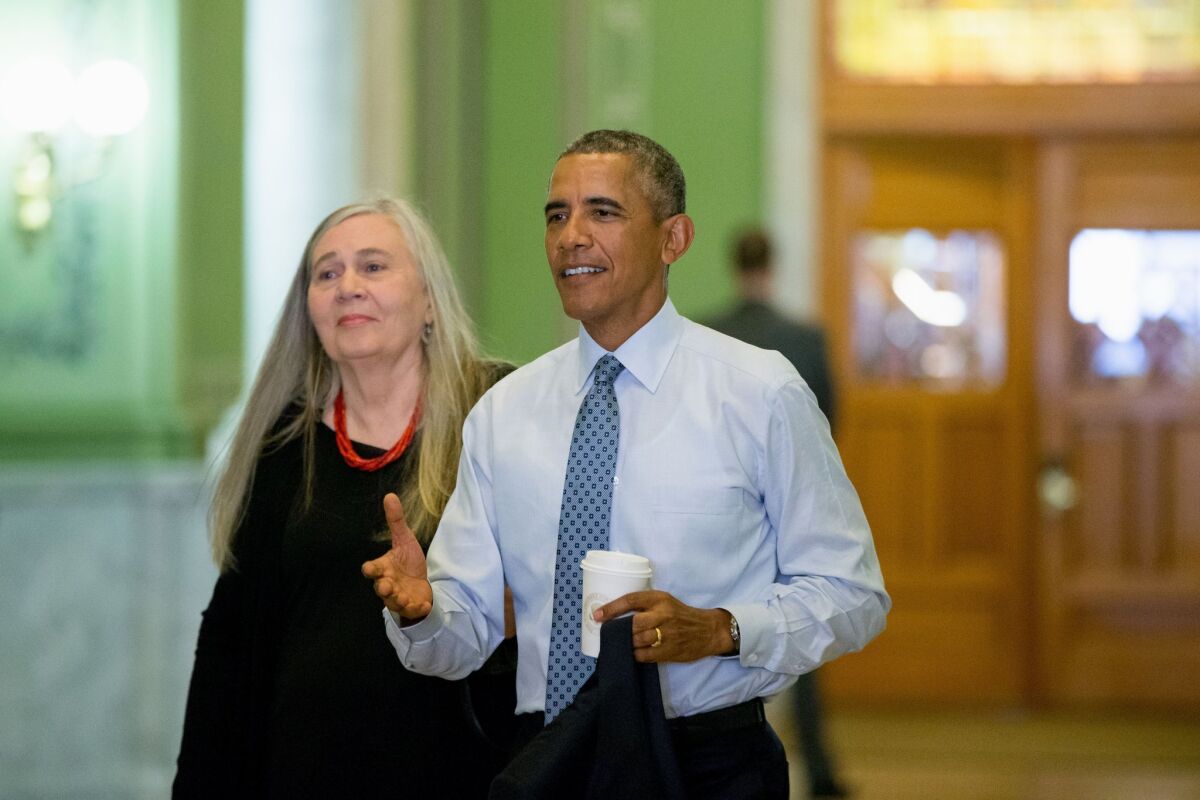 President Obama is worried that Americans don't read enough novels.
The president voiced his concern that fiction writers "have been overwhelmed by flashier ways to pass the time" in the second part of his interview with novelist Marilynne Robinson, which was published this week on the New York Review of Books website. The first part of the interview was published two weeks ago.
Obama asked Robinson if she was concerned that Americans don't read enough fiction. "When I think about how I understand my role as citizen, setting aside being president, and the most important set of understandings that I bring to that position of citizen, the most important stuff I've learned I think I've learned from novels," he said. "It has to do with empathy. ... And the notion that it's possible to connect with some[one] else even though they're very different from you."
Jason Segel's scary stories
(Delacorte / Patrick T. Fallon, For The Times)
Robinson demurred, noting that she's "almost always talking with people who love books." "I mean, the literature at present is full to bursting," she said. "But the thing that's wonderful about it is that there's an incredible variety of voices in contemporary writing."
The rest of the interview with Robinson, the Pulitzer Prize-winning author of "Gilead" and "Lila," focused mostly on democracy, history and politics. But Obama did offer an endorsement of what's likely the most talked-about play in America now.
"I took my girls to see 'Hamilton,' this new musical on Broadway, which you should see," Obama told Robinson. "And it is brilliant, and so much so that I'm pretty sure this is the only thing that Dick Cheney and I have agreed on — during my entire political career. It speaks to this vibrancy of American democracy, but also the fact that it was made by these living, breathing, flawed individuals who were brilliant."
Robinson talked briefly about politics, lamenting what she sees as a divisive culture. "I wish we could have a normal politics where I disagree with people, they present their case, we take a vote, and if I lose I say, yes, that's democracy, I'm on the losing side of a meaningful vote," she said.
Robinson's latest book, "The Givenness of Things: Essays," was published by Farrar, Straus and Giroux on Tuesday.
ALSO:
Jonathan Franzen tells Stephen Colbert a bedtime story
'Captain Underpants' banned from school book fair over gay character
'Give Us the Ballot' is a sobering look at the modern struggle for voting rights in America
---
Get the latest news, events and more from the Los Angeles Times Book Club, and help us get L.A. reading and talking.
You may occasionally receive promotional content from the Los Angeles Times.