'Paper Towns' and 21 other books to read before you see the movie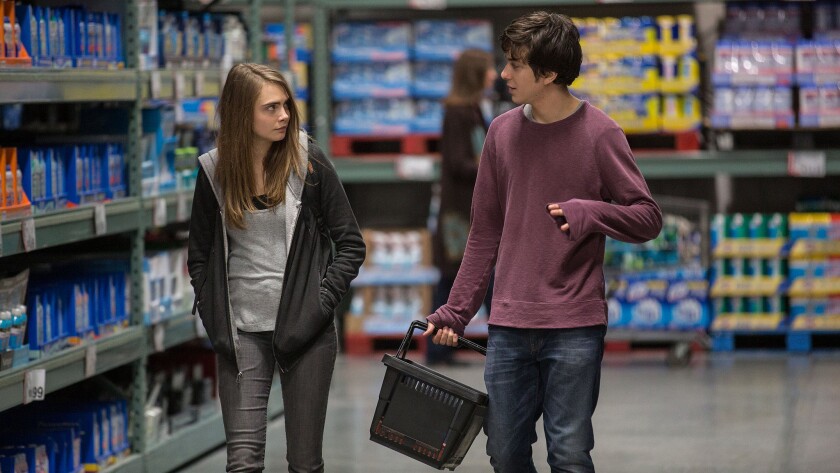 On Friday, "Paper Towns" premiered in theaters. In it, a teenage boy (played by Nat Wolff) goes on a road trip to find popular girl Margo (Cara Delevingne), who mysteriously disappears with only a few cryptic clues as to where she's gone. It's based on the YA novel by John Green, who also wrote the book that spawned last year's hit "The Fault in Our Stars."
It's far from the only bestseller making its way to the big screen this year. Here's a look at the other books getting turned into movies in the second half of 2015:
"Dark Places": After "Gone Girl" received so much awards-season acclaim, it's not terribly surprising filmmakers are mining author Gillian Flynn's earlier work. In "Dark Places," Charlize Theron plays Libby Day, the sole survivor of a massacre two decades earlier that had possible ties to a Satanic cult. As an adult, Libby revisits the crime with a group of amateur investigators who think the person who went to jail for the crime -- her brother, Ben (Corey Stoll) -- is innocent. Nicholas Hoult, who recently appeared with Theron in "Mad Max," also stars as one of the pseudo-detectives helping Libby look into the case. Based on the novel by Gillian Flynn. Aug. 7.
"The Diary of a Teenage Girl": Fifteen-year-old Minnie (Bel Powley) loses her virginity to her mom's boyfriend and goes on a path of self-discovery about her sexuality and her art in 1970s San Francisco. Kristen Wiig and Alexander Skarsgard also star. Based on the graphic novel by Phoebe Gloeckner. Limited release, Aug. 7.
MORE: 23 fiction books you'll want to read -- and share -- this summer
"10,000 Saints": Set in the 1980s, friends Jude (Asa Butterfield) and Teddy (Avan Jogia) are waiting to turn 16 and drop out of high school and leave their small Vermont town behind forever. After Teddy dies of a drug overdose, Jude goes to live with his estranged pot dealer dad in the East Village of New York City. Based on the novel "Ten Thousand Saints" by Eleanor Henderson. Limited release, Aug. 14.
"Z for Zachariah": Margot Robbie plays Ann Burden, a woman who thinks she's all alone in the world -- literally -- after a disaster wipes out the planet. Then she stumbles upon a handsome stranger named Loomis (Chiwetel Ejiofor) and they start to build a life together. Then she stumbles upon yet another handsome stranger, Caleb (Chris Pine). What's a girl to do? Another entry to the dystopian-future-love-triangle genre. Based on the novel by Robert C. O'Brien. Aug. 28.
"A Walk in the Woods": From the same genre as last year's "Wild," "A Walk in the Woods" is about a man who decides to reconnect with America after two decades living abroad by hiking the Appalachian Trail. Starring Robert Redford, Nick Nolte, Nick Offerman and Mary Steenburgen. Based on the memoir by Bill Bryson. Sept. 2.
"Maze Runner: The Scorch Trials": This is sequel to 2014's "The Maze Runner" and the second book in the "Maze Runner" YA book series. After escaping the maze, the teenagers -- known as the Gladers -- team up with resistance fighters to investigate the (presumably evil) corporation that controls everything; not-so-subtly named WCKD. Starring Dylan O'Brien. Based on the novel "The Scorch Trials" by James Dashner. Sept. 18.
"Black Mass": Johnny Depp stars in this film based on the true story of Whitey Bulger, an Irish mobster in South Boston who became an FBI informant in order to take down another mafia family. Dakota Johnson and Benedict Cumberbatch co-star. Based on the nonfiction book "Black Mass: The True Story of an Unholy Alliance Between the FBI and the Irish Mob" by Dick Lehr and Gerard O'Neill. Sept. 18.
"Everest": A group of climbers hiking Mt. Everest in 1996 get caught in a freak blizzard and have to fight to survive. Jake Gyllenhaal, Keira Knightley, Robin Wright and Jason Clarke star. Based on real-life events as well as the nonfiction book "Into Thin Air" by Jon Krakauer, who will be played by Michael Kelly in the film. Sept. 18.
"Captive": Single mom and drug addict Ashley Smith (Kate Mara) is taken hostage in her apartment by a recently escaped rapist (David Oyelowo) who also murdered the judge assigned to his case. Based on the nonfiction book "Unlikely Angel: The Untold Story of the Atlanta Hostage Hero" by Ashley Smith. Sept. 18.
"Steve Jobs": Michael Fassbender stars in the second biopic about the Apple founder since his death in 2011. Seth Rogen will play Steve Wozniak. Adapted from the biography by Walter Isaacson. Oct. 9.
"Pan": The classic tale of Peter Pan by J.M. Barrie is about the three children who come with him to Neverland. In this film, we see how a young orphan boy became Peter Pan, the hero of Neverland. We also learn the origins of his rivalry with Captain Hook. Starring Levi Miller, Hugh Jackman, Garrett Hedlund and Rooney Mara. Oct. 9.
"The Dressmaker": Kate Winslet plays Tilly Dunnage, an Australian woman who moves back to the small town where she grew up to care for her ailing mother. Tilly was sent away from the town as a child when she was falsely accused of murder; upon her return, she uses her considerable dressmaking talents to exact sartorial revenge on the people who wronged her. Director Jocelyn Moorhouse describes it as "Clint Eastwood's 'Unforgiven' with a sewing machine." Based on the novel by Rosalie Ham. Oct. 22.
"Secret in Their Eyes": A team of three FBI investigators is torn apart when one of their daughters is brutally murdered. Years later, one member of the team thinks he has a lead that will solve the case. Starring Nicole Kidman, Julia Roberts, and Chiwetel Ejiofor. Based on the novel "La Pregunta de sus Ojos ("The Question in Their Eyes") by Argentinian author Eduardo Sacheri. Oct. 23.
"Brooklyn": In this period piece, a young Irish immigrant struggles to choose between the comforts of home and the excitement of a new romance in 1950s New York City. Saoirse Ronan stars. Based on the novel by Irish writer Colm Tóibín. Nov. 6.
"The Hunger Games: Mockingjay": The final installment of "The Hunger Games" movie series follows Katniss (Jennifer Lawrence) and her cohorts as they invade the Capitol and confront President Snow. Based on the YA trilogy by Suzanne Collins. Nov. 20.
"Victor Frankenstein": Daniel Radcliffe plays Igor, who tells the story of his character's origins and how he became friends with Victor Von Frankenstein. James McAvoy plays Dr. Frankenstein. Based on the novel "Frankenstein" by Mary Shelley. Nov. 25.
"The Danish Girl": This movie is based on the real life of Lili Elbe, who became the first recipient of male-to-female gender reassignment surgery. In Copenhagen in the 1920s, artist Gerda Wegener (Alicia Vikander) asks her husband Einar (Eddie Redmayne) to stand in for an absent model, dressing in stockings so Gerda can paint his legs. After seeing himself depicted as a woman, he begins to change his appearance to look more feminine and renames himself Lili Elbe. Gerda struggles with who her husband has become as Lili seeks to surgically affirm her gender identity. Adapted from the novel by David Ebershoff. Limited release, Nov. 27.
"The Martian": Matt Damon stars at Mark Watney, an astronaut whose crew mistakenly leaves him behind on Mars after a freak storm. He has to find a way to survive until another Mars mission can retrieve him. Jessica Chastain, Kristen Wiig, Kate Mara and Donald Glover also star. Based on the novel by Andy Weir. Nov. 27.
"In the Heart of the Sea": A whaling ship departing from Nantucket in 1820 is sunk when a bull sperm whale attacks. The surviving crew, including Captain George Pollard (Benjamin Walker), first officer Owen Chase (Chris Hemsworth), second officer Matthew Joy (Cillian Murphy) and cabin boy Thomas Nickerson (Tom Holland), try to sail for South America in a small boat. Based on the nonfiction book "In the Heart of the Sea: The Tragedy of the Whaleship Essex" by Nathaniel Philbrick. Dec. 11.
"The Revenant": Leonardo DiCaprio will make yet another Oscar bid as real-life 19th century American frontiersman and fur trapper Hugh Glass. Glass goes on a cross-country revenge rampage road trip to kill the hunting buddies who robbed him and left him for dead after he was mauled by a bear. Tom Hardy also stars. Adapted from the novel by Michael Punke. Dec. 25.
Did we miss any of your favorite books becoming movies this year?
ALSO:
Get ready to be obsessed by these 29 page-turners
France beats Britain to become European Quidditch champs
Discovering the screenplay of Joan Didion's 'Play It As It Lays'
---
Get the latest news, events and more from the Los Angeles Times Book Club, and help us get L.A. reading and talking.
You may occasionally receive promotional content from the Los Angeles Times.