15 Images
The life of Martin Luther King Jr.
The Rev. Martin Luther King Jr., center, rides a bus in 1956 in Montgomery, Ala., after the U.S. Supreme Court declared that bus segregation was unconstitutional. The ruling ended a bus boycott that was called after Rosa Parks had refused to give up her seat to a white man and was arrested. Sitting in front of King is the Rev. Ralph D. Abernathy; beside King is the Rev. Glenn Smiley of New York
(Associated Press)
King is embraced by his wife, Coretta Scott King, after being convicted in Montgomery of a charge connected to the bus boycott. The Kings' home was bombed during the boycott.
(GENE HERRICK / Associated Press)
King speaks in 1957, when he was pastor of Dexter Avenue Baptist Church. In the new "The Word of the Lord Is Upon Me," author Jonathan Rieder, a Barnard College sociologist, focuses on King's language. A review in The Times' Book Review says the result "is an extended meditation on the deeper meanings of the civil rights leader's words and how he used them."
(Associated Press)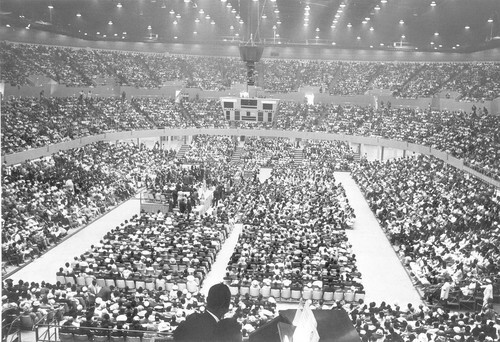 About 18,000 people gather at the Sports Arena in Los Angeles in 1961 to hear civil rights leader King speak; outside, an estimated 10,000 more listened on a hastily rigged sound system. In his book Rieder says that, as a public speaker, King "switched in and out of idioms as he moved between black and white audiences," performing "an elaborate dance of empathy." Yet "the substance of King's message varied less than the code, style, or voice in which it was articulated."
(LOS ANGELES TIMES)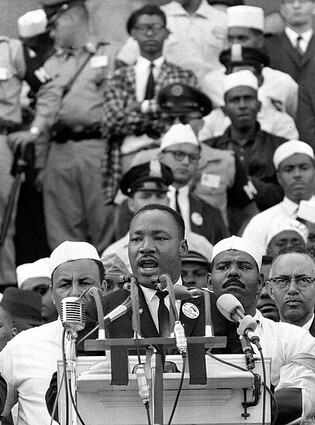 King, who helped found the Southern Christian Leadership Conference, addresses civil rights marchers in Washington, D.C., in 1963. This was the occasion of King's "I Have a Dream" speech, in which he expressed longing for a day when his children would "not be judged by the color of their skin but by the content of their character."
(Associated Press)
With the Washington Monument in the distance, King waves to a massive crowd in 1963. This month marks the 40th anniversary of his assassination in Memphis, Tenn.
(Associated Press)
Columns of demonstrators in Birmingham, Ala., are led by King — center, with Ralph David Abernathy — in April 1963, when King was sentenced to a jail term in connection with desegregation protests. During this time King wrote his famous "Letter From Birmingham Jail."
(Horace Cort / Associated Press)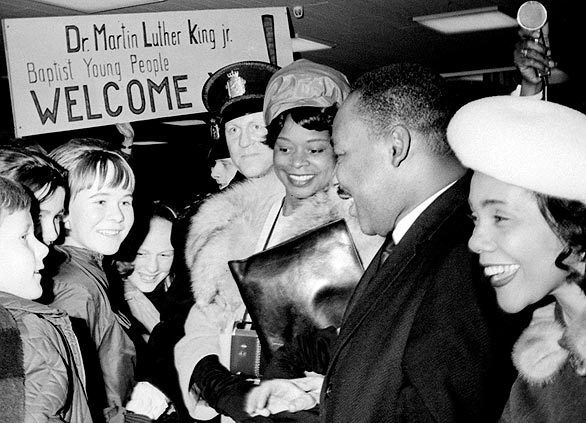 Church members greet King and his wife, Coretta, right, in December 1964 as they arrive in Oslo, Norway, where he would accept the Nobel Peace Prize. Coretta Scott King died in 2006.
(Associated Press)
A throng is led by King, center, during a march from Selma, Ala., to Montgomery, the state capital, in March 1965.
(Associated Press)
Yolanda King, eldest child of the Rev. Martin Luther King Jr. and Coretta Scott King, listens as her father addresses a rally in 1966. Yolanda King, who went on to become an actress and motivational speaker, died last year in Santa Monica at 51.
(Associated Press)
At the United Nations building in New York, King speaks at a Vietnam War protest in 1967. "We are criminals in that war," King said in 1968, as recalled in a review of "The Word of the Lord Is Upon Me" in The Times' Book Review.
(Associated Press)
King, center, strides arm in arm with Abernathy at a march for striking Memphis sanitation workers in 1968. A few days later, King was assassinated at Memphis' Lorraine Motel.
(Sam Melhorn / Associated Press)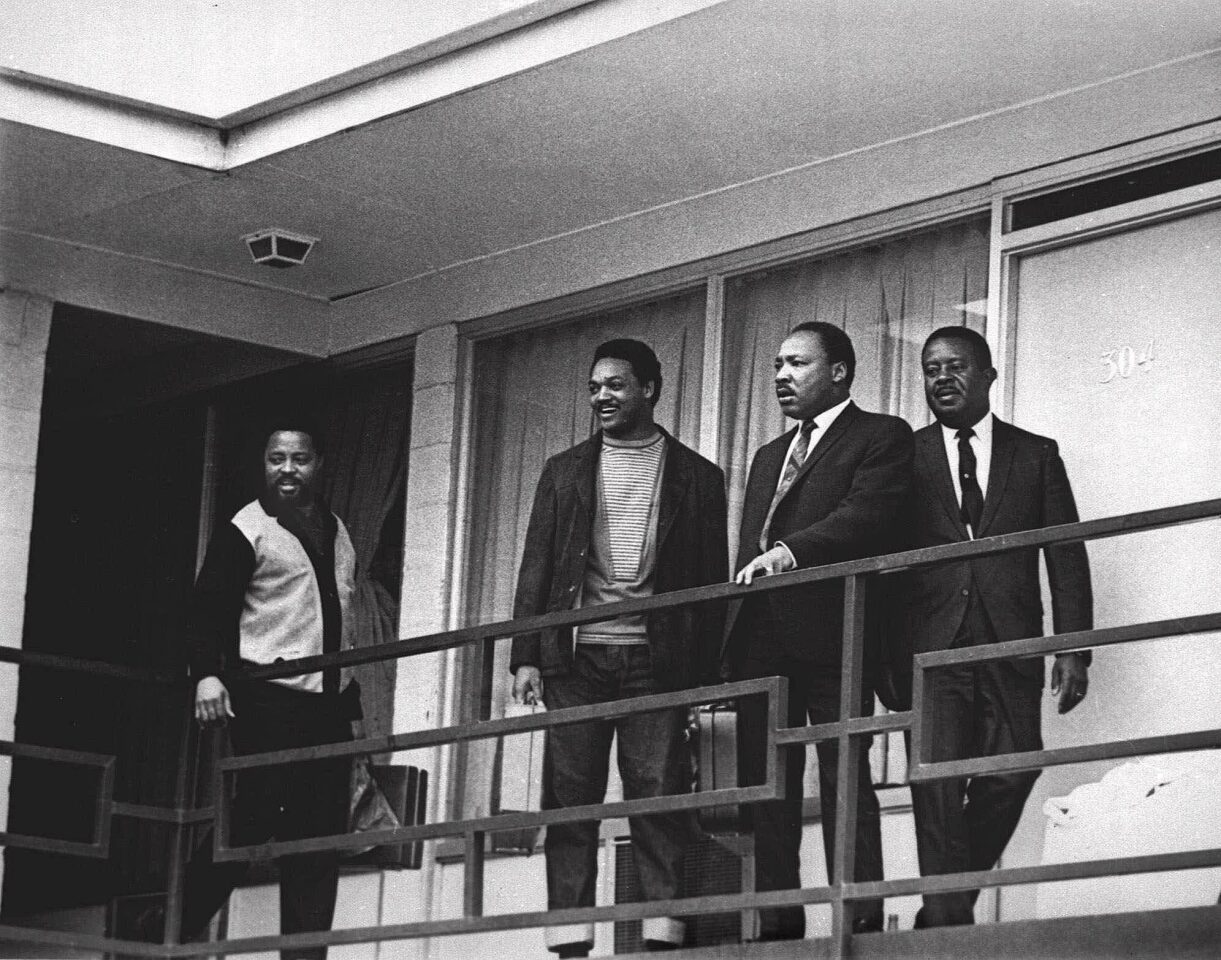 King, second from right, with fellow civil rights leaders Hosea L. Williams, left, the Rev. Jesse Jackson and the Rev. Ralph Abernathy at the Lorraine Motel on the day before King was fatally shot.
(Associated Press)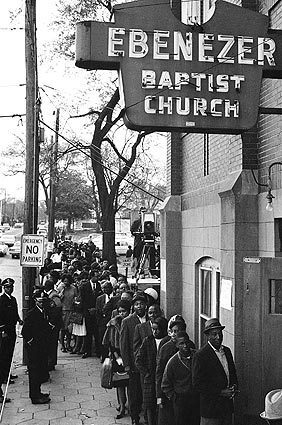 Mourners wait on April 9, 1968, to view King's body at Atlanta's Ebenezer Baptist Church, where King was co-pastor with his father.
(Associated Press)
King in an undated file photograph.
(Associated Press)