Lit Trips: Cruise around Big Sur for these literary adventures along the coast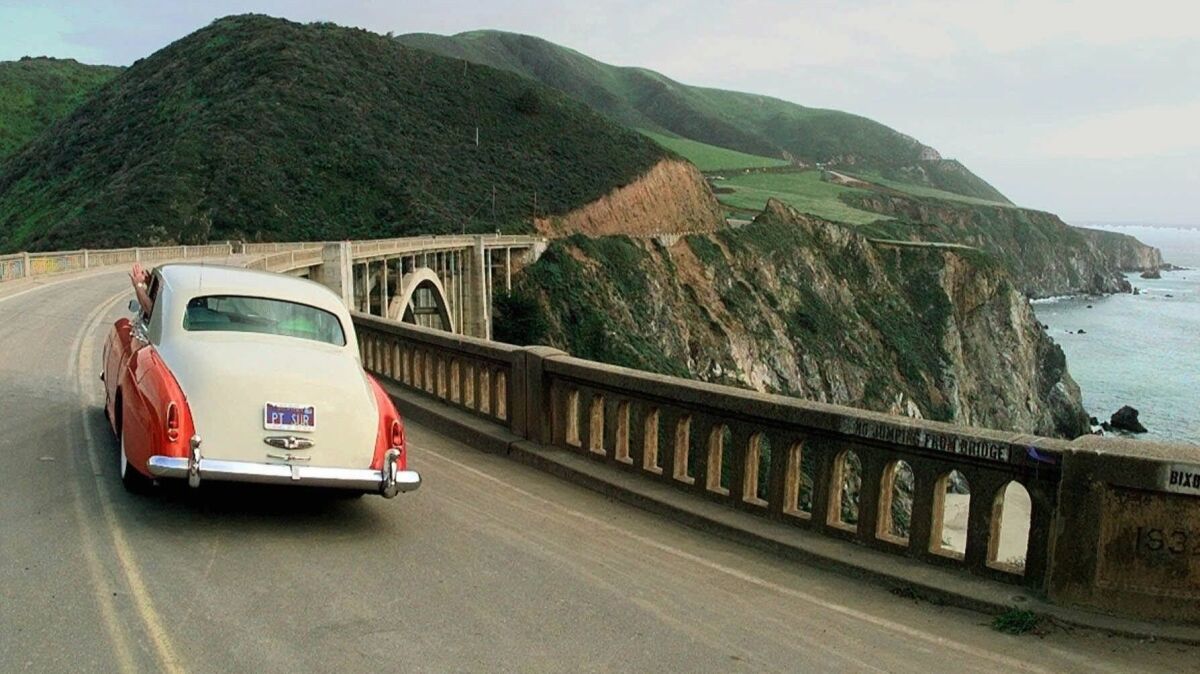 Big Sur isn't a clearly demarcated space on the map so much as a general location in our collective state of California-dreaming. "Big Sur is very like Valhalla," Hunter S. Thompson once wrote, "a place that a lot of people have heard of, and that very few can tell you anything about." Roughly defined as west of the Santa Lucia Mountains, and stretching from around San Simeon to Carmel, this long slow unwinding region of rough-hewn, wind-sculpted scenery, stilt bridges, steep mountain roads and gnarly old hiking trails provides surprising and spectacular views, a couple of ridiculously overpriced gas stations, and an occasional clump of aluminum mailboxes attached to no identifiable home or driveway. Mainly, though, the Big Sur region doesn't feel like entering a new place so much as leaving an old one behind — the one defined by jobs, responsibilities, tax accountants, social media pages and idiotic television programs. It's where we leave behind whatever it is we're supposed to be and enter another space altogether. In other words, Big Sur — and the nearby towns — have long been a home to writers and artists for a reason. And if you find yourself spending a lot of time there, it might turn out that you're one of those artists yourself.
For me, driving north from my home in San Luis Obispo, Big Sur begins just past the embarrassingly extravagant splendor of Hearst Castle. At this point, wide amber fields extend from one side of the road and, from the other, thin windy beaches populated by sea-weary elephant seals laid out like fat gray sacks of laundry. Then the road swoops upward with several what-seem-like 300-degree turns — the last clean restroom flashes by at the Ragged Point Inn — and you just drive. If, that is, there hasn't been a storm or a rock slide and the roads are still open — since arriving at Big Sur is never a done deal. You need to accept that from the start.
Back before State Route 1 was completed in 1937, only hardy souls made the trip — Jack London and his friend, the visionary poet George Sterling, made the trip on horseback; the area's greatest fictional chronicler, Lillian Bos Ross, hiked there from her husband's day job laying tiles in San Simeon. Which is probably why there are so few distinct landmarks in Big Sur – many artists lived there before postal addresses or GPS coordinates. But there are still many places worth visiting to catch a glimpse of old — and very private — literary lives. And it's wise to bring along a good book when you do.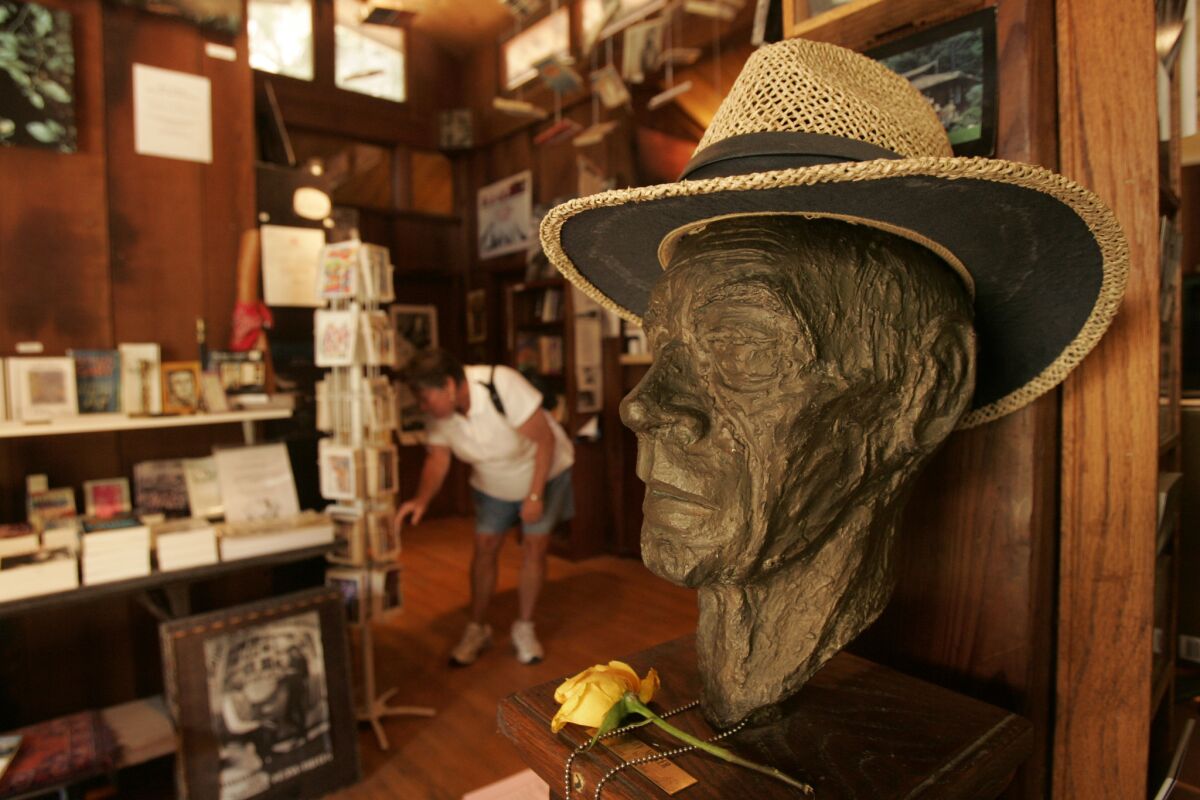 The Henry Miller Library
Big Sur's most famous literary resident, Henry Miller, lived for nearly two decades in a cabin on Partington Ridge, which is inaccessible to tourists today. But the Miller Library — "Where Nothing Happens," as the modest wooden sign outside proclaims — is extremely accessible and even welcoming. Established in the home of Miller's friend, Austria-born artist Emil White, it's the sort of place Miller would have loved. The unpretentious redwood-shaded grounds and single-room cabin are presided over by a friendly, live-in staff and feature a pair of attention-seeking cats appropriately named Jack Kerouac and Alice in Wonderland. There are good books for browsing and buying, voluntary entrance fees, and large pleasant photos, artwork and wire sculptures hanging about, most of them produced by Miller and his friends. It doesn't feel like a museum or a monument to a dead writer so much as a collage of stuff he enjoyed — the antithesis of the National Steinbeck Center in Salinas with its big ugly plastic stage sets of scenes from Steinbeck novels. Check the website for an always-changing calendar of readings, music by local and touring — somewhat hipster — bands, and events.
Info: 48603 CA-1, Big Sur; (831) 667-2574; Wednesday-Sunday 11 a.m.-5 p.m. henrymiller.org
Road read: "Big Sur and the Oranges of Hieronymus Bosch," Henry Miller (New Directions, 1957)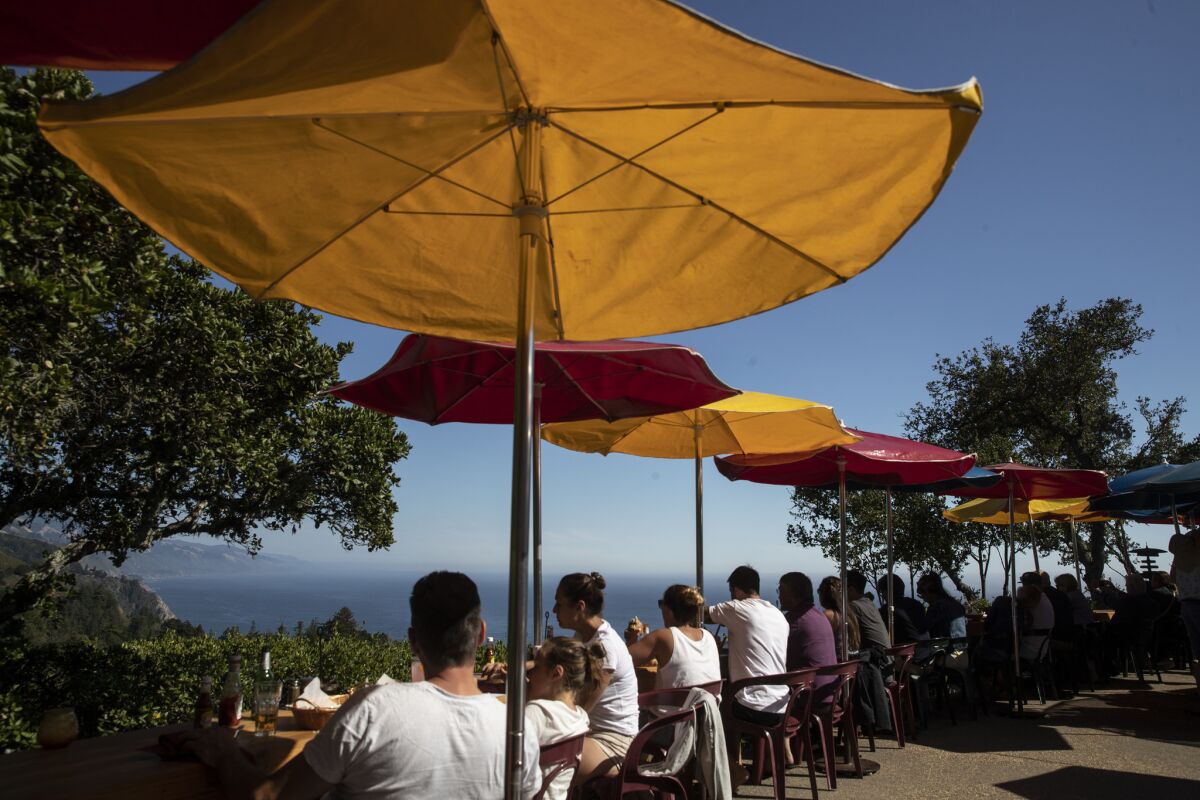 Nepenthe Restaurant
One of the finest restaurant views on the planet. The original cabin was briefly owned in the early '40s by Orson Welles and Rita Hayworth, who stayed long enough to measure for drapes and never returned. This was Henry Miller's first home when he moved here in 1942, sharing it with another writer, Lynda Sargent (residents recalled that the clacking of typewriters could be heard from Highway 1), and Miller often played ping-pong here with subsequent owners. Local legend Price Dunn (immortalized as hard-drinking Lee Mellon in Richard Brautigan's still-funny-after-all-these-years "A Confederate General from Big Sur") was once thrown out of the bar for fighting.
Info: 48510 CA-1, Big Sur; (831) 667-2345; lunch 11:30 a.m.-4:30 p.m. daily, dinner 5 -10 p.m. daily; open 365 days a year.
Road read: "My Nepenthe: Bohemian Tales of Food, Family, and Big Sur," by Romney Steele
Deetjen's Big Sur Inn
Built in the 1930s by German-Norwegian immigrants Helmuth and Helen Deetjen back before the construction of Bixby Creek Bridge, Deetjen's Big Sur Inn is listed on the National Register of Historic Places. It was also a favorite of Henry Miller: "For a metaphysical treat stop at the Big Sur Inn, which is also a haven for stray cats and dogs. Life along the South Coast is just a bed of roses, with a few thorns and nettles interspersed." From the highway, it resembles a nondescript set of gray weather-worn buildings — but looks much brighter and friendlier on the inside, offering a candlelit bar and dining every evening, as well as excellent breakfasts. If you're feeling especially literary, you can eat your French toast (as we did) sitting across from a brass bust of poet Robinson Jeffers, who occasionally walked out here from Carmel to visit Helmuth — when Helmuth wasn't walking out to Carmel to visit him.
Info: 48865 Highway One, Big Sur; (831) 667-2378; Open daily 9:30 a.m.-4 p.m.
Road Read: "The Big Sur Trilogy," by Lillian Bos Ross
Esalen Institute
Back before Esalen was, well, Esalen (an exclusive, new-age-y center "pioneering deep change in self and society") this land was home to the Esselen native tribes and later the Slates Hot Springs, a camping spot for the Beat-likes of Lawrence Ferlinghetti and Michael McClure. In 1961, the self-proclaimed "gonzo journalist" Hunter S. Thompson wangled a job here as caretaker, roaming the grounds every night for $15 a month while working on his first novel, "The Rum Diary" — and he evicted at least one visitor at the point of a .22. (Yep. It was that ol' Confederate general himself, Price Dunn.) Not coincidentally, he developed a brutal dislike for people who arrived seeking oneness with ancient spiritual forces. About the place, Thompson wrote a friend:
"I am surrounded by lunatics here, people screeching every time I pull a trigger ... a huge Doberman on the bed, a pistol by the desk, time passing, getting balder, no money, a great thirst for all the world's whiskey, my clothes rotting in the fog, a motorcycle with no light, a landlady who's writing a novel on butcher paper ... the jabbering of Buddhists in the trees, whores in the canyon, Christ only knows if I can last it out." (It's funny, isn't it, how everywhere Thompson went he was surrounded by lunatics?)
Eventually, Thompson was relieved of duties, and the property owners — in consultation with their friend Aldous Huxley — established what is now Esalen.
Visit by appointment or reservation only — and whatever you do, watch out for jabbering Buddhists in the trees. They make life difficult for everybody.
Info: 55000 CA-1, Big Sur; (831) 667-3000; Open by appointment or reservation only. esalen.org
Road Read: "The Rum Diary," by Hunter S. Thompson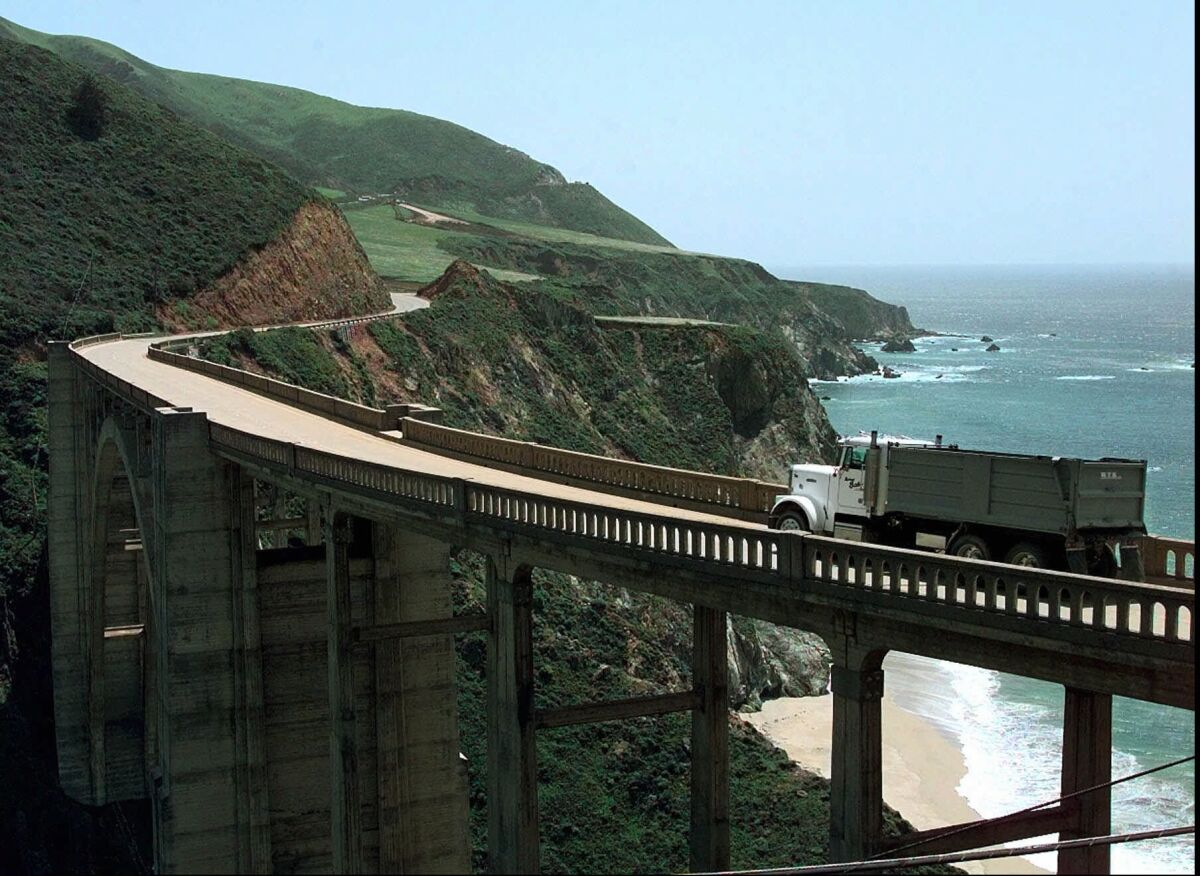 Bixby Creek Bridge
Something about Big Sur conjures up epic images of fantastical happenings at the ends of the earth. This is the most beautiful of several beautiful bridges along this stretch of Highway 1. At the north side, the adjacent canyon holds Lawrence Ferlinghetti's cabin (inaccessibly hidden down a series of daunting, treacherous trails) where Jack Kerouac once performed a marathon stint of boozing. (If you're interested in safely experiencing the cabin, check out Michael Polish's 2013 film version of "Big Sur" — just watching it will give you a hangover.) Today, Kerouac's association with the area promotes heavy tourism and property sales to the sort of people who would have loathed living next door to him (a recent real estate site mentions: "Make Like Jack Kerouac in this Big Sur Cabin! … 3 bedroom/ 3 bath … The inspiration starts at $2.65 million"). But more interesting is Ferlinghetti's well-recorded life here, raising his children and enjoying long walks in the mountains with his dog, Homer. Be warned: As Ferlinghetti reported, don't go looking for "no mescal on Mescal Ridge." It just ain't out there. But you can still find the beauty Ferlinghetti wrote about in his poem "Upon Reflection": "In the steep ravines and gulches/ of Big Sur/ small animals stir/ under the tough underbrush/ as sun creeps down the canyon walls/ into the narrow meadows/ where wild quail/ run & cluck/ Daytime moon/ after much reflection says/ Sun is God".
Road Read: OK, if you must read Kerouac, then take along "Big Sur." Otherwise, I suggest Ferlinghetti's "These Are My Rivers: New & Selected Poems 1955-1993."
Point Lobos State Natural Reserve
Some of the Big Sur coastal area's most striking scenery is where Jack London spent happy days camping with his wife, Charmian, while doing his darnedest to alleviate her chronic insomnia. "Loved me all evening," Charmian recalled in her diary. "I felt full of sunshine." And if that's not enough romance, the area reputedly inspired many of the South Sea descriptions in Robert Louis Stevenson's "Treasure Island" after he visited in 1879, and the 1934 film was partially shot there.
Info: 3 miles south of Carmel-by-the-Sea; (831) 624-4909, open 8 a.m.-7 p.m.; pointlobos.org
Road Read: "Treasure Island," by Robert Louis Stevenson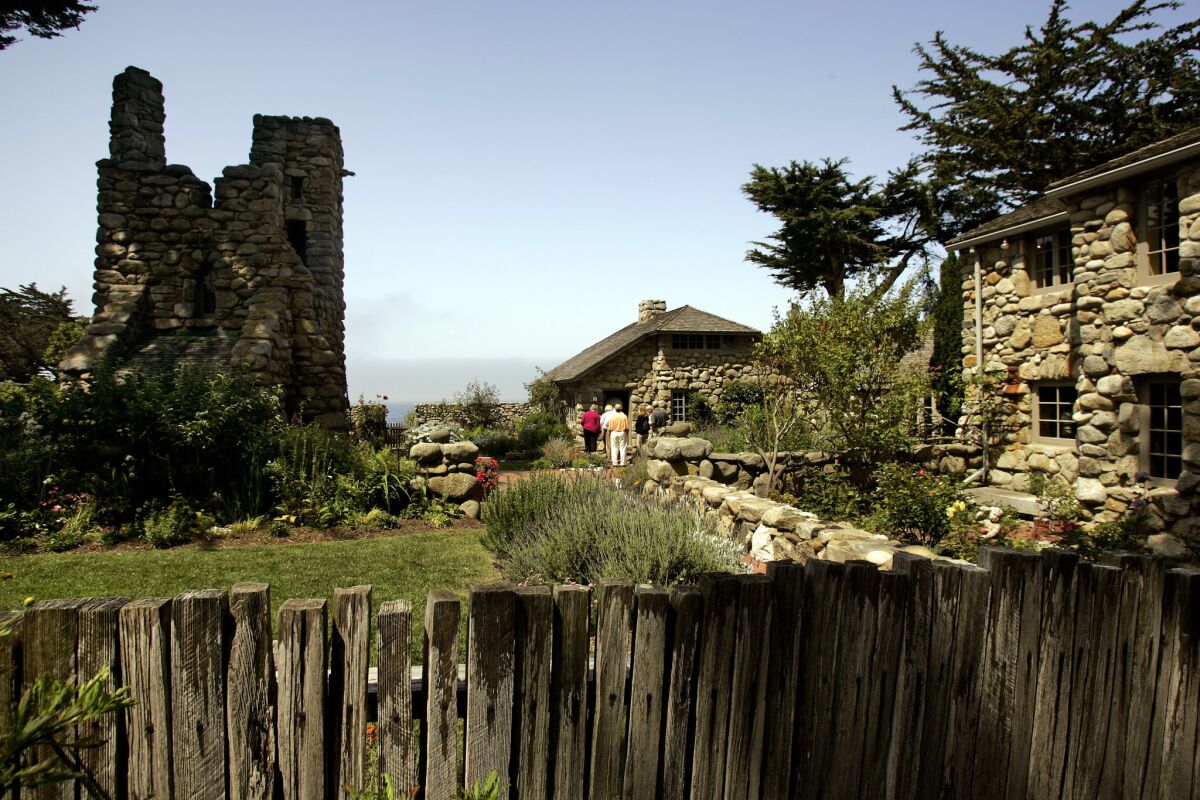 Tor House
Sunshine increases as you continue north to the Big Sur-adjacent town of Carmel-by-the-Sea, the gold coast of California literary history. Poet Robinson Jeffers' remarkably craggy longtime family home stands as a fitting memorial to the great poet who laid many of the stones himself. (By the way, it's definitely time to start reading Jeffers again.) Oh, and his biographer, James Karman, recommends that if you take the tour, try to locate the brass bust of Jeffers (a duplicate of the one at Deetjen's) which has been "cemented into a hidden wall."
Info: 26304 Ocean View Ave., Carmel, tours Fridays and Saturdays by appointment, check ahead for availability; torhouse.org
Road read: "The Selected Poetry of Robinson Jeffers," edited by Tim Hunt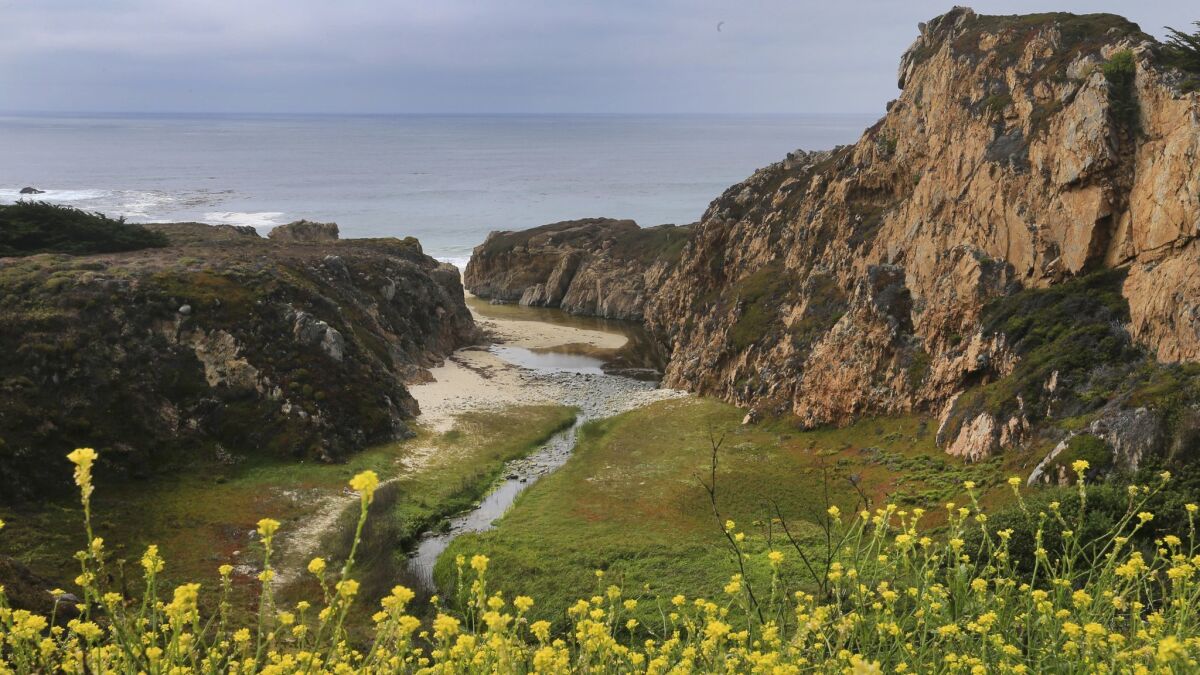 Carmel-by-the-Sea
Well before Jeffers arrived, the "uncrowned King of Bohemia" George Sterling (author of the 1909 unforgettable, hallucinatory epic "A Wine of Wizardry and Other Poems") established a radical community of poets, novelists and dramatists in Carmel-by-the-Sea. His friends and visitors included the best and brightest of the westward-reaching artists and intellectuals of his day, including Jack London, Upton Sinclair, Mary Austin, Sinclair Lewis, the MacGowan sisters, Ambrose Bierce and a young Clark Ashton Smith (possibly the most unfairly neglected California-born artist of his generation). Sterling formed the West wing of the European decadent movement, sort of like a sun-struck Baudelaire or Oscar Wilde; he indulged himself and fellow counterculturalists in nude sports, free love and drugs. Eventually, the bohemian dream turned sour after the poet Nora May French died of poison in Sterling's home, and then Sterling's wife died of poison; and Sterling himself reportedly carried a vial of strychnine labeled "Peace" with him for several years before committing suicide in 1926. (Apparently, he was dejected when H.L. Mencken didn't show up for a social appointment.) Eventually, Sterling's home burned down, along with most of his reputation; but the outdoor Forest Theater he helped establish near the historic mission is still going strong, and Austin's old home at Rose Cottage is available for rentals.
On the lighter side, Carmel-by-the-Sea provided a home to Beverly Cleary — whose novels about Henry Huggins and Ramona populated many childhood imaginations (certainly mine). But while Cleary will soon celebrate her 103rd birthday, her old home has not been converted into a library. Yet.
Info: Forest Theater, Santa Rita Street and Mountain View Avenue, Carmel-by-the-Sea, (831) 626-1681, foresttheaterguild.org
Road Read: "Earth Horizon" by Mary Austin
---
Get the latest news, events and more from the Los Angeles Times Book Club, and help us get L.A. reading and talking.
You may occasionally receive promotional content from the Los Angeles Times.