A poet, pro tennis and a year around the sun: 'The Circuit' by Rowan Ricardo Phillips
In his new book, "The Circuit: A Tennis Odyssey," Rowan Ricardo Phillips details "the things we can never quite describe but should try to because they're fleeting." At first glance, "The Circuit" may seem odd — an award-winning poet penning nonfiction about the 2017 ATP (Assn. of Tennis Professionals) men's tour — however, Phillips has been writing about tennis, basketball and soccer for the Paris Review, the New Yorker and the New York Times for several years. His sports writing arises from close attention to the layers of nuance involved in the mechanics of play.
As an aficionado and player, Phillips is especially attuned to tennis' weirdness among other sports: Because "it's possible to win more points in a match and still lose," he writes, "...the fate of a tennis match is overwhelmingly decided by moments, and by how players navigate the big points." And recording these fleeting, moment-to-moment dramas is the poet's stock in trade. In other words, Phillips' lyrical impulses ignite his compressed, efficient, accurate, lively and always liquid prose.
Phillips' narrative flows from January's Brisbane International tournament to November's Nitto ATP Finals in London. As the players shift along with the seasons, he watches every 2017 men's tour match, marking the fluctuations in player rankings and tournament seeding. Players are ranked according to a point system. They accrue points by entering, playing in and winning matches at tournaments distributed among 250-, 500- and 1,000-point levels. A different author might have focused solely on the major championships, the Grand Slam events in Melbourne, Paris, London and New York City (each worth 2,000 points) — the grand temples offering climactic action — however, Phillips recognized that the tour's exposition, disentanglement and denouement happen at the secondary, tertiary, quaternary tournaments.
"The Circuit" arose from an epiphany and a challenge. In late spring 2016, at age 41, Phillips tore his left Achilles tendon playing basketball. The injury left both his leg and his summer plans dead. Along with humbling him to that old saw about Father Time's undefeated record against athletes, the author was left to convalesce alone in New York after his wife and daughters had departed for Barcelona, the family's second home.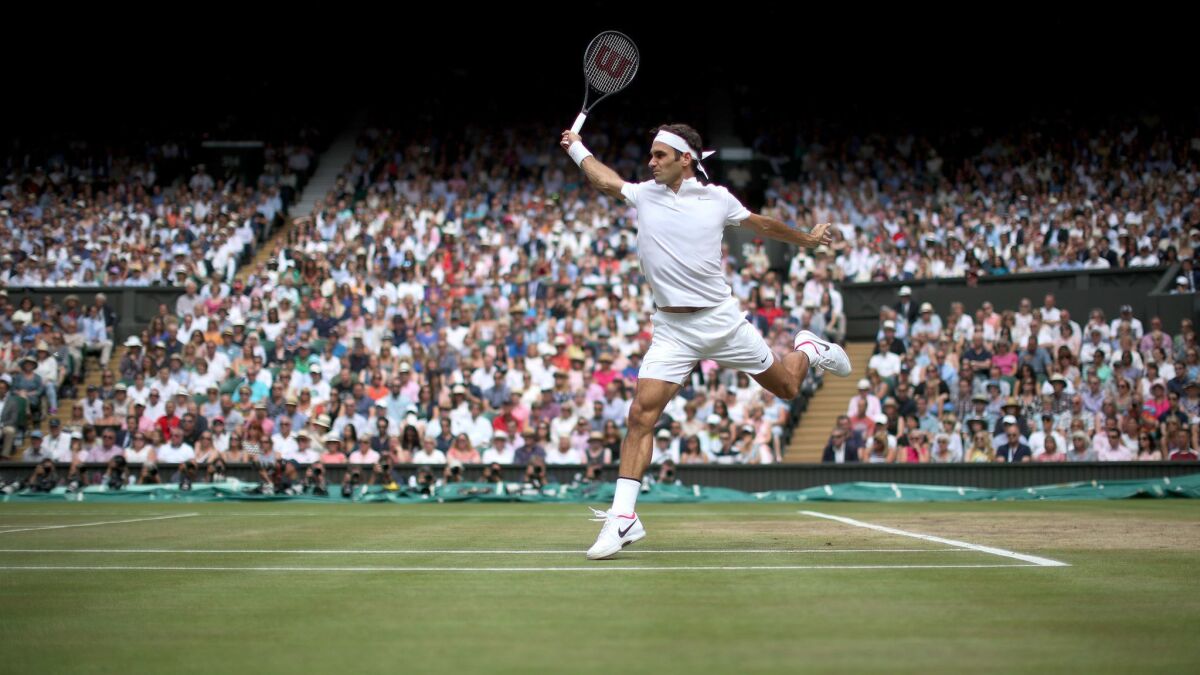 Phillips watched the Wimbledon Championships in English, not Spanish or Catalan, for the first time in years. He also realized that the twilight of his personal athletic standards may have been aligning with the decline of tennis' giants: "I couldn't describe the tennis I was watching despite having all the time in the world to do so and oh so wanting to make sense of seeing Federer fall, a beatable Serena, Nadal all but vanish into thin air, a mojo-less Djokovic fall down a rabbit hole, and Murray finally make it to the top of the mountain. I made myself the promise that someday I would. Someday, when I could walk again and my mind wasn't saddled with sedatives, I would focus on a year and, like the players, follow the sun from beginning to end." (Using their first names would completely change the pace of his writing).
Among the clichés that came to mind while I read "The Circuit" were the ones about the lyricism of sports and athletes as poets, and the ones about the irreverent entertainment of politically irrelevant professional sports. Perhaps we repeat these canards in order to have it both ways: Our watching athletes move their bodies or different kinds of balls with expertise helps us hold the machinations of politics at bay while giving us access to sport as a kind of performance art.
Tennis, like all sports, requires players to train themselves to think two directions at once, both retaining and relinquishing the past. Relying on previous matches, sets, games and points, individual players generate private, historical research files about how to play on various court surfaces, against particular opponents, or through complex points. Simultaneously, players must let go of unforced errors and crushing losses in order to advance successfully to next points, games, sets and matches. As Phillips writes at the book's opening, "don't hold on to anything, things will be better that way."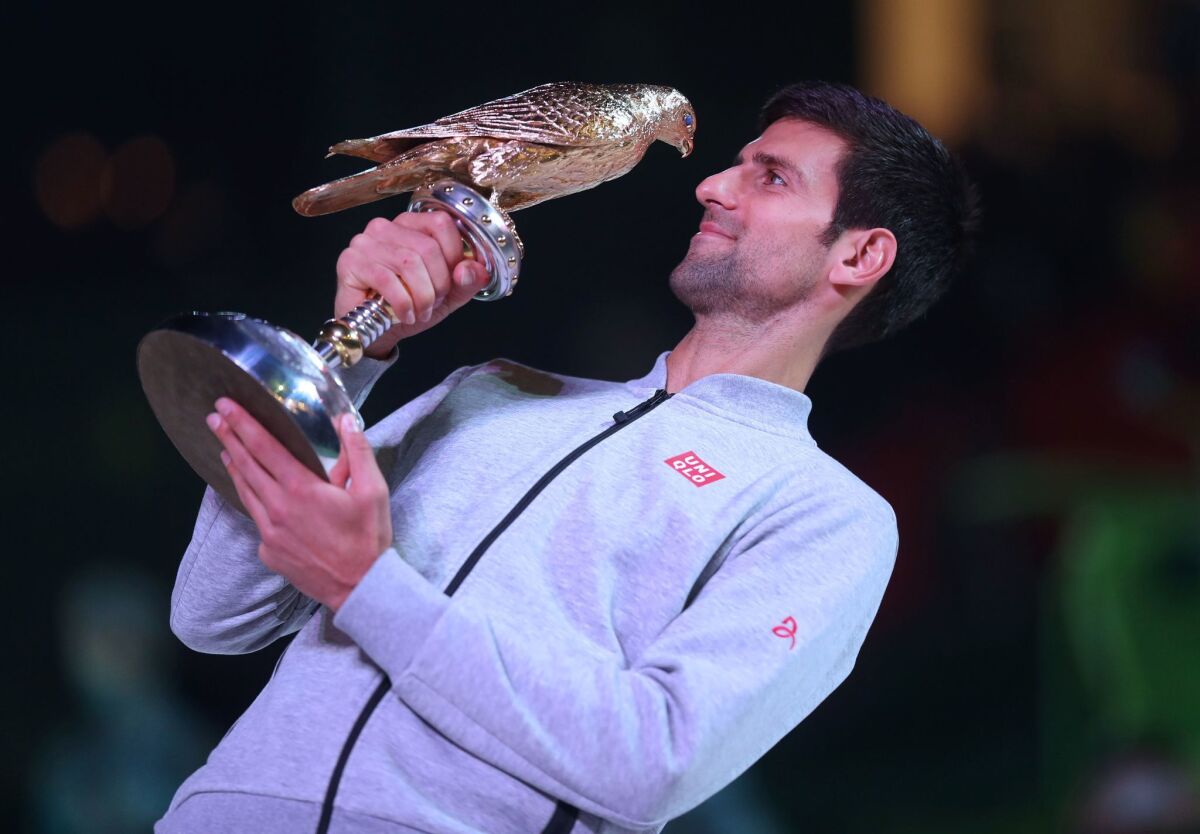 Watching Andy Murray and Novak Djokovic in the Qatar ExxonMobil Open final in Doha in January 2017, Phillips considers how the match between the tour's then No. 1 and 2 ranked players, respectively, offers both "the start of a new chapter and a postscript to the last." Djokovic, with his "strange ability to twist through the vise he seems trapped in and somehow squeeze the life out of his opponent instead," triumphs over Murray and his ability to lull his opponents "into a false sense of expectation." But then, "just like that, what Doha was vanished. No one ever spoke of it again."
Beginning in March 2017, Phillips explains with a nod to poet Wallace Stevens, the materializing story of the men's season countered the idea of order that rankings and recent tennis history were supposed to instill. By the end of that month, after both BNP Paribas Open in Indian Wells, Calif., and the Miami Open, "the certainty of the circuit being ruled in 2017 and beyond by Murray and Djokovic was by now anything but clear."
And even though Kei Nishikori, Gael Monfils, Dominic Thiem, Marin Čilić, Alexander Zverev, Grigor Dimitrov, David Goffin (whose play is so wonderful and luck so tragic in 2017 that Phillips wreaths him with a gorgeous mini-profile cum lyrical ballad), Nick Kyrgios ("electric and mercurial," with hands and hips so calm that his racket rip causes "the stringbed to clasp and release the ball with furious intent") and Stan Wawrinka (an extremely talented Swiss player forever in Federer's gigantic shadow) are all ascending the rankings, throughout the year it's those old-heads, Federer and Nadal, who are resurgent, dominating the field. They split the four major open tournaments in 2017: Federer won the Australian and Wimbledon championships; Nadal took the French and U.S. titles.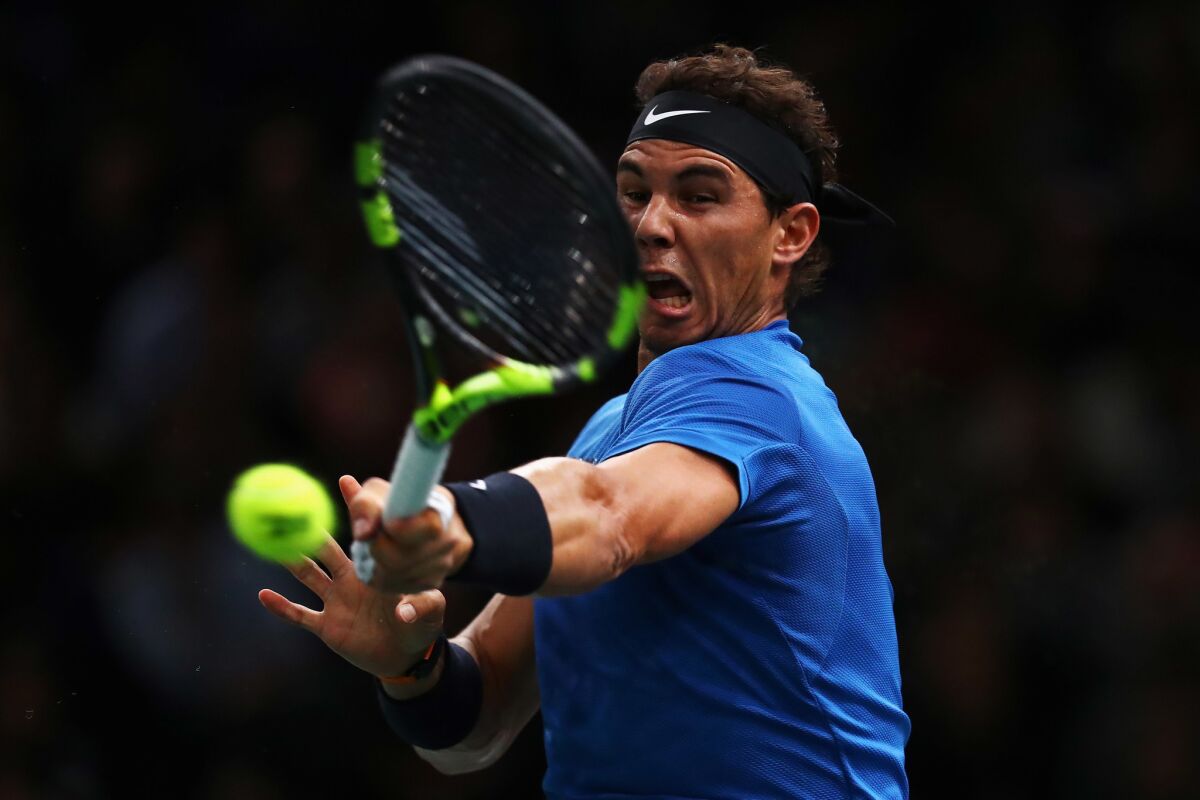 Unlike C.L.R James' treatise on cricket, Caribbean athletes and colonialism, "Beyond a Boundary" (1963) or John McPhee's "Levels of the Game" (1969), which was about civil rights, blackness, law and order and Arthur Ashe's semifinal match against Clark Graebner at the '68 U.S. Open, "The Circuit" does not mix tennis writing with local or international politics, global economic, or ecological matters. Rather, Phillips follows the model of a friend, "a distinguished historian, who goes out of his way to keep his comments on current events to the bare minimum." Avoiding hot takes on the political zeitgeist or the meanings of specific matches, Phillips wields his prose like an elegant, one-handed backhand, fending off florid metaphors and deflecting the canards about sports, to present the tour's basic process: the sport is a distraction.
Tennis helps the author exit the historical moment. Watching matches, he can ignore the Twitter feed of President Trump who, on the day before the 2017 Wimbledon Championships began, sent out "an edited video image of himself delivering a staged beating of former wrestling executive Vince McMahon on the outskirts of a ring, with the logo of the cable news network CNN superimposed over where McMahon's head belonged." Instead of parsing this video, Phillips follows the game into its own continuum, tracking according to its metrics, "off the beat, out of sync, out of time."
And yet, Phillips reminds readers subtly throughout the book that life is happening just off court. Even though Phillips has leaned away from making explicit political commentary, it's hard not thinking through the book's external contexts and internal gestures. Thus encouraged, I noticed that the 2017 Western & Southern Open began in Cincinnati on Aug. 12, the same day that Heather Heyer was killed in Charlottesville, Va., while counter-protesting the virulent racists at the Unite the Right rally. I can't picture a single highlight from that tennis tournament.
A photograph of tennis champion and anti-apartheid activist Ashe appears early in "The Circuit." Ashe stands at the net of Centre Court, looking toward his team in the stands, Afro still coiffed smoothly, his right hand clenched, raised, pumping in celebration of his defeating Jimmy Connors for the 1975 Wimbledon men's singles title. Phillips and I are age-mates; we grew up during an era when black kids playing tennis could really only count Ashe and Althea Gibson as our models for African American excellence on the international tennis tours. So, to my eyes, a black poet's book about pro tennis arriving 50 years after Ashe's historic U.S. Open singles championship (the only amateur and still only African American man to do so) and 25 years since his death carries powerful symbolic meaning: Tennis and the world are always already in a match.
We are near the end of 2018. The European indoor loop and the tour season have ended: Zverev won the 2018 Nitto ATP Finals in London, rising above a field made up of the world's best eight qualified singles players. This year's 12-month cycle will close much like Phillips' description of 2017: "Now is the time when life starts to press closely. And tennis seems more momentary, more fleeting, the pastoral sucked from it. It's a sober denouement back to a Europe of clenched fists, toxic fear of its own shadow, and the bleating cacophony of useless, cowardly politicians. Tennis comes back to this like a returning prodigal." And on the eve of 2019, Dec. 31, 2018 in Doha; Brisbane; and Pune, India, the circuit will repeat its sun-chasing again. As Phillips writes of the ATP tour, "it is what it is."
Muyumba, a professor at Indiana University Bloomington, is the author of "The Shadow and the Act: Black Intellectual Practice, Jazz Improvisation, and Philosophical Pragmatism."
"The Circuit: A Tennis Odyssey"
Rowan Ricardo Phillips
Farrar, Straus and Giroux: 256 pp., $26
---
Get the latest news, events and more from the Los Angeles Times Book Club, and help us get L.A. reading and talking.
You may occasionally receive promotional content from the Los Angeles Times.