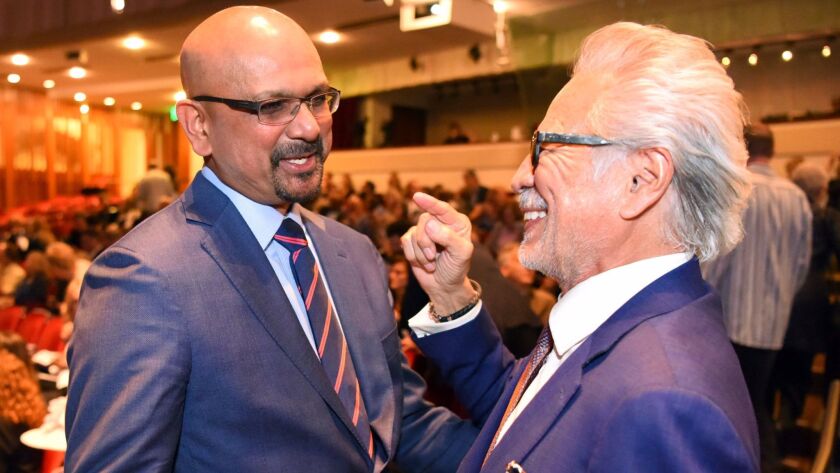 The following is a transcript of remarks at the 2017 Los Angeles Times Book Prizes by Times editor-in-chief Davan Maharaj on Friday night.
Thank you and welcome to the 37th annual Los Angeles Times Book Prizes. It is wonderful to see so many familiar faces ─ and new faces ─ in the audience tonight.
I want to give special thanks to USC, and my personal thanks to Tom Sayles and to President Nikias. They have given the Book Prizes and Festival of Books a perfect home on this beautiful campus.
Live coverage: Festival of Books schedule, panels, participants and more »
Over the years at the Book Prizes, I've enjoyed sharing some of the highlights of past festivals and the exemplary work of our reporters at The Times.
You'll perhaps remember our tribute to past winners, including the late Terry Pratchett with his most memorable cat. Or our stunning video of the Space Shuttle Endeavour maneuvering its way through the streets of Los Angeles.
We have had our fun. And we deserve to celebrate what we have accomplished here. I do mean all of us — for this is truly a group effort. By the end of this weekend, more than 150,000 people will have joined in our annual celebration of the written word.
We find that the written word — the cornerstone of our ambitions, our hopes and our dreams — is under siege.

— Davan Maharaj
Tonight, however, I hope you will understand if my comments are more serious. I'll try not to go all Meryl Streep on you.
I believe that the current political, social and cultural environment in this country presents a challenge to all of us — as writers, as journalists, as purveyors of truth.
For today, we find that the written word — the cornerstone of our ambitions, our hopes and our dreams — is under siege.
How did it become possible that facts could not only be disputed, but manipulated, bent and maligned?
How could truth — our common ground for debate, dissent and accord — become so devalued?
How could the most revered institutions of our country — institutions that our founding fathers committed themselves to securing — become the object of such contempt?
After more than 35 years in journalism, I could never have imagined that one day I would be standing here, standing up for the core values of our profession as editors and writers, and the vital importance of truth.
Perhaps like many of you, I had believed that progress was inevitable.
We had elected our first African American president. The Supreme Court had legalized same-sex marriage. We even had a smash-hit rap musical about Alexander Hamilton on Broadway.
We live in the age of trolls, sowing discord and spreading lies.

— Maharaj
Now we see — to our dismay — that we are in a different era, where we must reexamine all that we held to be self-evident.
We live in the age of trolls, sowing discord and spreading lies. "Alternative facts" inspire acts of hate and retribution. Allegations of "fake news" threaten to undermine what we have fought for. Science itself is under attack.
Such hostility is a threat not just to journalists and writers and editors like us. It is a threat to anyone who trusts us, who turns to us for help in understanding the world.
It is up to us to tell the stories of those who might otherwise become background characters on the world stage: people who are hated and ignored simply because no one has heard what they have to say, or what their everyday experiences are like.
This includes the transgender teen in North Carolina, the "Dreamer" in East L.A., the migrant worker in the Midwest, the hijab-wearing Latina Muslim, the Southside family trying to make a life in Chicago, the congregation attempting to shield their most vulnerable neighbors.
Their struggles must be our call to arms — to be their voice, their champions and advocates.
Whether we call ourselves novelists or poets, artists or journalists, young adult authors or historians, we must be relentless in our efforts to expose hypocrisy, speak truth to power and capture in our prose and our poetry the facts of our world today.
For the forces we are up against will not disappear overnight. This is going to be a long effort. It will take time. And it will define us for years to come.
I'm confident that we will prevail.
There is precedent for this. We merely need to go back to the 1950s, a time — not unlike the present — when it seemed inconceivable that the values and principles that we treasured — freedom of speech, democracy in action — could ever be threatened.
But of course they were. Names were named, careers were ruined, and institutions established to defend the powerless turned on the powerless.
As Yeats memorably wrote, in admittedly different circumstances, "The best lack all conviction, while the worst are full of passionate intensity."
Yet even when some of the greatest writers, artists and intellectuals in America were being suppressed, their work prevailed. Just consider the reporting of Rachel Carson, the dramas of Dalton Trumbo, the passion of James Baldwin.
So let us be brazen in our expression, forthright and assured, for one day our work will be judged. Maybe not tomorrow, maybe not next year. But there will be a time when future generations look to us for inspiration.
We can also borrow a page from someone in the audience tonight — Ruebén Martinez, our honoree for innovation. We'll learn more about Ruebén's work later, but for now, let's just marvel at the fact — yes, a fact — that a barber from Santa Ana was inspired by the hunger for truth in his own community.
When Ruebén began providing books at his shop on Third Street, wisdom came from the writings of Sandra Cisneros, Gabriel Garcia Marquez, Luis Valdez. And through their pages, Ruebén became a voice for his community.
That's an important lesson for all of us, a lesson that makes this evening — this weekend — so exciting to me.
There is more wisdom in our work and in our commitment to the truth than in any 3 a.m. tweetstorm.
As Ruebén reminds us, the best way to fight ignorance and prejudice is with the written word. And as writers, journalists or purveyors of truth, we have no other choice.
To all of the authors, editors — and readers — here tonight, let us not stand aside, but continue to fight and teach, educate and inspire, not just with our words but by the examples of our lives and our unyielding commitment to one another — and unyielding commitment to the truth.
Already a subscriber? Thank you for your support. If you are not, please consider subscribing today. Get full access to our signature journalism for just 99 cents for the first four weeks.
---