There will be no Nobel Prize in literature this year. And that's a shame.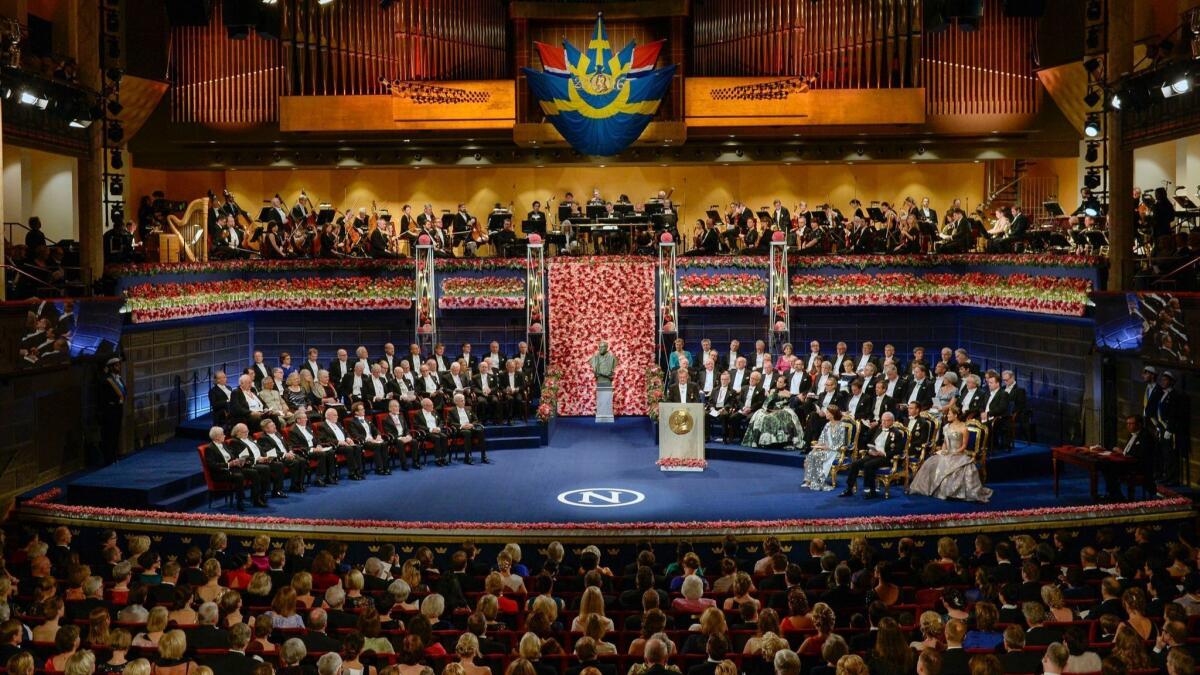 Let's be honest: The Nobel Prize for literature was broken long before the announcement this month that it would go dark in 2018. That's not to say its recent laureates are undeserving — OK, maybe not Elfriede Jelinek or (forgive me) Bob Dylan — but then, this raises the question of what deserving means.
Of the last 10 winners, just Mo Yan and Svetlana Alexievich live outside North America or Western Europe; the 2010 laureate, Mario Vargas Llosa, is Peruvian but has resided in Spain, primarily, for more than two decades. The further back you go, the worse the record gets. The only Arab writer to take the prize was Egypt's Naguib Mahfouz in 1988; of the three African recipients, two, Nadine Gordimer and J.M. Coetzee, were white.
In 2008, when Horace Engdahl, then-permanent secretary of the Swedish Academy (which administers the Nobel), declared that "you can't get away from the fact that Europe still is the center of the literary world," many, myself included, derided him as out of touch. A decade later, out of touch seems far too polite.
And yet, no Nobel in literature in 2018? It's an insult to readers and writers alike. The decision comes in response to a scandal; in November, Jean-Claude Arnault, husband of a member of the academy, was accused of sexually assaulting or harassing 18 women over 20 years. Subsequently, several academy members resigned or were forced out; the jury is in disarray. The solution? To take a year off and name two literature laureates in 2019. Because the academy votes only on the literature prize, Nobels in other categories (chemistry, economics, medicine and the like) will be awarded as they always have.
Who thought this was a good idea, to scapegoat books for an institution's failings? Especially now, when the literary world is coming to grips with its own sexism and prejudice, the Swedish Academy should have set a different tone.
And yet, no Nobel in literature in 2018? It's an insult to readers and writers alike.
Just consider the writers who never won a Nobel, which can be awarded only to a living author: Chinua Achebe, Jorge Luis Borges, Virginia Woolf, Yukio Mishima, James Baldwin. Then consider those who ought to win. For the last several years, I've been holding out for Ngũgĩ wa Thiong'o, the 80-year-old Kenyan author who directs the International Center for Writing and Translation at UC Irvine. And what of Elena Ferrante or Nuruddin Farah or Margaret Atwood or Bei Dao?
Does the Swedish Academy really mean to tell us it can't find a worthy candidate? What kind of readers are they? Even more, what is the point of holding literature accountable for Arnault's (and his enablers') alleged sins?
The easy answer is to say that the Nobel Prize is tainted — which, of course, it is. How can a small group of people, any people, decide the best in literature when such a standard is at best subjective and far more often, reactionary, insular?
At the same time, I don't look to awards to define greatness. I look to them to open up the territory. Among my favorite laureates is Patrick Modiano; I had never read him before he won the prize. So, too, Gao Xingjian, whose novel (but is it really?) "Soul Mountain" beguiles me. Even Dylan — who I think was a poor choice — provoked a conversation about what literature can be. This is the important stuff, the ongoing dialogue. It is why we read in the first place. It is why we care.
Now, we are left with nothing, only the machinations of the academy. To call this self-serving would be to belabor the obvious. Still, what do we expect from an institution intent on protecting the tenuous illusion of its authority? That the academy has chosen to hide behind the Arnault scandal is just more proof of its complicity.
Ulin is the author of "Sidewalking: Coming to Terms With Los Angeles." A 2015 Guggenheim Fellow, he is the former book editor and book critic of The Times.
Get the latest news, events and more from the Los Angeles Times Book Club, and help us get L.A. reading and talking.
You may occasionally receive promotional content from the Los Angeles Times.