Going back to school with writers and the first things they wrote in 'Our Story Begins'
Before accolades and agents. Before book deals and book sales. Before workshops, before SATs and even, in some cases, before middle school, these writers were just kids. Kids who wrote.
"Our Story Begins: Your Favorite Authors and Illustrators Share Fun, Inspiring, and Occasionally Ridiculous Things They Wrote and Drew as Kids," (Atheneum Books for Young Readers, $17.99) collects the early, early work of some of today's most lauded children's authors and illustrators, proving that everyone — even future prize winners — goes through an awkward phase.
Sometimes comic, sometimes tragic, these first forays into writing are consistently cute.
Classes begin on Aug. 15 for the Los Angeles Unified School District, and for any kids dragging their feet, this book provides a little motivation. You never know what homework assignment might light a creative spark — better to save even the gangliest drafts for posterity.
Need further proof? Here are six authors from "Our Story Begins."
Marla Frazee, age 8
Then:
Even at a tender age, Frazee understood the power of a literary allusion. In "June and John," her first chapter book, she names the dog Snoopy. "Copying our first mentors is an excellent way to find our own voice as authors and illustrators," she writes. "Or maybe I just believe that because it's what I did."
And now:
Frazee went on to win two Caldecott Honors, for "All the World" and "A Couple of Boys Have the Best Week Ever."
Jarrett J. Krosoczka, age 8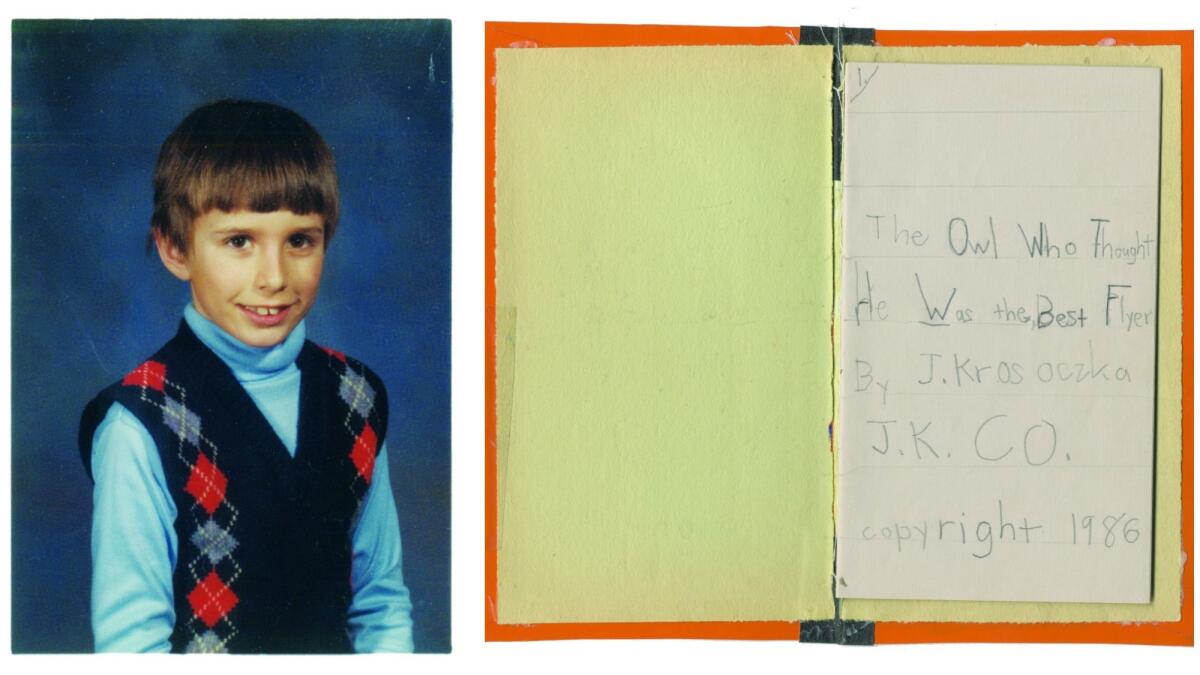 Then:
Krosoczka gets an A+ for his title, "The Owl Who Thought He Was the Best Flyer." A classic tale of hubris, you just know there's no way things ends well.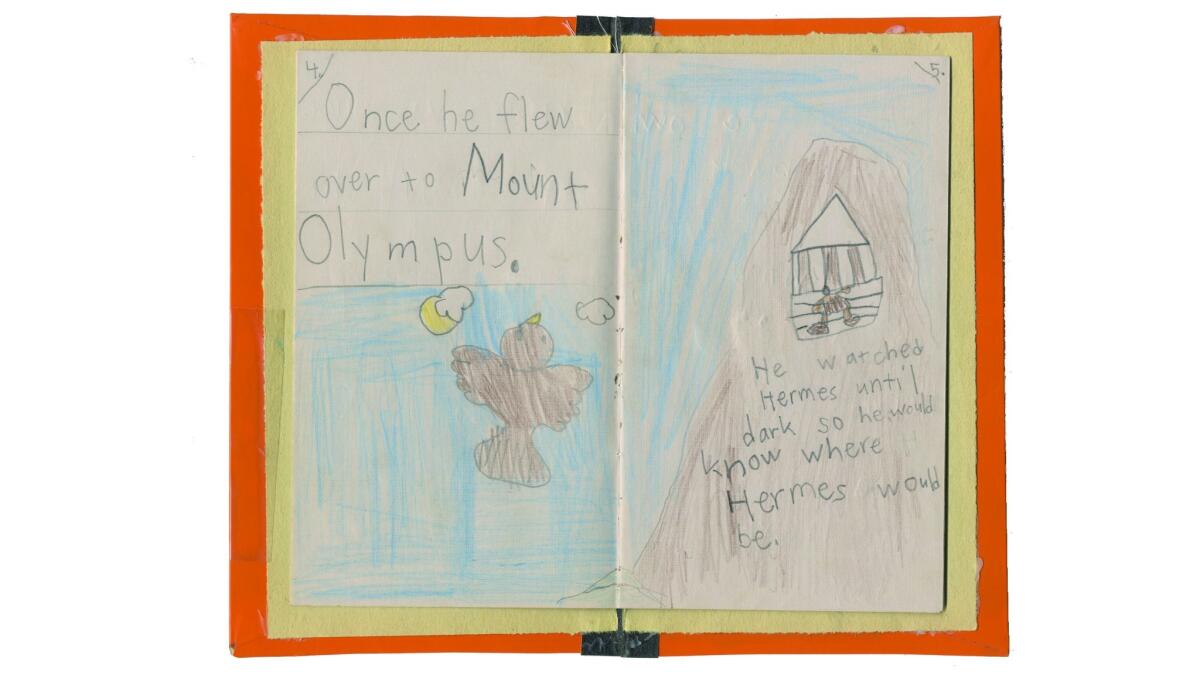 Spoiler alert: This overconfident owl cheats during a competition with Hermes, who turns him into the moon.
And now:
Krosoczka is the author and/or illustrator of more than 30 books, including "Punk Farm" and "Lunch Lady and the Cyborg Substitute."
R.J. Palacio, age 8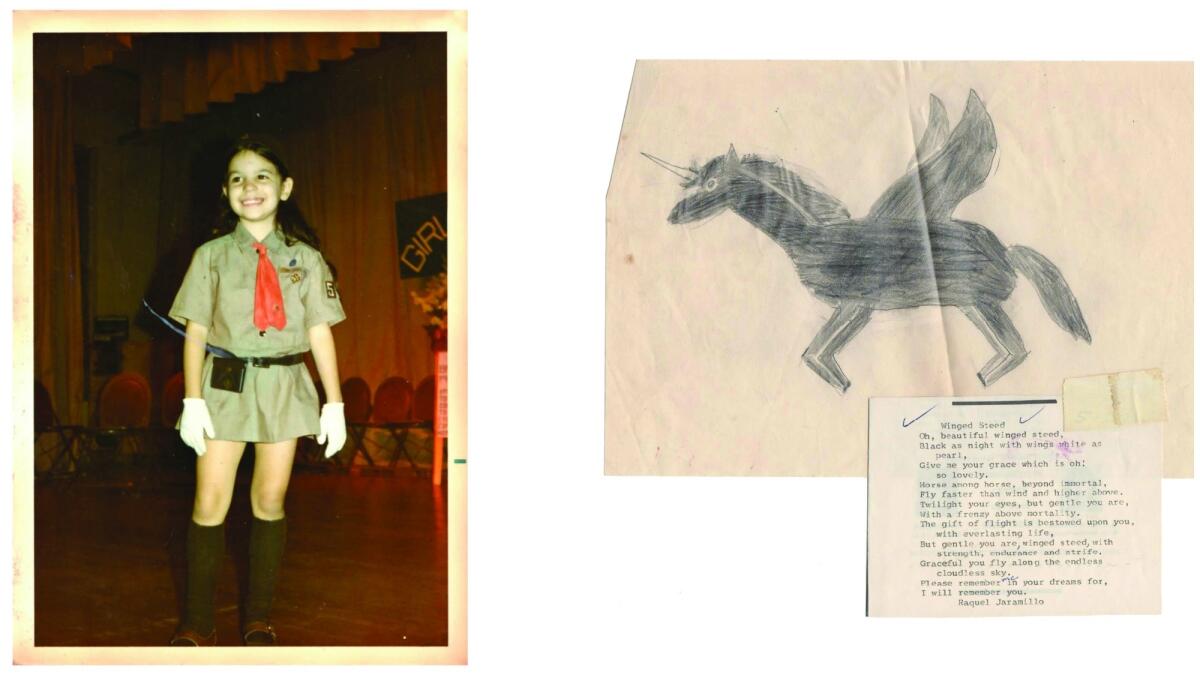 Then:
When she was in third grade, her school newspaper published Palacio's poem, "The Winged Steed." "Reading it now," she writes, "I doubt I even knew what half the words meant, but I liked that kind of flowery language."
And now:
Palacio's debut novel "Wonder" was a bestseller, which has sold more than 5 million copies worldwide; a movie adaptation starring Julia Roberts is coming to theaters in November.
Linda Sue Park, age 9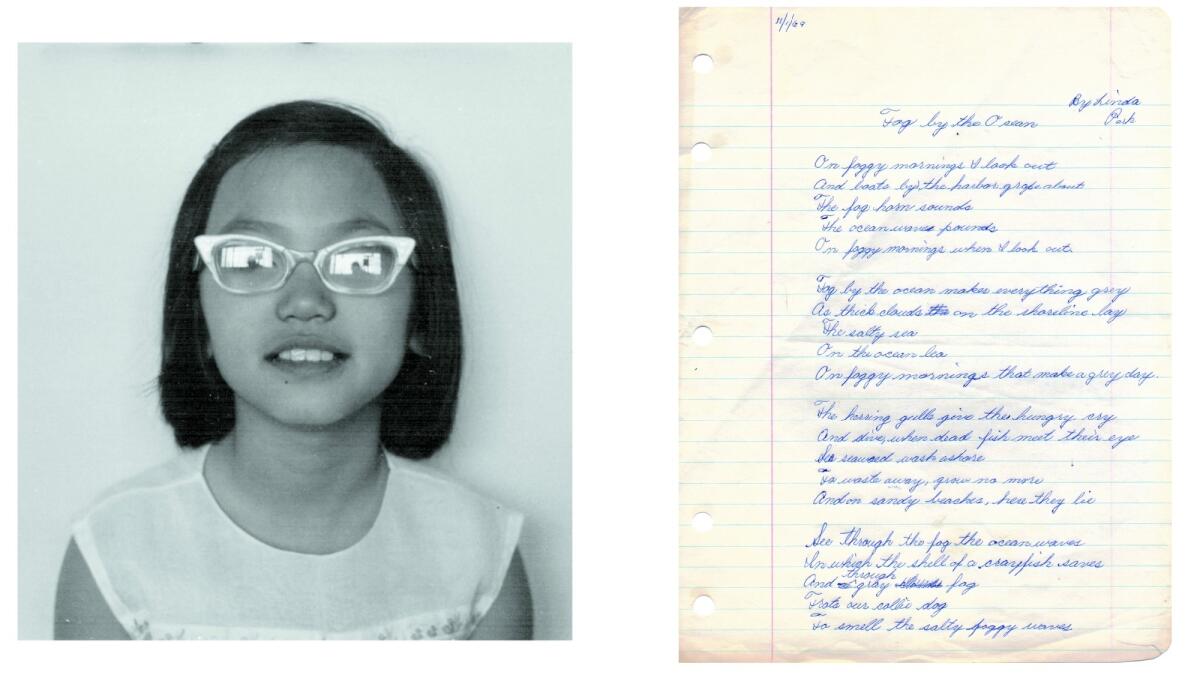 Then:
Growing up in Illinois, her first visit to the coast inspired Park to write "Fog by the Ocean," a poem with the flair of fiction. "We didn't have a dog," she writes, "but I needed a rhyme for 'fog.'"
And now:
Park's "A Single Shard" won a Newbery Medal; she is the author of more than two dozen novels and picture books.
Kwame Alexander, age 13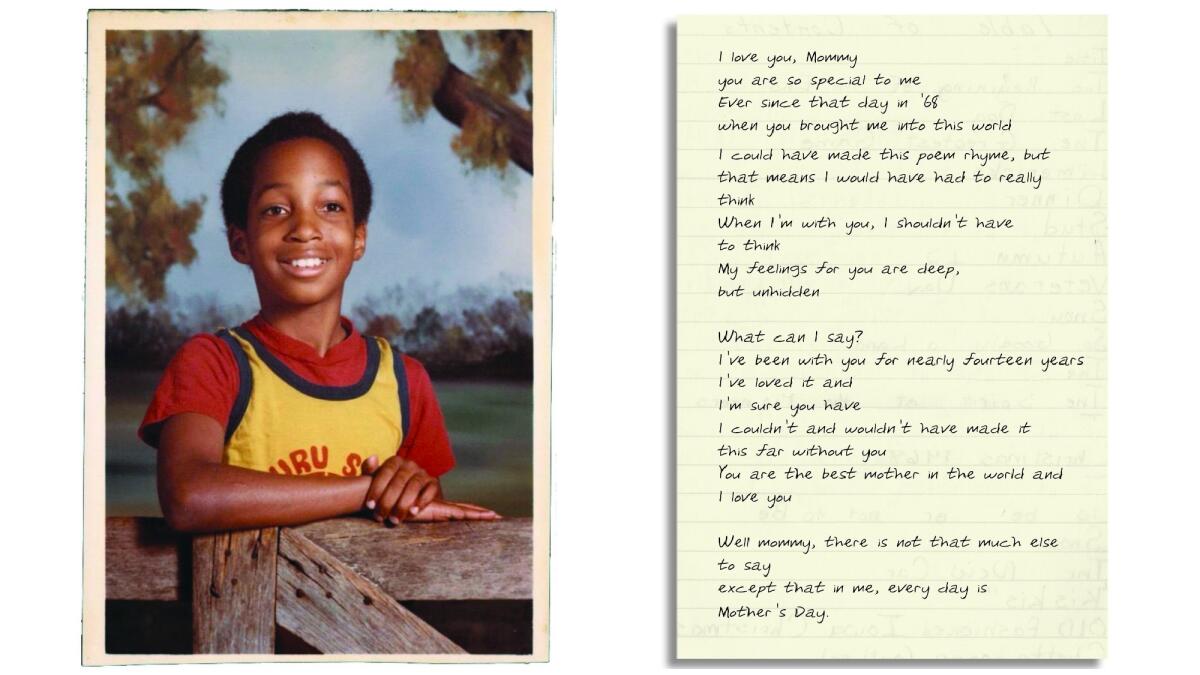 Then:
Alexander considers this work, which he composed for his mother, his first "real" poem. "It took me two days to construct this epistolary poem," he writes. "When I finished, I just knew I was the next Langston Hughes."
And now:
For his book "The Crossover," Alexander received the Newbery Medal and the Coretta Scott King Author Honor, among other awards.
Grace Lin, age 13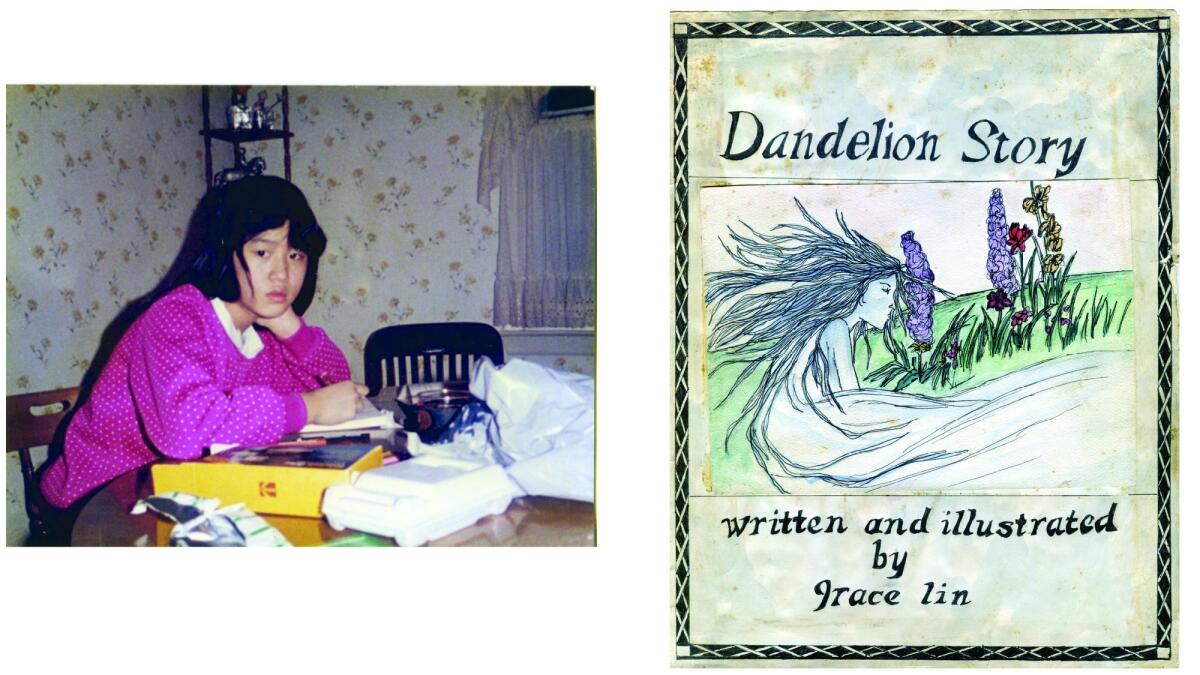 Then:
In "Dandelion Story," a high-stakes tale, the dandelion is eager to see the world. Conflict escalates when the wind warns that there's a price to pay for the experience. "I would have to pull you from your roots. You may die." It's a classic loss of innocence story with a nature vs. nature twist.
"Back then, I thought being serious meant being sad or miserable," she writes. "So, my very sullen author photo was my attempt to look serious."
And now:
Today, Lin prefers her work to inspire. Her novel "Where the Mountain Meets the Moon" was a Newbery Honor Book; "When the Sea Turned to Silver" was a finalist for the National Book Award.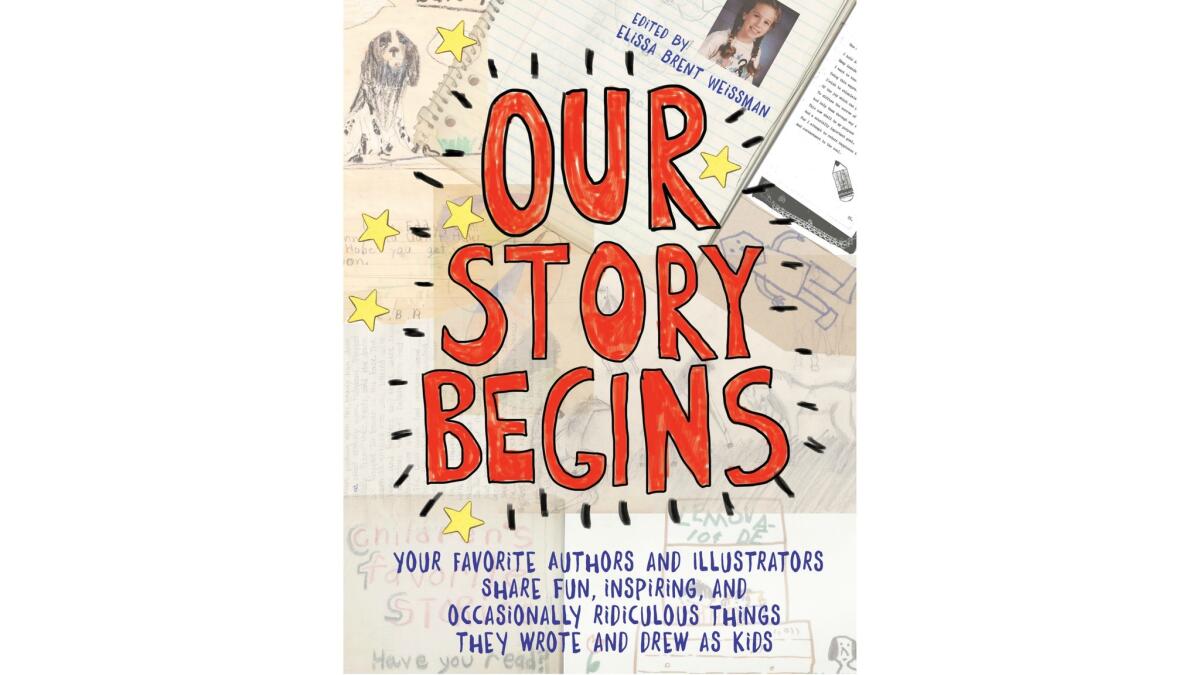 Get the latest news, events and more from the Los Angeles Times Book Club, and help us get L.A. reading and talking.
You may occasionally receive promotional content from the Los Angeles Times.