Henry Rollins on the road with John Waters' memoir, 'Mr. Know-It-All'
John Waters' new collection of essays, "Mr. Know-It-All: The Tarnished Wisdom Of A Filth Elder," explores the edgy filmmaker's many decades of experience in the business, brushes with mainstream acceptance, and life as an aging counterculture celebrity. As Waters writes: "Aging gracefully is the toughest thing for a rebel."
"Mr. Know-It-All" is like life itself: at times fascinating, hilarious and outrageous, as well as tedious, gross and obnoxious — exactly all the reasons why you show up for anything Mr. Waters has done in the first place.
I've been a fan of Waters for many years. I've visited with him, interviewed him and have always been impressed with his friendliness, quick wit, curiosity and honesty. I've kept every Christmas card he sent me as well as the tree ornament, a clear bulb with a plastic roach in it: "Happy holidays from John Waters."
For John Waters, life is too short for subtlety.
Henry Rollins
Waters spends a lot of time on airplanes. He insists on first class now after so many years of circling the globe on promotion duty in coach. Waters has earned it; he also keeps a sharp eye on his fellow first-classers. "Just the sight of a family of four sitting in first class is enough to make me see red," he writes. "It took decades of my hustling before I could demand to be flown noncoach, and now, I'll see a mom and dad on an international flight with two kids routinely nibbling filet mignon in flat bed seats in the front of the plane. How much could that cost the family? Forty thousand dollars? Obscene!"
To read, it's a little caustic. But if Waters were to read it out loud, you'd be laughing. That's the thing with "Mr. Know-It-All," — resilient humor and willful hyperbole are ever-present.
Like Waters, I'm a fellow frequent flyer but find myself in a perpetual state of self-inflicted austerity and usually reside, even from Los Angeles to Dubai, way in the back, "with the dogs and the mail," as I like to say. (I can't justify the expenditure for a little extra leg room when I think of all the records I could buy instead.)
RELATED: Why Joy Division? Henry Rollins examines Jon Savage's oral history of the post-punk band »
Whenever I'm on a flight going anywhere, I bring a book. If you were to look at my shelves you would see book after book with boarding passes stuck in the pages, it's one of the ways I keep a record of my life. They end up lightly mangled, pages stained with turbulence jettisoned coffee and scarred by bright yellow ink.
I recently chose to bring "Mr. Know-It-All" with me on a several-thousand-mile trip as I thought it was the perfect traveling companion for where I was going and what I was about to do.
"Good Lord. I'm seventy-three years old and my dreams have come true. Couldn't you just puke?"
John Waters
Life is short and gets boring quick. If you don't put incredible amounts of effort in, life can become an existential Sargasso Sea of mortal machinations. As Iggy Pop once said in the song "Five Foot One" — "I wish life could be Swedish magazines / I wish life could be … anything!" This is why, whenever possible, I come up with interesting things to do and get them done.
So I recently took a flight to Sydney, Australia. Why? Because a cast member of my favorite Waters film, "Cry-Baby," the aforementioned Iggy, the Undisputed Heavyweight Champion of Rock and Roll, was doing four shows in that country: two in the iconic Sydney Opera House, one in Byron Bay and another in Melbourne, where he was about to turn 72. He the man; me the fan.
I try to live eventfully. I work at it. A fear of being still is with me at all times. And Waters feels it too. "You shouldn't have a fear of flying; you should have a fear of not flying," he writes. "If I'm not scheduled to go somewhere professionally at least every couple of weeks, I get nervous."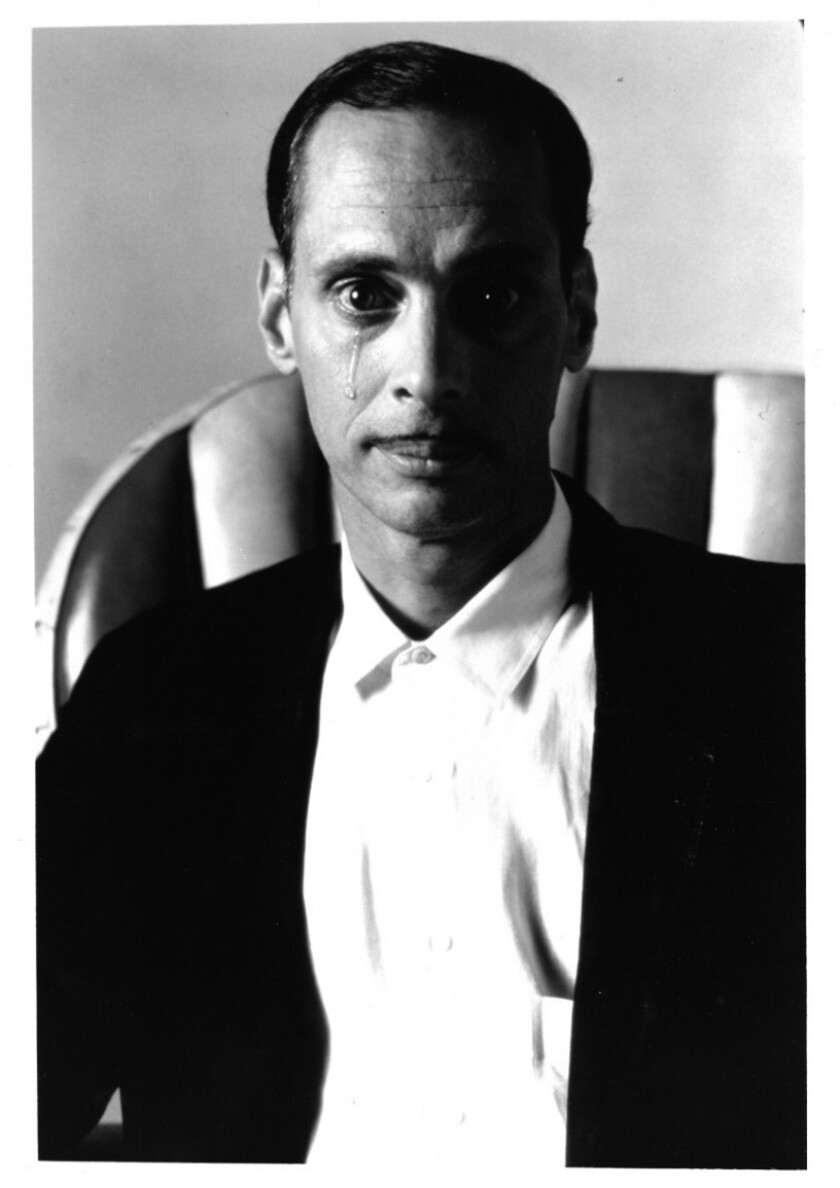 The hold of 'Hairspray'
John Waters was born April 22, 1946, in Baltimore and has been making films since the early 1960s. An alt-culture, pruriently focused gay man with a fascination for the stickier aspects of life, he has been battling budgets and the Motion Picture Assn. of America while working with one of the most interesting stables of actors imaginable from box-office heroes such as Johnny Depp to the everything-shattering Divine and no-way-is-she-in-this-movie Patricia Hearst. Waters keeps it ever so real, often working in Baltimore and incorporating local talent.
Yet from reading "Mr. Know-It-All," it would seem that success has been his biggest challenge.
The Waters-written and -directed 1988 film "Hairspray," has become, of all things, a Broadway musical, garnering eight Tony Awards and a 2007 cinematic remake. It has become not only a cult classic but a piece of true Americana. Some of the most interesting parts of "Mr. Know-It-All" are about how Waters grapples with expectations of the corporate suits who — no doubt — want him to crank out one multiplatform money maker after another.
"I didn't know it yet but 'Hairspray' was a Trojan horse," Waters writes. "It had the power to sneak into middle-class homes and espouse gay marriage and teenage race mixing without anybody noticing. We were soon to find out that the test results were wrong. Even racists loved 'Hairspray'!"
"Aging gracefully is the toughest thing for a rebel."
John Waters
Unfortunately, Savoy Pictures lost millions on his 1994 film "Serial Mom," and went out of business a few years later. Around this time, Waters figured his best days in Hollywood were likely behind him. "From here on in, none of the movies I made turned a profit," he writes. "But do you think that stopped me? Midcareer is the time to realize that failing upward is the only way to go, but it's a tricky thing to pull off."
John Waters is a FINO — Filmmaker In Name Only — because, really, he's a lot of things: writer, director, public speaker, provocateur and survivor. In "Mr. Know-It-All," the curtain is pulled back and Waters' life, a multidecade exercise in adaptability, perseverance and ceaseless hustle, is revealed. The essays are hyper-driven with the caloric burn of nervous energy. Art, mischief and deviance are essential to Waters. He'd be nowhere without them. So while he's always looking for a way to "filthify" your life for the better, he also needs to get paid. This being the case, he's happened upon an ironic truth, completely free of self-pity. "You never make much money on the projects you think up when you're young — the ones that are the most original, the ones that get you noticed. No. You cash in later once you've made a name for yourself and begin to fail."
It's clear-eyed realizations such as this, found throughout "Mr. Know-It-All," that, as the book's title indicates, offer wisdom, but the kind one gives as he's heading toward the exit.
Waters' reflections
I finished "Mr. Know-It-All" on the long flight back to Los Angeles, after Pop's Australian shows were done. Melbourne — the date also happened to be Pop's 72nd birthday — was epic: Confetti came out of the ceiling, and everyone sang. A phenomenon I've seen all over the world at his shows happened yet again: Anywhere in the audience he looks, everyone starts freaking out. Along my journey, with the band and up the coast to the Byron Bay Blues Festival, "Mr. Know-It-All" turned out to be a great traveling companion.
Much like Iggy Pop, Waters — who recently turned 73 — knew he was never going to be able to fit into the straight world. "Mr. Know-It-All" is full of insight and scrappy, hard-earned smarts. Waters was innovative and bold enough to create a body of work that, when summed up, is the perfect embodiment of what art and the artist are supposed to do. Because his most commercial endeavor was mere coincidence, you still can put him in the "no sell-out" section.
One of the most poignant parts of "Mr. Know-It-All" comes toward the end, in the essay "Run-On Andy," where he discusses his friendship with Andy Warhol and his great admiration for him. It's the most heartfelt and least hysterical part of the book and shows a vulnerable side to Waters' otherwise matter-of-fact assessment of death, which, besides work, is the other major theme throughout "Mr. Know-It-All."
Several pages later, in the final chapter, "Grim Reaper," Waters ponders his death-to-be, burial and somehow clawing his way out of his coffin to roam the streets of Baltimore again. "The Duke of Dirt is back and no one will need to visit my grave again."
Immortality seems to suit him.
"I let out a shriek of contentment so loud, the windows shatter. The whole world is silent for just a second. But it's my second. Won't you come visit?"
"Mr. Know-It-All" takes us through the innermost workings of the mind of Waters. Nothing is withheld and sometimes more might be revealed than you want to deal with but for John Waters, life is too short for subtlety. "Good Lord," he writes, "I'm 73 years old and my dreams have come true. Couldn't you just puke?"
:
John Waters
Farrar, Straus and Giroux; 384 pp., $27
Rollins is an L.A.-based writer and radio show host.
---
Get the latest news, events and more from the Los Angeles Times Book Club, and help us get L.A. reading and talking.
You may occasionally receive promotional content from the Los Angeles Times.