A co-working space for working writers
At the end of a steep driveway, perched above the shops and restaurants of Silver Lake's Hyperion Avenue, author Janelle Brown stands at the entrance of a cantilevered Midcentury Modern building, its glass walls cross-hatched with metal sash windows like a translucent Rubik's cube. It's the kind of tucked away, casually stunning piece of L.A. architecture that looks art-directed, like the set of a Tom Ford film, and not, perhaps, where one might expect an ad-hoc collective of freelance writers to have taken root. Yet here, alongside the bamboo growing in a central courtyard, is Suite 8, a unique co-working space shared by novelists, essayists, screenwriters and more, of which Brown is a founding member.
She is joined by two other founders, Erica Rothschild, who is quite tall, her hair pulled back into a no-nonsense ponytail, and Carina Chocano, shorter, who wears hers thick and loose and wavy. The longtime friends can barely suppress their amusement at witnessing one another lead me on an informal tour. Designed by Arthur Wolfe, a student of Richard Neutra, in 1955, the building originally served as his personal office, although today a number of businesses — including a film trailer agency called Big Science, and BRKLY, a too-cool-for-vowels branded content and design firm. Suite 8 is in the northeastern corner, an L-shaped office divided into modest, shared rooms. "It's not a glamorous space," Annabelle Gurwitch, the actress whose collection of personal essays, "Wherever You Go, There You Are: Stories About My Family You Might Relate To," comes out in April, chimes in from a corner desk, and a couple of other women working in the so-called bullpen chuckle.
"We always have broken lights hanging from the ceiling," Brown says with a laugh, pointing to a dangling entanglement of electrical cords just above her head. She has a broad, warm smile; her clothes are sharp. Behind the building's imposingly chic facade, the Suite 8 offices appear functional and somewhat familiar: "Star Wars" figurines and miscellaneous stacks of paper — hallmarks of cubicle life everywhere.
There are better known co-working spaces in for "creatives" in Los Angeles — the Unique Space, Soho House — and even some devoted solely to writers, such as the Hatchery, but Suite 8 is tightly knit.
Seated at their desks or leaning against tables beneath the building's large windows, they looked professional but laid back, more jeans and a jacket than the writers' typical work-at-home uniform — sweats. The writers in the bullpen spoke quickly, finishing one another's sentences like family. Laptops open, they assured me it was usually a quiet place to work. It was a little intimidating, like walking up to a clique — no matter how friendly — in a high school cafeteria. This space is "more like a shared apartment," offered Chocano, whose forthcoming book is "You Play the Girl: On Playboy Bunnies, Stepford Wives, Train Wrecks, & Other Mixed Messages." Rothschild, quick on her feet, countered, "It's a village."
So whom do we have to blame for the stereotype of the lone and lonely writer, cloistered in a stark room, looking up only briefly from her ink-stained manuscript to gaze through a rainy window, martyred and forlorn? Is it William Wordsworth? Lord Byron? Henry David Thoreau? It's not only men — Virginia Woolf fiercely defended a room of one's own too.
But under the influence of Hollywood, where cafes are crowded with aspiring screenwriters and television writers often work together, these literary writers have gravitated toward a shared space.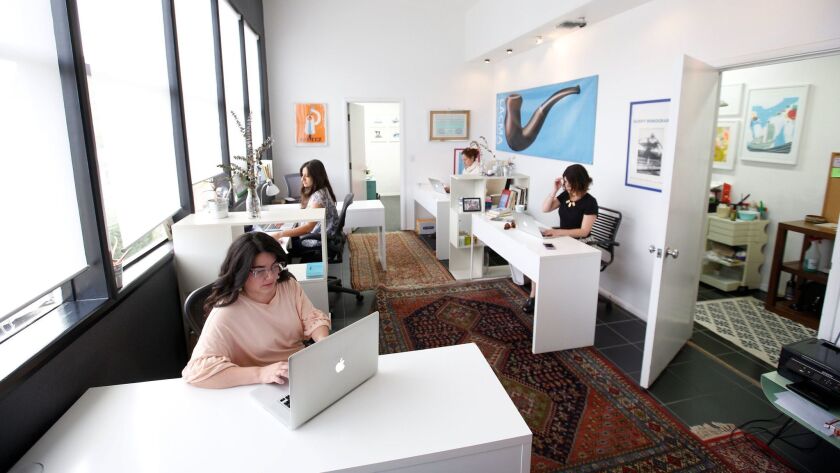 For Rothschild, a self-professed "writer's room creature," a co-working space is essential. A professional screenwriter with film and TV credits, including the Disney Channel's "Sofia the First" under her belt, she had worked previously at the Writers Guild lounge and began the hunt for a new workspace when she was having her first child and needed an office closer to home.
Rothschild discovered that there were scores of other writers casting around for a quiet place to work — many of whom also had small children. Jillian Lauren, author of the memoir "Some Girls" and the novel "Pretty," deadpans, "I had a 3-year-old that I was running away from." Brown estimates that 90% of Suite 8 members are parents. A number of members' children attend the same nearby preschool. There is an element of moral support. "We can commiserate," Rothschild said. "We know what being a working parent is like."
What's more, almost all of the long-term regulars are women. "Somehow the women last longer — it's like lifespan," says Gurwich.
There are exceptions to the rule. On the day I visited, there was one man in the office, an original member. A corkboard covered in notecards flanked Josh Zetumer's desk — the building blocks of an "X-Men" spinoff. He took a step back to examine the structure. "It's too many beats," he said, and Rothschild, whom he met during the writers strike, agreed with him. Because Suite 8 opens its doors to writers of different genres, there is opportunity for cross-pollination.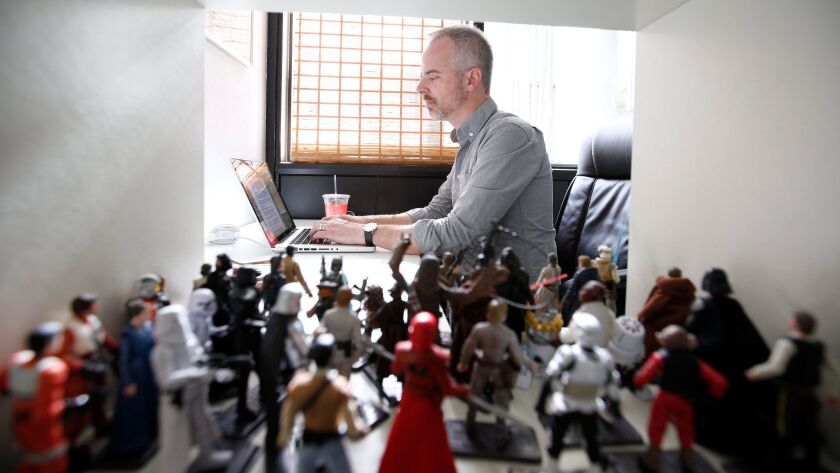 "It's nice to have the input of people who are thinking of stories in different ways," Brown said. Stuck on a glitch in her novel "Watch Me Disappear," which will be published in June, she and Zetumer took a walk around the reservoir one afternoon. His screenwriting background helped parse what wasn't working — "How to take a high concept," said Brown, "and apply it to the fussy nature of literature."
Writers also share professional resources. The ins-and-out of publishing — and of negotiating business — are openly discussed. Brown might ask an office mate of her book, "How many [copies] did Barnes & Noble order?" explaining that "because we're so far away from the New York literary scene, which is competitive, it's more collaborative [here]. We don't hoard information."
Rothschild initially worried that the scope of Suite 8, which houses 16 desks occupied by roughly 24 people, "was a crazy thing to do. If it failed I would have been on the hook for a lot of money." Fees range from $140 to $425: Suite 8 allows writers to share a desk, splitting both the rent and the actual space, like a time-share. In many ways the setup is not only practical but humane — the contours and expenses of family life are not always predictable, and having a more flexible schedule makes sense.
That's about as far as the perks go. "We're not providing a service," said Chocano. "We're providing a little plot of land."
"We all have these days 'I'm gonna give up,' " said Brown, and having another writer there, quietly working with her head down, helps to keep her going. Lauren added, "There's something magical about my productivity here … my attention is much more focused."
Brown put it in less mystical terms. She called the group mentality "guilt by proxy." Gurwich agreed: "I don't know if you're on your Facebook page, but it sure looks like you're working to me."
---
Get the latest news, events and more from the Los Angeles Times Book Club, and help us get L.A. reading and talking.
You may occasionally receive promotional content from the Los Angeles Times.