Walter Mosley's 'Down the River Unto the Sea' is a noir that plunges into social issues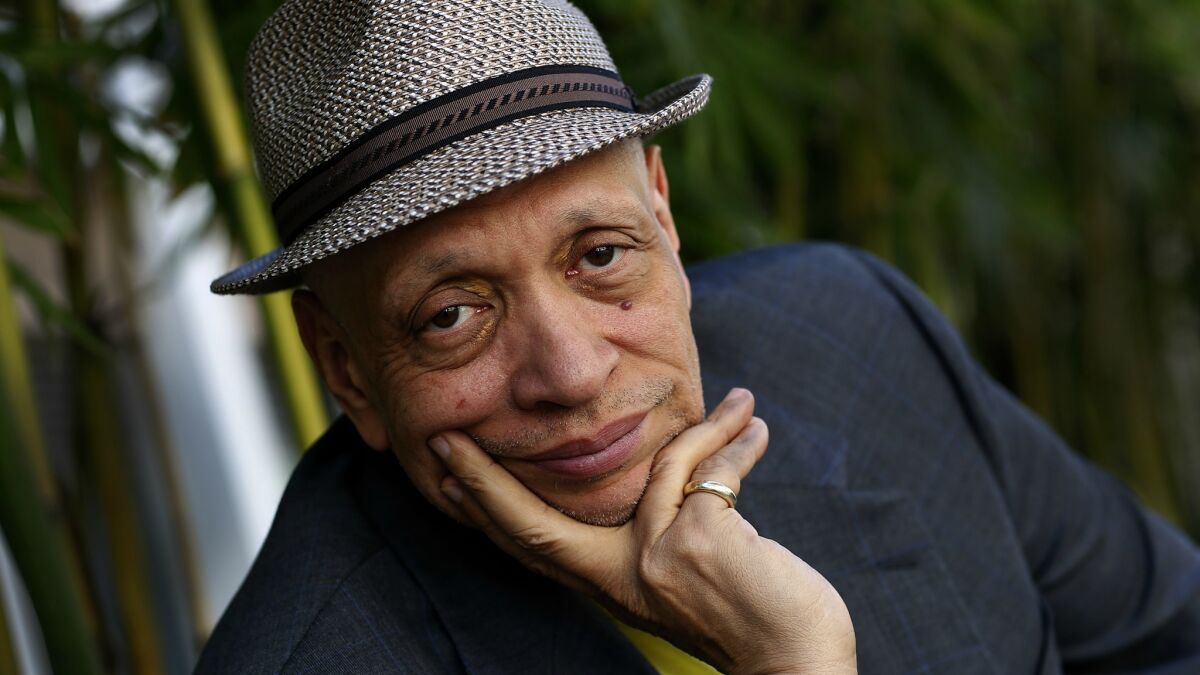 Walter Mosley is not afraid of controversy. Joe King Oliver, the protagonist of his new novel "Down the River Unto the Sea," is a black ex-cop who was framed for the rape of a white woman. The premise alone is enough fuel for hours of classroom discussion. Add in a wise teenage daughter, a devilish antihero partner and a death-row inmate inspired by Mumia Abu-Jamal, and we have a wild ride that delivers hard-boiled satisfaction while toying with our prejudices and preconceptions.
King is a private investigator, but unlike Easy Rawlins and Leonid McGill before him, he spent the first part of his career on the other side of the blue line, as a detective for the NYPD. Thirteen years earlier, the amorous detective fell into a setup orchestrated by shadowy enemies who needed him out of their way. He spent three months in prison before charges were dropped and he was released in disgrace, his job and marriage wrecked by the bus he got thrown under.
"My life since those ninety-odd days in Rikers had been what I can only call vacant," he narrates. "Human connection only reminded me of what I could lose." He lives and works in Brooklyn Heights, where he's been in a depressed holding pattern, taking on clients while dreaming of his vindication and consequent return to the force. His 17-year-old daughter Aja-Denise works in his office, but she's one of the only people he lets himself keep close.
When his alleged rape victim, an ex-prostitute turned born-again Minnesota housewife, sends him a letter implicating the NYPD in the frame job, King decides to find out what happened to him and why. The next day he lands another big case, one that echoes and swirls around his own in classic noir fashion. The subject is A Free Man, born Leonard Compton, a black militant journalist facing the death penalty for the murder of two police officers. Until recently he's been in the hands of a celebrity lawyer, who's appealed the sentence and started preparing for a self-defense plea, claiming the cops were trying to kill Man for meddling in their dirty business. When the lawyer abandons Man just as a key witness disappears, his young intern brings the nearly 7,000-page case file to King.
King, who still considers himself a cop, is initially wary. "I wasn't a fan. When it came to cops as victims I was just another brick in the Blue Wall. Few civilians understood how hard it is to be a policeman when almost everybody is afraid of you and suspicious too. The mayor, the city council, and half the civilian population were willing to believe the worst of us when we put our lives on the line 24/7." But with the case laid out in front of him, he can't help but recognize its importance: "If Man was innocent and I freed him, then it would be, in some way, like freeing myself."
He gets started on both cases, knowing full well that he'll upset some dangerous people in the process. ("If even one thing you told me is true," he tells his client, "then there's bad news and murder to go all the way round.") The former cop recognizes that he can't pursue his corrupt ex-colleagues working alone and within the law. He enlists the help of Melquarth Frost, a watchmaker and hardened criminal King once arrested for bank robbery. A dead-eyed killer named for Satan himself, Mel is deeply loyal to the cop who took a hit to his career rather than lie to secure a conviction, as was expected by his superiors.
Mosley made his bones writing hard-boiled detective fiction, and "Down the River Unto the Sea" has all the trappings of the genre. King runs around New York interviewing prisoners and radicals, assassins and addicts. He pursues corrupt cops, who pursue him in turn. They tangle on the streets and in soundproof underground chambers. There's violence and adrenaline and enough unbeatable injustice to drive any principled PI deep into the bottle.
And yet the darker and uglier the story gets, the more Joe King Oliver comes alive. After years of mourning his upright career, he seems to revel in this world turned upside down, where the corrupt cops want him dead, and playing by the rules isn't even an option. He finds a sort of redemption by roguery, and the journey is fun and joyful. King gets his mojo back as he relinquishes his strict fealty to the law, exercising his investigative chops and letting himself connect with people in meaningful ways.
Part of this transformation is the partial return of his old horndog ways (tempered, somewhat, by the paternal instincts enlivened by Aja-Denise), and the book contains a few more flirtations with floridly described women than necessary. But he takes just as much pleasure in the other benefits of his reshaped identity, one that doesn't depend on the shield he lost. "My life was in shambles, but sometimes you had to break things down to see what was wrong," he says. Despite its serious subject matter, "Down the River Unto the Sea" is an optimistic noir. A fitting work for a world riddled with dark contradictions.
Cha is a writer in Los Angeles. Her most recent book is the novel "Dead Soon Enough."
Walter Mosley
Mulholland Books: 336 pp., $27
---
Get the latest news, events and more from the Los Angeles Times Book Club, and help us get L.A. reading and talking.
You may occasionally receive promotional content from the Los Angeles Times.