Gabriel García Márquez's collection of signed books — from Clinton, Castro — goes to the Ransom Center in Texas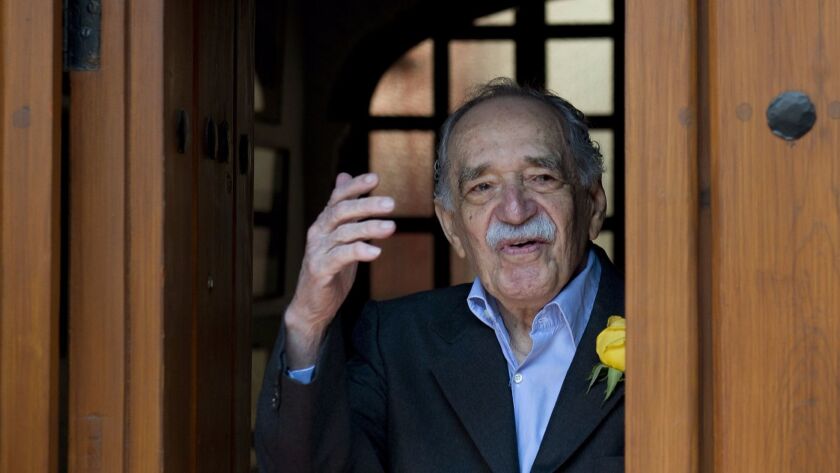 Books that Fidel Castro and Bill Clinton gave to Gabriel García Márquez will sit side by side on shelves in Texas.
The Harry Ransom Center at the University of Texas at Austin, which is home to a preeminent collection of 20th century author archives, has procured a collection of books, many of them inscribed by their authors, belonging to Gabriel García Márquez, the legendary Colombian novelist who died in 2014.
The collection, includes books given to García Márquez from at least five fellow winners of the Nobel Prize in literature — Toni Morrison, Orhan Pamuk, Pablo Neruda, Mario Vargas Llosa and Nadine Gordimer, as well as political leaders Castro and Clinton. Clinton's book is his memoir "My Life" — he gave García Márquez the Spanish version, "Mi Vida." Castro, who died Nov. 25, was a longtime friend of García Márquez, and wrote a long note in the front his 2010 book "La victoria estratégica: Por todos los caminos de la Sierra," with the salutation, "fraternalmente" — fraternally.
One of the most unusual items in the collection may have wound up in García Márquez's hands by mistake. Castro's 1973 book "La historia me absolverá" included a few of the Cuban leader's monogrammed handkerchiefs.
Although it is the words that authors inscribed to García Márquez that make these items of interest to historians and literary researchers, a collection of books like this is special because they are tangible objects. Some are worn, the covers smudged. Some might contain surprises, like a world leader's homey monogrammed handkerchief.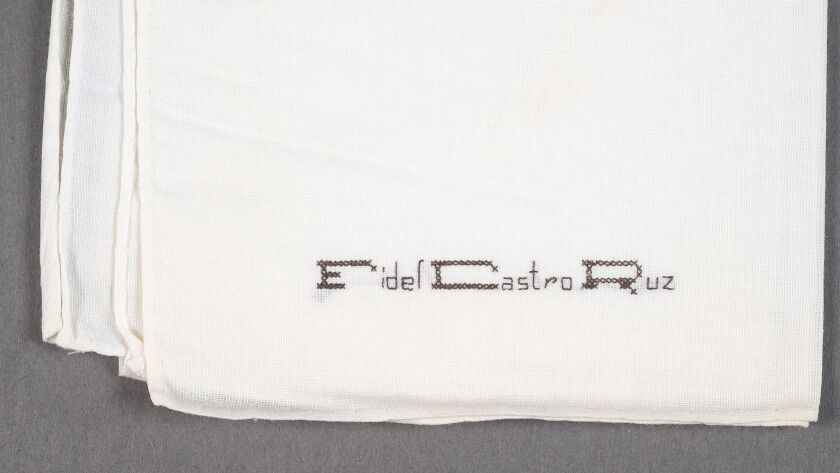 The books will join the late novelist's literary archive, which the university museum acquired two years ago.
García Márquez is widely considered one the world's greatest novelists. Born in the Colombian town of Aracataca in 1927, he gained worldwide fame with his novel "One Hundred Years of Solitude," which ushered in the era of magic realism.
After finding success with novels such as "Autumn of the Patriarch" and "Chronicle of a Death Foretold," García Márquez was awarded the Nobel Prize in literature in 1982.
As with many Latin American novelists writing in the 20th century, García Márquez both engaged political movements and was affected by them. He worked internationally as a journalist before finding success as a novelist, and settled in Mexico, where he lived for many years. It was there that he died, in 2014.
But Colombia was at the heart of many of his fictions. Like Faulkner, García Márquez built a fictional world around a place he invented, Macondo, that was constructed from imagination and memory.
In May, his ashes were interred in Cartagena, Colombia, where he attended college and began his career as a journalist.
Many of the more than 180 books in García Márquez's library reflect the author's worldwide reputation as a literary celebrity.
Clinton had a special relationship with the writer. Shortly after he began his presidency in 1993, Clinton ended the travel ban against the author, which had been instituted because of the socialist novelist's criticism of American foreign policy. Clinton signed his book to García Márquez: "To my friend Gabriel García Márquez, with thanks for your life, your imagination and your kindness to all."
Clinton, a longtime fan of "One Hundred Years of Solitude," also referred to García Márquez as "the most important writer of fiction in any language since William Faulkner died."
Among the books is Vargas Llosa's "La Casa Verde," inscribed to García Márquez. This was in 1965, when the two writers were close friends — and García Márquez apparently remembered that time fondly enough to keep the book, even after their relationship devolved into one of the world's most famous literary feuds. In February 1976, the two writers were leaving a movie theater and Vargas Llosa punched García Márquez in the eye, and, according to legend, they never spoke again.
Other friendships were less volatile. The García Márquez collection also includes a signed copy of Morrison's "Paradise," which the author dedicated to García Márquez using his nickname, "Gabo."
"For Gabo, with always increasing love and respect," Morrison wrote on the novel's title page. "Thank you for the outrageously wonderful visit."
Other writers whose books are included in the collection are Álvaro Mutis, Milan Kundera and Isabel Allende.
Allende signed a copy of her novel "The House of the Spirits," with an inscription in Spanish that translates to: "For Gabriel García Márquez, the true teacher of all who want to write in the Spanish language, with a tight hug and the desire to meet you personally someday."
The library also includes some of García Márquez's own books, annotated by the novelist.
The collection, along with García Márquez's literary archive, will be available for research at the Ransom Center, whose holdings include manuscripts and literary archives of James Joyce, Norman Mailer, Anne Sexton, David Foster Wallace and Don DeLillo.
---
Get the latest news, events and more from the Los Angeles Times Book Club, and help us get L.A. reading and talking.
You may occasionally receive promotional content from the Los Angeles Times.