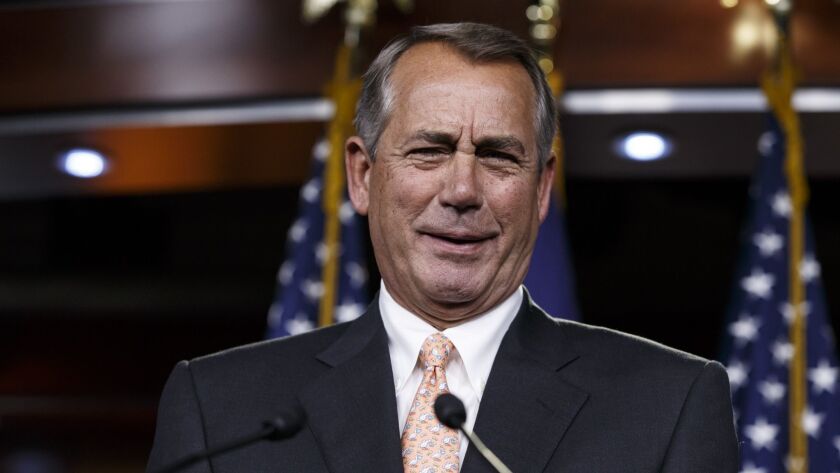 Former Speaker of the House John Boehner is writing a memoir, the Washington Post reports.
The Ohio Republican, known for his gravelly voice and affinity for Camel cigarettes, has given the book the working title of "Notes from a Smoke-Filled Room." It's scheduled for release in 2020 by Thomas Dunne Books, an imprint of St. Martin's Press that has also published books by Ralph Nader and Bernie Sanders.
In a news release, Boehner said he's "never really been interested in doing your typical political-memoir kind of book."
"This won't be that kind of book," he said. "This is going to be a book people might want to actually read, no matter where they're coming from politically."
Boehner told Politico that he has "a hell of a lot of good stories" from his more than two decades in Congress.
"I get the question every day: What was the proudest accomplishment of your time in Congress?" Boehner told Politico. "And I think it's that I walked out of there in October 2015 as pretty much the same jackass I was when I walked in almost 25 years earlier."
Boehner became Speaker of the House in 2011, and was reelected to the post two years later. He resigned from Congress in 2015, and a year later, joined the board of directors of Reynolds American, the company that manufactures his beloved Camels.
Earlier this year, he made news involving a different kind of cigarette, announcing that he now supports legalizing marijuana, and was joining the advisory board of Acreage Holdings, a cannabis company.
"Notes from a Smoke-Filled Room" will be the first book from Boehner.
---