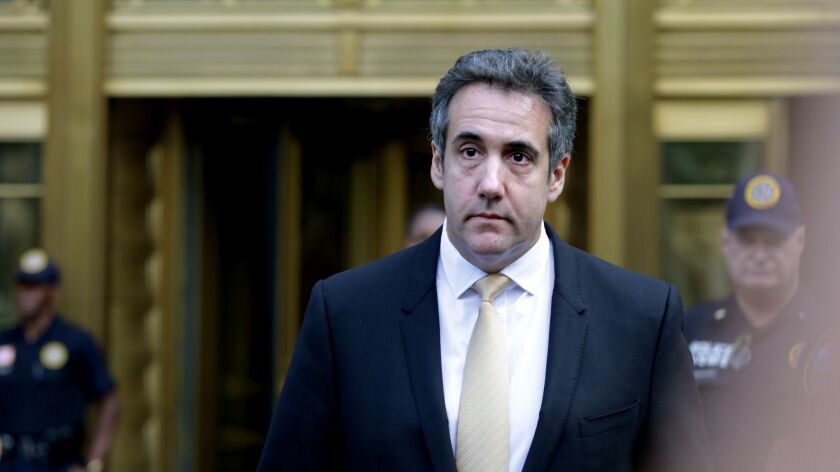 If things had gone differently for Michael Cohen, President Trump's former attorney who on Tuesday pleaded guilty to several federal felonies, he'd be headed on a book tour instead of facing sentencing.
Cohen, who for years worked as Trump's "fixer," shopped a book called "Trump Revolution: From the Tower to the White House, Understanding Donald J. Trump" to publishers earlier this year and reached an agreement with Hachette imprint Center Street to publish it, the Daily Beast reported in May.
But the project was canceled after news broke that Cohen was being investigated by federal authorities and his office had been raided by the FBI.
Cohen pleaded guilty to eight federal charges on Tuesday, including tax evasion, making false statements to a financial institution, and campaign finance violations. He contends that he was ordered by Trump to pay off two women whom Trump allegedly had affairs with: the adult film actress Stormy Daniels and the model Karen McDougal.
The Daily Beast obtained a copy of Cohen's book proposal, in which he wrote, "No issue was too big, too sticky or too oddball for me to tackle. I saw it all, handled it all. And still do."
Cohen's proposal said he would write about "complexities and nuances of the Trump family" and about his experiences dealing with Stormy Daniels. The Daily Beast spoke to Cohen at the time, who confirmed, "I have been working on a book and am extremely thankful that is has been well received and sought after by multiple publishers."
Cohen's book would have been flattering to Trump, the Daily Beast reported, although it's unlikely that Cohen would write such a positive book now. Cohen's claims that Trump ordered him to pay off Daniels and McDougal reportedly angered the president, who tweeted about Cohen on Wednesday:
If anyone is looking for a good lawyer, I would strongly suggest that you don't retain the services of Michael Cohen!

— Donald J. Trump (@realDonaldTrump) August 22, 2018
Cohen's book deal with Hachette, which Fox Business reported might have been worth $500,000, was called off after Cohen's legal troubles hit the headlines.
Hachette declined to confirm or deny the book deal to the Daily Beast, which reported that it is "unclear" whether Cohen or Hachette killed the deal.
According to Fox Business, Cohen still might be interested in writing a book sometime in the future. The network quoted an anonymous source who claimed to have spoken with Cohen as saying, "He says he may also want to do a movie when this is over."
---