Moby cancels book tour amid Natalie Portman backlash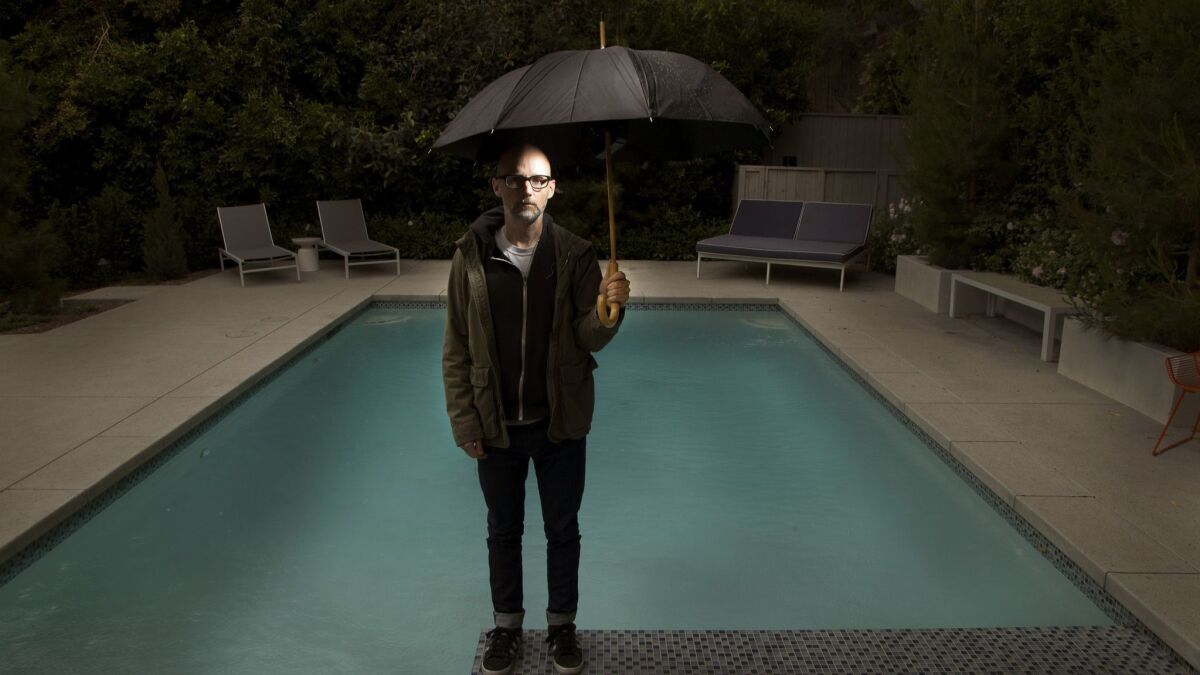 Bad news, Moby fans: The book tour is off.
On his website, the electronic musician announced he was canceling all upcoming appearances.
"Moby is canceling all upcoming public appearances for the foreseeable future," the statement reads. "We apologise for any inconvenience this may cause. All tickets will be refunded at the point of purchase, and Moby is happy to provide signed bookplates to everyone who bought tickets to these events."
He also posted on Instagram on Tuesday that he's "going to go away for awhile."
According to a schedule still posted on the site, Moby had been slated to appear at four locations in the United Kingdom and Ireland in the next week and a half, including a stop at the Hay Festival in Wales on June 1 and at Liberty Hall Theatre in Dublin, Ireland on June 6.
He had been promoting "Then It Fell Apart," his new memoir described on his site as "a journey into the dark heart of fame and the demons that lurk beneath the bling and bluster of the celebrity lifestyle."
Over the course of three chapters in the book, Moby — born Richard Melville Hall — details a brief relationship with Natalie Portman, who was then 18 to his 33. The "Vox Lux" actress says it didn't quite happen that way.
"I was surprised to hear that he characterised the very short time that I knew him as dating because my recollection is a much older man being creepy with me when I just had graduated high school," Portman said in an interview with Harper's Bazaar UK published last week.
"There was no fact checking from him or his publisher — it almost feels deliberate," she added. "That he used this story to sell his book was very disturbing to me. It wasn't the case. There are many factual errors and inventions. I would have liked him or his publisher to reach out to fact check."
Moby's rebuttal came in the form of a now-deleted Instagram post showing him shirtless with his arm around Portman.
"I recently read a gossip piece wherein Natalie Portman said that we'd never dated. This confused me, as we did, in fact, date," he wrote in the caption. "And after briefly dating in 1999 we remained friends for years. I like Natalie, and I respect her intelligence and activism. But, to be honest, I can't figure out why she would actively misrepresent the truth about our (albeit brief) involvement. I completely respect Natalie's possible regret in dating me (to be fair, I would probably regret dating me, too), but it doesn't alter the actual facts of our brief romantic history."
In another Instagram post, which has also since been deleted, he wrote, "[T]here's ample photographic evidence that we briefly dated and then were friends(some pictures included in this post) … It hurts to be lied about, especially as I've always respected her, and I thought we were friends."
On Saturday, he posted a public apology.
"As some time has passed I've realized that many of the criticisms leveled at me regarding my inclusion of Natalie in Then It Fell Apart are very valid," he wrote in the caption. "I also fully recognize that it was truly inconsiderate of me to not let her know about her inclusion in the book beforehand, and equally inconsiderate for me to not fully respect her reaction. I have a lot of admiration for Natalie, for her intelligence, creativity, and animal rights activism, and I hate that I might have caused her and her family distress."
"I tried to treat everyone I included in Then It Fell Apart with dignity and respect, but nonetheless it was truly inconsiderate for me to not let them know before the book was released," he continued. "So for that I apologize, to Natalie, as well as the other people I wrote about in Then It Fell Apart without telling them beforehand.Also I accept that given the dynamic of our almost 14 year age difference I absolutely should've acted more responsibly and respectfully when Natalie and I first met almost 20 years ago."
On Tuesday, he made another post, with an image that reads "last post."
"I'm going to go away for awhile," he wrote in the caption. "But before I do I want to apologize again, and to say clearly that all of this has been my own fault. I am the one who released the book without showing it to the people I wrote about. I'm the one who posted defensively and arrogantly. I'm the one who behaved inconsiderately and disrespectfully, both in 2019 and in 1999. There is obviously no one else to blame but me.
"Thank you, and I'm sorry."
---
Get the latest news, events and more from the Los Angeles Times Book Club, and help us get L.A. reading and talking.
You may occasionally receive promotional content from the Los Angeles Times.