Omarosa Manigault Newman's book meets harsh reviews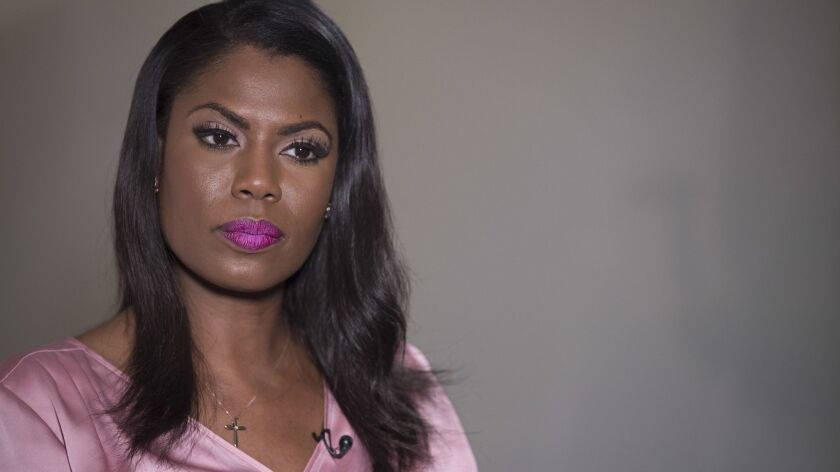 Reality television star and former White House aide Omarosa Manigault Newman's "Unhinged: An Insider's Account of the Trump White House" finally hit bookstore shelves on Tuesday, and judging by critics' reactions, they're not here to make friends.
In the book, Manigault Newman claims that she believes there's a tape of Trump saying the "n-word," and that the president is in a state of "mental decline." She also claims that Trump considered being sworn in as president with a copy of his book "The Art of the Deal" instead of a Bible.
At Entertainment Weekly, David Canfield slammed Manigault Newman's book, describing it as "the 'Fire and Fury' sequel you never wanted" that is "the logical next step in our collective, steep, seemingly endless descent toward disgrace."
"'Unhinged' is an illuminating, pathetic response to that [media] climate — the 2018 tell-all in its purest, saddest form," Canfield writes."Whether Manigault Newman is a savvy con artist developing her next act in entertainment or a lost soul helplessly seeking retribution is irrelevant."
At the Week, reviewer Matthew Walther was also unimpressed. "The biggest problem with 'Unhinged' is not that it is ultimately a shaggy-dog story or that it is full of bad writing and atrociously edited, but simply that it is not convincing," Walther writes.
Michelle Goldberg, writing for the New York Times, was more forgiving of Manigault Newman's memoir, although she does call the former Trump aide "an amoral, dishonest, mercenary grifter."
"In the end, you don't have to trust her sincerity to see 'Unhinged' as a serious indictment of Trump." Goldberg writes. "No matter how little credibility Manigault Newman has, the man who gave her a top-ranking job in his administration has less."
The harshest criticisms of Manigault Newman have come from President Trump himself. On Twitter, Trump blasted his former aide as a "crazed, crying lowlife" and a "dog."
Bad reviews haven't seemed to dampen sales for the tell-all book, though, which has dominated headlines this week, thanks to several allegations she has lobbed against the Trump administration. Manigault Newman served as an assistant to Trump before being fired last December.
As of Wednesday morning, the book was the No. 2 bestselling title at Amazon, second only to Rachel Hollis' self-help book "Girl,Wash Your Face: Stop Believing the Lies About Who You Are so You Can Become Who You Were Meant to Be." Manigault Newman's book is the No. 1 bestseller on the Barnes and Noble website.
---
Get the latest news, events and more from the Los Angeles Times Book Club, and help us get L.A. reading and talking.
You may occasionally receive promotional content from the Los Angeles Times.