Margaret Atwood has a few wry comments about being a PEN Center USA lifetime achievement honoree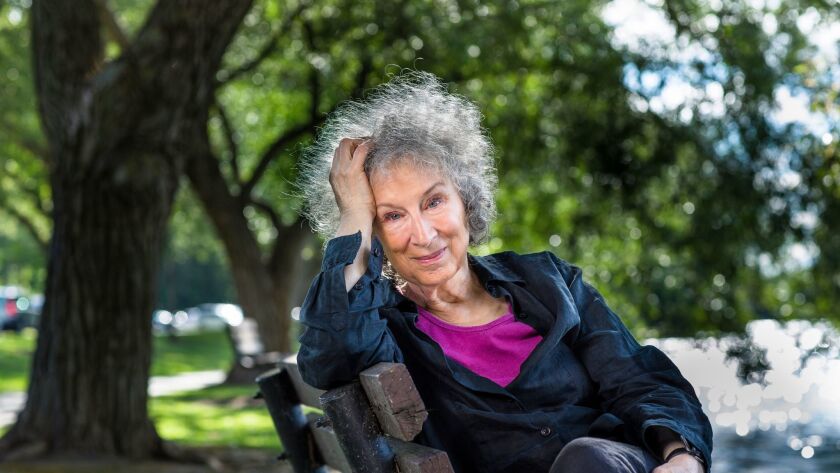 Margaret Atwood has fit the work of many lifetimes into one. Author of more than 40 books and an environmental activist, she will be presented PEN Center USA's lifetime achievement award at its annual dinner in October. This won't be her first time at this type of rodeo — Atwood received the National Book Critics Circle lifetime achievement award in March — and she is both gracious and jocular about the honor. "Nobody gives you the lifetime achievement award when you're 25," she says, reached by phone in Toronto.
"What might I do with my other lifetime?" she muses with a telling voracity when asked if she might like to do it all again. "Well, do I only get one other one?"
Atwood has long been an ally of PEN, internationally and in her native Canada, where "we started it with no money and some postage stamps and dining room tables," she says. "Little did people in North American know when they were working with PEN over the past 30 years that it was going to be their turn," she says of PEN's continued necessity, which for many is now feeling closer to home. "It may be our turn to have people advocate for us, but I don't think it's quite come to that yet."
PEN Center USA, the West Coast branch of the international literary organization, defends freedom of expression and advocates on behalf of writers and journalists worldwide, in addition to working locally to foster interest in the written word.
Atwood is best known for her speculative, dystopian fiction, including the Maddaddam Trilogy and the "The Handmaid's Tale," the latter of which has recently reentered the zeitgeist via Hulu's TV adaptation, recapturing the popular imagination as a prescient, fun-house mirror through which to view political concerns. The slyly subversive nature of speculative fiction is something Atwood is well aware of, citing the ingenuity of science fiction authors during the McCarthy era.
"They said quite specifically, 'I wrote sci-fi because it allowed me to deal with power structures and what was going on in the United States in a way that if I had dealt with directly I probably would have found myself in front of the House Un-American Activities Committee,' " she says. The task she gave herself in writing "The Handmaid's Tale" was more literal — and bold: "If you were going to have a totalitarian dictatorship in the United States, what would it look like?"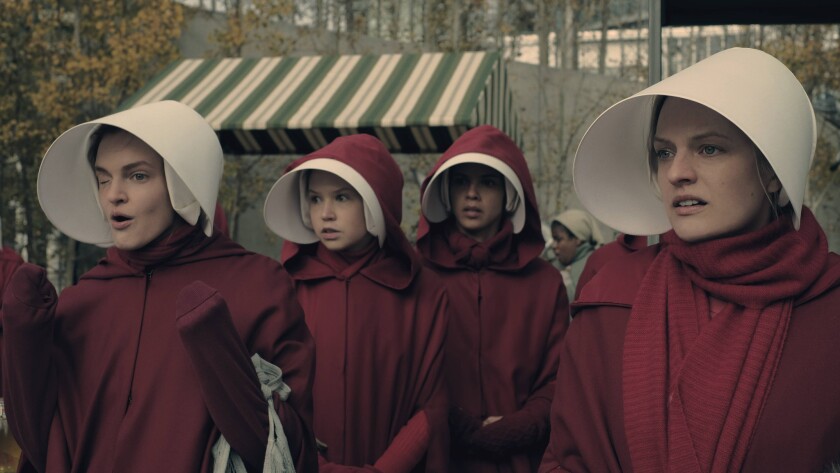 "I think that she has written dangerously about topics that needed to be explored, maybe at a time when it wasn't popular to be exploring them," says Michelle Franke, executive director of PEN Center USA. Franke's first experience with Atwood's work came at a time when she did not yet consider herself a feminist. "Margaret's work maybe at first pass reads as a kind of warning, but then the deeper you go it's also a kind of reminder of where we've been."
Committed to conservation, Atwood draws a direct link between environmental advocacy and human rights: "They're joined at the hip because we're not apart from the environment," she says, noting that environmental degradation creates social unrest, war and, in turn, more excuses for human rights violations. "It's all linked."
Her work with the Future Library Project in Norway, which collects texts to be read — time-capsule style — in 2114, is an expression of this commonality. "It assumes that there will be people in 100 years. It assumes that there will be libraries … and because it's teamed with the growing of a forest … it assumes that the trees will grow. They're all pretty hopeful things, and none of them can be taken for granted, because you can't take anything for granted in the very shifty world in which we now live."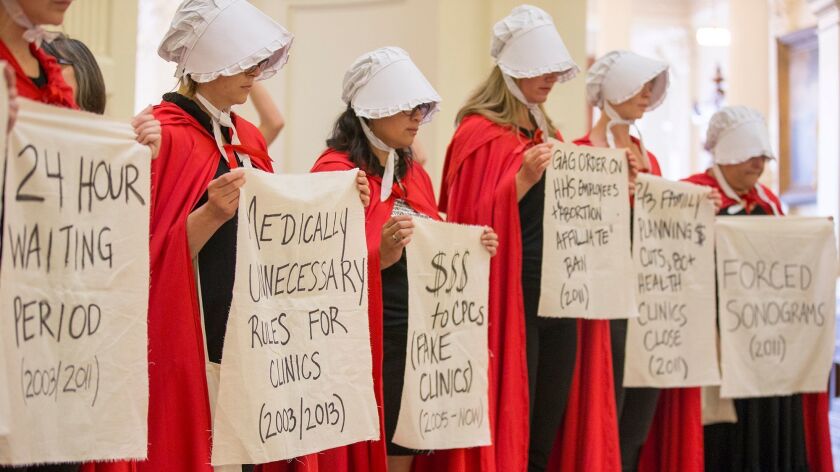 PEN champions freedom of expression, a right and a privilege that Atwood has made good and prolific use of, and which she is careful to define as "the right not to be jailed or murdered because of something you've written — it doesn't mean that people are not allowed to object."
Atwood waves off a mention of school board challenges to her work, which has remained perennially controversial. "On a scale of banning, having your book excluded from a school is junior league. Real banning is when we make big bonfires of them and shoot people for having one. Now that's banning," she says. Still, she notes an organization called Out of Print that sells a "banned book scarf" adorned with banned book titles — including "The Handmaid's Tale." Atwood owns one and is "proud to be on it," she says.
The awards ceremony in October will be hosted by comedic actor Nick Offerman and held at the Beverly Wilshire Hotel. As one of L.A.'s premier, red-carpet literary events, it's a high-end fundraiser where the public can, for $250 and up, break bread and get swanky with free-speech activists and literary giants.
Atwood's take on the timing is charmingly wry. "They're taking a chance, because I could fall over at any minute," she jokes about the PEN honor. "They're thinking, well, we better give it to her now — just in case."
As for alternate lifetimes: "It might have been fun to be a ballet dancer," she says, quipping, "I got dizzy on the turns." Ultimately, she is coy about the question, or perhaps privately whirring with the infinite possibilities that her particularly imaginative mind might conjure. "Of course, it's fun to speculate," she says, "but what would I do with it indeed?"
---
Get the latest news, events and more from the Los Angeles Times Book Club, and help us get L.A. reading and talking.
You may occasionally receive promotional content from the Los Angeles Times.