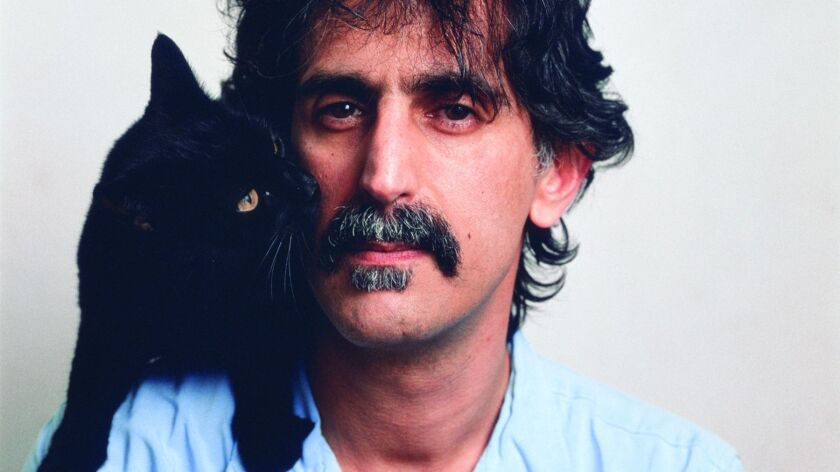 Legendary oddball musician Frank Zappa, known for his jazz-rock fusion and bizarre sensibilities, will be the subject of a new coloring book.
Los Angeles animation studio and book publisher Fantoons will release "The Frank Zappa Coloring Book" this fall, giving fans of Zappa a chance to add their own colorful spin to images inspired by the songwriter and multi-instrumentalist.
Book lovers! Sign up for the new L.A. Times Book Club for upcoming author events »
Credited to David Calcano and Lindsay Lee, the book contains 72 illustrations featuring the musician. Sample pages reproduced by the Hollywood Reporter include images of Zappa playing guitar, lying on a floor surrounded by musical instruments, and enjoying what appears to be a hand-rolled cigarette. (Although associated with the counterculture of the 1960s, Zappa famously took a dim view of recreational drugs.)
In a statement, Calcano, the creative director of Fantoons, said, "There will never be anyone like Frank Zappa.
"He carved his own genre with pure genius," Calcano said. "Every record he did gave us a different experience. That was our main inspiration for this book — let your imagination free and color while listening to Zappa music. … What's better than that?"
Zappa burst onto the musical scene in the late 1960s, several years after moving from a small town in the Mojave Desert to Los Angeles. He released several albums with his band the Mothers of Invention,including influential records such as "We're Only in It for the Money," "Freak Out!" and "Weasels Ripped My Flesh."
He went on to record dozens of albums, scoring an unlikely hit single in 1982 with "Valley Girl," a novelty song he recorded with his teenage daughter, Moon Zappa. The song became a pop culture phenomenon, inspiring, among other things, "The Official Valley Girl Coloring Book," credited to "Moon Zappa (and Her Dad)."
Zappa died at his Laurel Canyon home in 1993 from complications of prostate cancer.
The coloring book has the imprimatur of Zappa's family. His son Ahmet Zappa, a musician and actor, said he was "blown away" by the coloring book.
"This entire project brings the biggest smile to my face," Ahmet Zappa told the Hollywood Reporter. "People who don't like coloring books, I fear, are dead inside.I'm so happy the 'Zappa Coloring Book' exists, and I worship David Calcano and his team at Fantoons. They make everything better."
Fantoons is turning its attention to another legendary rock act for another coloring book: the "RUSH Coloring Book," inspired by the Canadian progressive rock band, is set for publication in July.
Zappa fans will have to wait just a little bit longer than that for their chance to color: "The Frank Zappa Coloring Book" will be released on Nov. 5.
---