Judith Krantz, the romance novelist with more than 80 million copies in print, dies at 91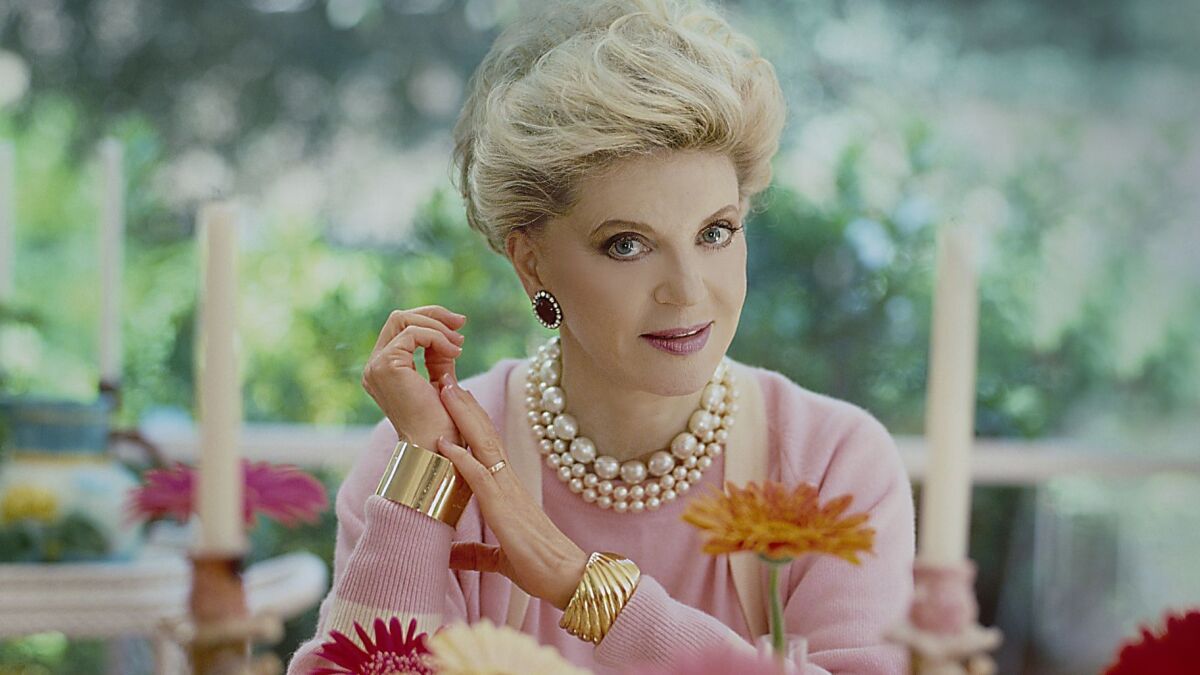 Judith Krantz, author of blockbuster romance novels including "Scruples" and "Princess Daisy" that sold more than 80 million copies worldwide, died Saturday in Bel-Air of natural causes. She was 91. The news was originally reported by Deadline.
Once called "the hardest working woman in trash fiction," Krantz wrote books that have been translated into more than 50 languages. Seven have been adapted as TV miniseries, with her late husband, Steve Krantz, serving as executive producer for most of them.
Her fantasy novels — "I have never written about real people," she once said — focused largely on the lifestyles of the rich and the dangerously beautiful, with plenty of sex thrown in, of course. In her 2000 memoir, aptly titled "Sex and Shopping: The Confessions of a Nice Jewish Girl," Krantz explained that every one of her novels included at least one character who loses her virginity.
Readers loved it and remained faithful. The money poured in, and in 1980 she signed a record-breaking $3.2-million contract for the paperback rights to "Princess Daisy."
This drew a nasty rebuke from her many critics, including Roger W. Straus Jr., president of the prestigious publishing house Farrar, Straus & Giroux, who called Krantz's giant paycheck "bad for publishers and bad for writers; bad for the whole publishing environment."
"It was unbelievable," Krantz said. "People acted as if I had actually put a gun to someone's head, like Bonnie and Clyde, and said, 'Your money or your life.' Maybe, the idea of a woman making that much money was too outrageous."
Judith Tarcher was born Jan. 9, 1928, in New York City to an advertising executive and an attorney. Upon graduating from the city's Birch Wathen School, she attended Wellesley College from which she graduated in 1948.
Shortly after graduation, she moved to Paris and found work as a fashion publicist. She returned to New York the following year and began her career as a magazine journalist, first at Good Housekeeping, where she was eventually promoted to fashion editor.
At a Fourth of July party hosted by her high school friend Barbara Walters, she met film and TV producer and writer Krantz, who would eventually become her husband. They were married for 53 years until his death in 2007.
In her 27-year journalism career, Krantz freelanced for magazines such as Macleans, McCall's, Ladies' Home Journal and Cosmopolitan.
In 1978, inspired by her husband's encouragement, Krantz published her first novel, "Scruples," at age 50. After four months in circulation, it topped the New York Times bestseller list.
"Halfway through the first chapter, I felt I was flying without wings," she told The Times in 1990. "I write the best books that I know how. I can't write any better than this."
"Scruples" was followed by "Princess Daisy," which also became a No. 1 New York Times bestseller and set the record at the time for the highest price ever paid for a novel.
She eventually added "Mistral's Daughter," "I'll Take Manhattan," "Till We Meet Again," "Dazzle," "Scruples Two," "Lovers," "Spring Collection," "The Jewels of Tessa Kent" and her autobiography to her writing credits.
Krantz was renowned for her discipline and rigor, writing 10,000 words per week and spending countless hours researching the historical eras in which her books were set. Her books often featured working women and themes of empowerment and achievement.
Despite her success as a writer, Krantz was often challenged about her choice to write in a genre deemed "trash fiction."
"You know, people think that because I had a good education, I'm not writing on the level that I should," she told The Times. "They think I'm harboring some slim little intellectual volume, that I am really Isaac Bashevis Singer in disguise."
The Los Angeles Public Library named the Judith Krantz Fiction Collection in her honor.
She is survived by her sons Tony and Nicholas and daughter-in-law Kristin Dornig Krantz.
---
Get the latest news, events and more from the Los Angeles Times Book Club, and help us get L.A. reading and talking.
You may occasionally receive promotional content from the Los Angeles Times.