Politico Julian Castro gets book deal to tell family success story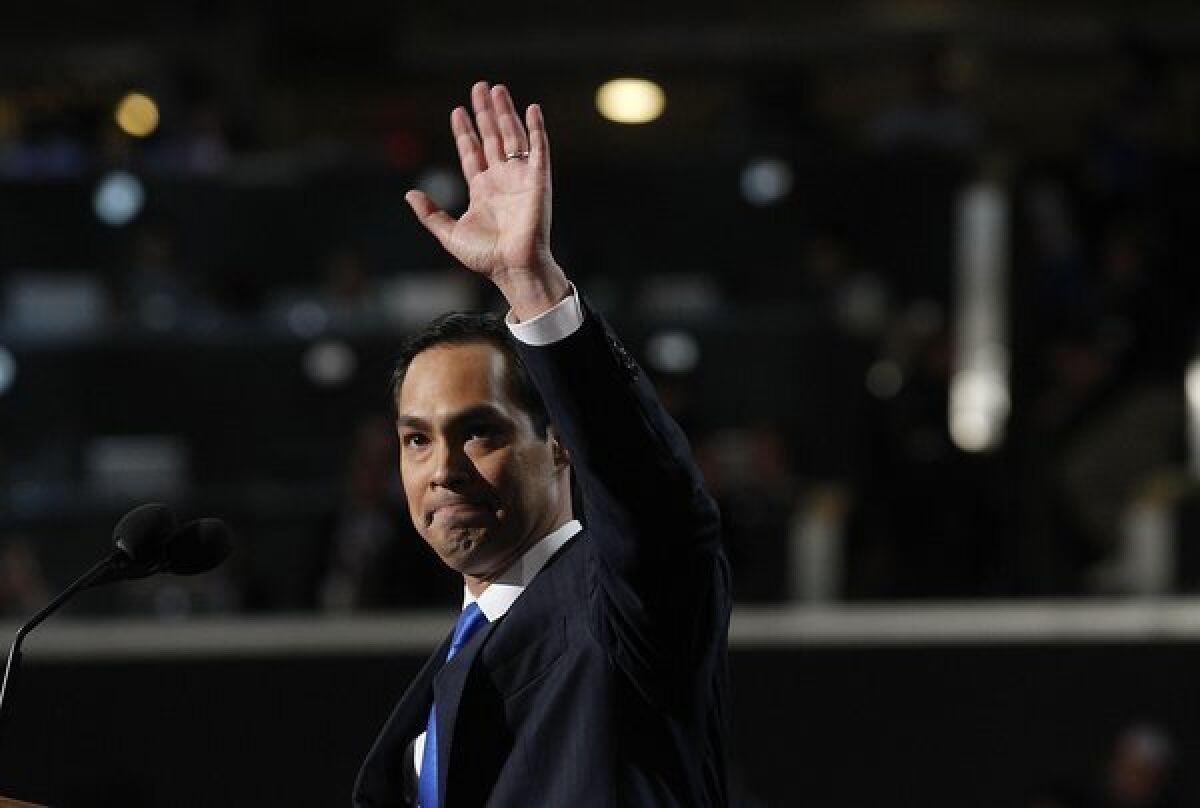 The day after Barack Obama won a second term, Jacket Copy mused on the possibility of postelection books, predicting that Julian Castro, the telegenic Texas politico with the Texas-sized grin, would soon write a memoir detailing the up-from-the-bootstraps story of his San Antonio family.
Now, just eight days after the election, Castro, the mayor of San Antonio, has in fact inked a book deal -- with Little, Brown. The book will, according to the publisher, include the story of Castro's mother, Maria, a founder of La Raza Unida Party. On election night, Maria also saw her son Julian win a ballot-initiative battle to increase funding for pre-K education in San Antonio at the same time that Julian's twin brother, Joaquin, was elected to Congress.
"My family's story of intergenerational struggle for success is one that so many Americans can relate to," Mayor Castro said in a statement. "Were it not for the sacrifices made by my mother and grandmother, and without the competitive ... and unique relationship with my twin, Joaquin, I would not be where I am today."
As just about everyone who follows politics now knows, Latinos overwhelmingly voted for Obama last week. Latino issues are suddenly at the forefront of the national political debate, with many leading GOP pundits calling for Republicans to accept the inevitability of immigration reform. Julian Castro, who delivered a memorable keynote address at the Democratic National Convention, has become the face of this new political reality.
Over at the Texas Monthly, Paul Burka sees Castro's hard-fought victory in the San Antonio referendum as a harbinger of greater things. "We may look back on that in future years [and not too future, say 2018] and realize that it was the essential first step for a future governor or senator," Burka wrote.
Castro is just 38 years old. He was elected mayor of San Antonio at age 34 and won reelection last year with more than 80% of the vote. Both he and Joaquin went to Stanford and then to Harvard Law School.
A Little, Brown spokeswoman says Castro -- like that other Harvard Law grad who delivered a big keynote convention speech -- will write his memoir himself.
hector.tobar@latimes.com
ALSO:
Salman Rushdie makes peace -- with John Le Carre
A digital Malcolm X: Manning Marable's enhanced ebook bio
'All In' and Paula Broadwell's unenviable path to biography fame
Get the latest news, events and more from the Los Angeles Times Book Club, and help us get L.A. reading and talking.
You may occasionally receive promotional content from the Los Angeles Times.