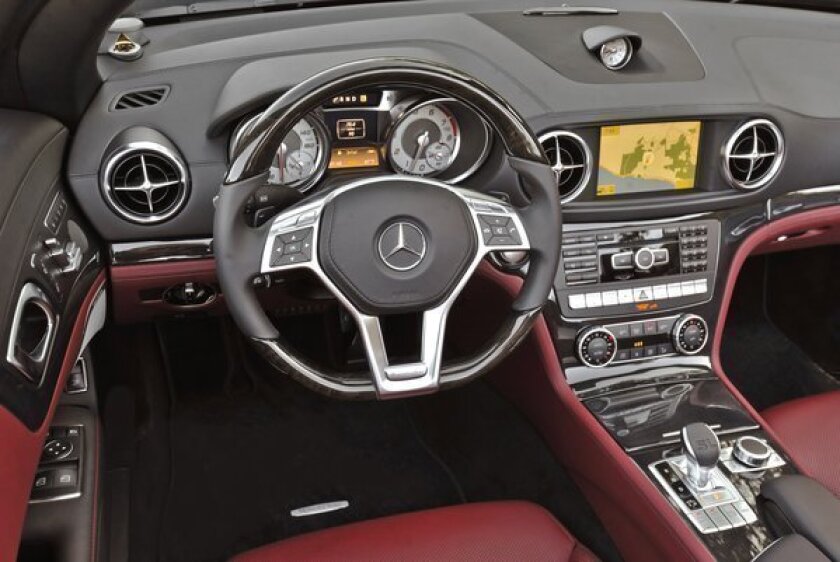 Many luxury carmakers are leveraging the latest technology to help their vehicles stand out in a crowded market and give motorists a compelling reason to trade in their existing rides for the latest posh models.
"The competition is particularly intense among the German automakers," said Clifford Atiyeh, senior news editor at MSN Autos. "When one of them offers something, the others follow with remarkable speed. New technology, if marketed correctly, increases vehicle prices and profit margins, especially when desirable features are bundled in option packages costing thousands of dollars each. To get a backup camera, for example, you may also have to buy adaptive cruise control and upgraded seats."
The race among high-end manufacturers to incorporate new high-tech features is so aggressive, in part, because many less-expensive models now offer features previously only available in really expensive cars.
For example, the 2013 Honda Accord and Ford Fusion both offer lane-keeping systems and blind-spot detection. Hyundai made heated front and rear seats standard on the 2012 Elantra Limited, along with a power moonroof and mirror-embedded turn signals.
With lower-end vehicles hijacking much of their tech cachet, luxury automakers have been forced to find "the next big thing" to stimulate the luxury end of the market. They're pulling out all the stops to offer new innovations that justify premium prices.
Mercedes-Benz is offering what amounts to the world's most sophisticated windshield wiper/washer system in its 2013 SL-Class hardtop roadster. Called Magic Vision Control, it squirts washer fluid onto the windshield (via channels embedded into the wiper blade) in both directions of travel to avoid any oversplash. And the SL's onboard computer allows web browsing while the vehicle is stationary, so you're never far from Facebook.
The new Rolls-Royce night vision system can identify human forms up to 300 yards away (a greater distance than headlights can reach) and relay a warning to the driver. This warning is displayed on the windshield via a "heads-up" display system that also includes information like vehicle speed and navigation instructions, reducing the need to take one's eyes off of the road.
Other new safety features on Rolls-Royce vehicles include LED headlamps that can change direction to cast more light into turns, as well as adjust beam intensity and pattern depending on vehicle speed and orientation.
GMC's redesigned 2013 Acadia SUV claims to be the first vehicle on the market with a front-center air-bag system, created to protect drivers and front passengers in far-side impact crashes where the affected occupants are on the opposite, non-struck side of the vehicle. The air bag deploys from the inboard side of the driver's seat and positions itself between the driver and front passenger.
Standard on GMC's upscale Acadia Denali version is a heads-up display that monitors your speed and other critical driving information continuously, as well as Side Blind Zone Alert and Rear Cross Traffic Alert systems that use radar to watch blind spots the driver may not be able to see and then issue visible and audible warnings.
Luxury automakers are also upgrading their multimedia systems. One of latest is CUE (Cadillac User Experience) in the Cadillac XTS and ATS luxury sedans. The system integrates entertainment and information data from up to 10 Bluetooth-enabled mobile devices into a cutting-edge infotainment system. CUE reduces (from around 20 to just four) the number of buttons traditionally found in luxury cars to control the radio and entertainment functions.
"CUE doesn't replace your smartphone or your iPod," said Micky Bly, executive director of global electric systems, infotainment and electrification at Cadillac. "Rather, it allows consumers to securely store those mobile devices while channeling the information on those devices — along with your navigation tools, weather maps, AM/FM and XM radio, instant messages and emails — through a central portal in your Cadillac, keeping hands on the wheel and eyes on the road."
Even more sophisticated luxury cars are just around the corner. The BMW i8 Concept is fast, fuel-efficient and also intends to lead the way in innovative vehicle light technology. The Munich-based company claims that the vehicle's laser headlights are more efficient than LED lights, 10 times smaller and easy on the eyes.
–Joe Yogerst, Brand Publishing Writer
---