Thrifty Pistols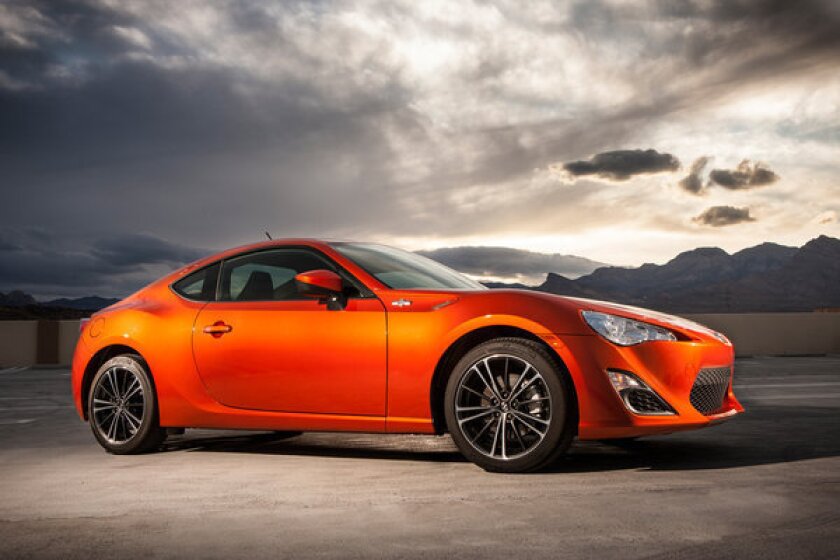 If you're looking for a sporty, speedy ride that won't drive you into bankruptcy, there has never been a better selection of vehicles to choose from. We took a look at a few of our favorites.
It would be easy to mistake the Scion FR-S for some exotic kit car, but in fact it's the product of collaboration between Scion parent company Toyota and fellow Japanese automaker Subaru. It's also sold as the Subaru BRZ and, overseas, as the Toyota 86 and GT-86.
"Two powerhouse auto manufacturers joining forces to develop an impeccably balanced, lightweight, affordable rear-wheel drive sports car might sound like music to the ears of enthusiasts around the world," said Jack Nerad, executive editorial director and market analyst with KBB.com. "Because it is."
Starting below $25,000 (perhaps a little more for the limited quantities of the BRZ due stateside), and with EPA mpg ratings of up to 25 city/34 highway, the FR-S looks like maximum class for minimum cash.
One of the few complaints about Hyundai's boldly styled three-door Veloster when it debuted last year was its less than spine-tingling performance. With 201 horsepower from a 1.6-liter turbocharged four-cylinder engine, the Veloster Turbo changes all that.
"Beefed-up brakes, retuned steering and 63 additional horses provide the new Hyundai Veloster Turbo with the right amount of firepower to match its flash," Nerad noted.
The Korean company's Genesis Coupe was well received by journalists and drivers upon its stateside arrival in 2009, and has since been further refined — though it still starts around $25,000.
"Hyundai's answer to the Ford Mustang was a bit rough in its earlier years," said Joe Wiesenfelder, executive editor with Cars.com. "But some suspension improvements for 2013 have delivered the attitude adjustment the model needed most."
Chevrolet boasts a pair of lively bargains: the ever-iconic Camaro and the new Sonic RS hot hatch.
The current Camaro starts at around $23,000, yet offers the power (323 HP from the base V-6 engine) and sporty features (six-speed manual transmission; sport-tuned independent suspension) associated with much spendier rides.
With a four-cylinder turbo powerplant and aggressive aesthetic enhancements, the Sonic RS proves that even a four-door subcompact can be fun.
"The Sonic is GM's best small car ever, and it's always fun when a little hatchback goes punk," Nerad said. "That's what the 2013 Sonic RS hatchback does: It looks like a snarl, inside and out."
With a sub-$21,000 starting price and highway fuel economy expected to be close to 40 mpg, the Sonic is hard to ignore.
It's been over a decade since BMW reintroduced the Mini marque to the world, and since then multiple variants of this runaway success have been introduced, from a convertible to a five-door crossover. Now the boldly styled yet almost shockingly inexpensive Mini Coupe and its drop-top Roadster sister have joined the family.
"What Mini's latest little movers may lack in practicality they make up for in fun," Nerad said. "These diminutive new models from the British automaker only have two seats and minimal storage, but they deliver plenty of grins from their stick-to-the-road performance and retro-cool style."
At around $22,000 for the Coupe and three grand more for the Roadster, these new Minis' prices are pretty miniscule too.
Of course it was Ford's Mustang that originally inspired the term "pony car" (denoting an affordable and compact yet sporty and stylish car) when it first appeared in 1964. Nearly half a century later the Mustang remains the ultimate everyman's thrill ride.
"People who haven't driven a Mustang in years don't recognize that it's become an actual sports car, not just a muscle car," Wiesenfelder said. "And an affordable one — thanks to a 305-horsepower V-6."
Achieving up to 31 mpg highway and starting at $22,200, the Mustang is definitely still the pony to measure up to.
, Brand Publishing Writer
---