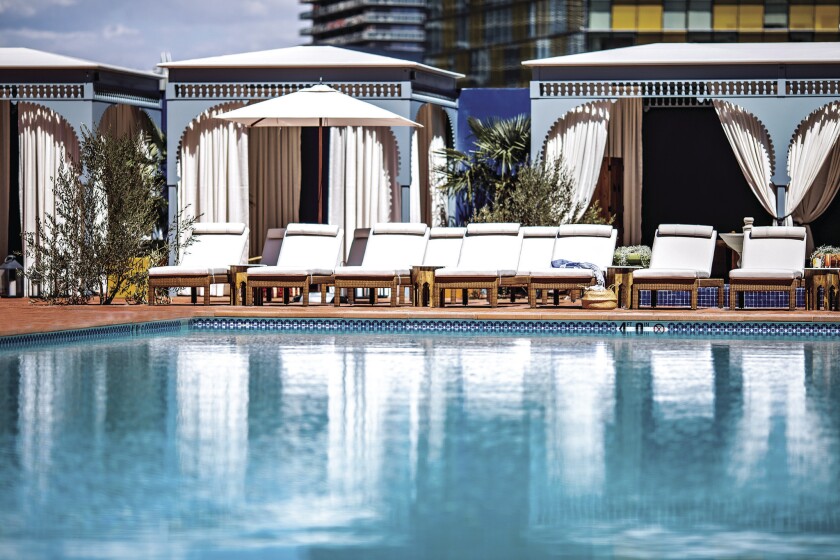 Swimming in the Pacific Ocean may be cool, but nothing beats the novelty of swimming in a desert. The pools in Las Vegas definitely know how to make a splash -- even for jaded Californians used to the beach.
Fun for All
Mandalay Beach is among the Strip's most spectacular pools. Boasting 2,700 tons of real sand, the aquatic playground has five sparkling pools for guests to choose from, including a lazy river and a 1.6-million-gallon wave pool capable of six-foot waves.
Non-hotel guests can access Mandalay Bay Beach Monday through Thursday or by renting a cabana, day bed, bungalow or personalized villa, or by showing a Shark Reef Aquarium ticket.
All are also welcome during Mandalay Bay's Concerts on The Beach series, which kicks off its 2019 season on April 27 at 9 p.m. with a performance by country music star Cole Swindell. The stage is suspended above the wave pool, so attendees watch while wading in the surf or lounging on the sand for an only-in-Vegas concert experience. mandalaybay.com/en/amenities/beach.html
Naughty? Nice.
Size does matter. The 73,000-square-foot KAOS dayclub at Palms Casino Resort opens in early April and boasts the most pools at any dayclub in North America. Many cabanas at the Greek-inspired oasis feature private pools. The city's largest LED screen will stream live shots of the club on the east wall of Palms' Ivory Tower.
Poolside, guests can enjoy performances from huge stars, including Kaskade, who peforms on May 11. Clubgoers can also get up close to Sin City's most buzzed about new art installation, "Demon with Bowl." The monumental, headless 65-foot bronze sculpture by artist Damien Hirst rises from the center of one of KAOS' two main pools, encouraging a little naughtiness. palms.com/kaos
Cocktails in Paradise
The new NoMad Pool at NoMad Las Vegas is a garden-like oasis right on the Strip. Inspired by the Majorelle Garden in Morocco, the tranquil hideaway is the perfect place to soak up some sun and spirits. It's a grownups-only spot to relax and indulge in its chaise-side piña colada service. The poolside bar also offers several expertly crafted cocktails and whimsical frozen drinks as well as a robust selection of wines, inviting guests to stay the day to sip, sunbathe and swim. thenomadhotel.com/las-vegas
-Heather Turk, Custom Publishing Writer

---