It's a kind of magic -- Vegas creates illusions with magic acts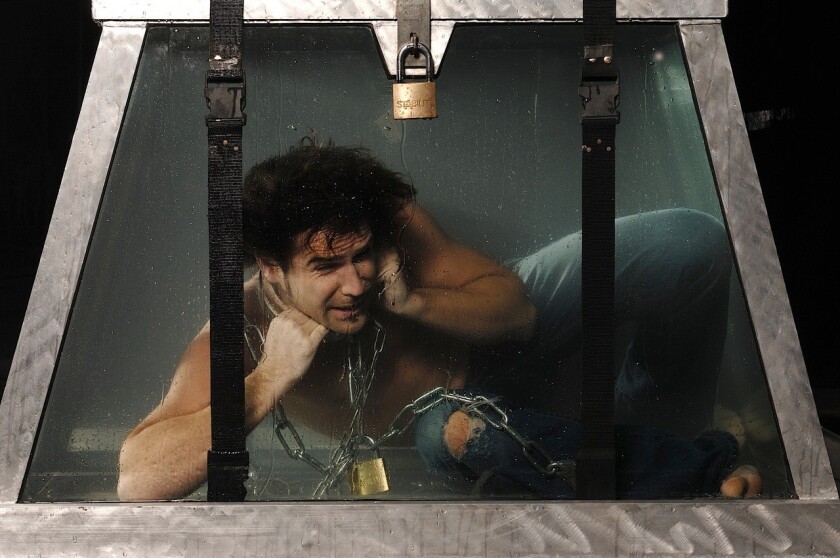 Master magician Jan Rouven wows Vegas with new illusions
One of the biggest names playing on the Strip is master illusionist Jan Rouven. In "The New Illusions," the 32-year-old German performs a multitude of daring and incredible illusions, including being impaled on a 21-foot industrial drill, levitating 16 feet in the air and escaping from an underwater tank.
"This is a very physical show," Rouven said of his 80-minute extravaganza at the Tropicana Las Vegas. "It is very intense, even for me!"
Combined with a heart-thumping contemporary soundtrack, cutting-edge choreography and funky costumes, Rouven adds fresh twists to classics or blends them for a double-whammy in every routine.
Secrets of the Trade
Should Vegas' masters inspire you to personally try your hand at magic, Jeff McBride's Magic and Mystery School is offering classes for aspiring magicians in March and April. Options include a three-day master class, a class for speakers who want to add magic to enhance their presentations and a medicine and magic seminar. There is also a class on "hypno-wizardry" in April.
As associate dean Lawrence Hass explained, "We are a real Hogwarts!"
Then drop by Houdini's Magic Shop, where you can shop for magic-related items to your heart's content.
"We sell magic to everybody," said storeowner Geno Munari.
Tricks are for kids
Kids in tow? "America's Got Talent" magician Nathan Burton has a show for the whole family. "Nathan Burton Comedy Magic" is a matinee show inside the Miracle Mile Shops filled with magical illusions, entertaining dance and funny comedy bits.
"I am the boy-next-door with comedy illusions," Burton joked. "My favorite routine is a prediction trick where I choose a child volunteer from the audience. I never know what the kid is going to say and the child often has both me and the audience in fits of laughter with the crazy things they say."
-Genevieve Wong, Brand Publishing Writer
---