Elon Musk unveils new astronaut-ready spaceship at SpaceX headquarters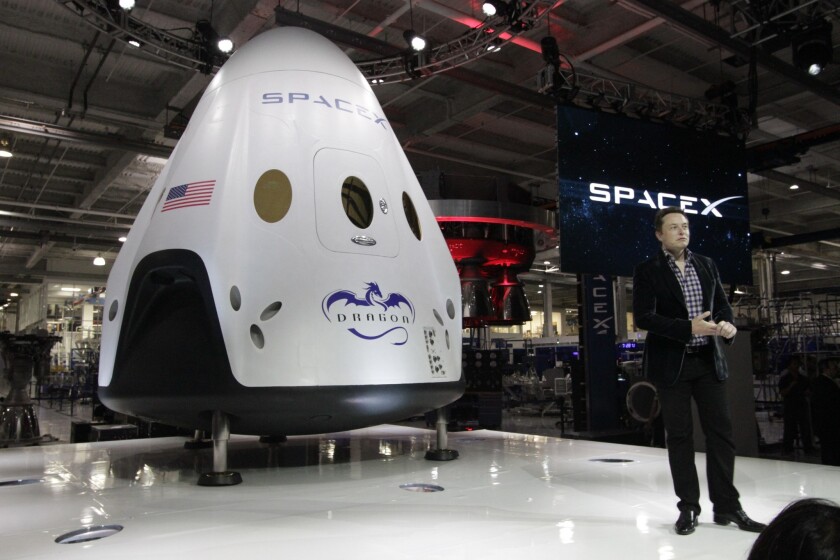 With much fanfare, SpaceX Chief Executive Elon Musk on Thursday unveiled a cone-shaped spaceship that he hopes will one day ferry NASA astronauts and equipment to the International Space Station.
Standing before a crowd of journalists and SpaceX employees at the company's headquarters in Hawthorne, Musk revealed the white capsule that's designed to fit seven astronauts at a time.
In a short animated video that played at the event, the spaceship is seen blasting into orbit on a rocket, zooming to the space station and docking with it before returning to Earth and gently touching down on the tarmac under rocket power.
"That's how a 21st century spaceship should land," Musk said to a cheering crowd. It will have the landing "accuracy of a helicopter."
The capsule, dubbed Dragon V2, will be completely reusable after it returns from space, he said. The company expects to make its first manned test flight by the end of 2016.
With NASA's fleet of space shuttles retired since 2011, the space agency has no way to get its astronauts to the space station other than paying the Russian government $71 million per seat.
That's been an issue since Russian Deputy Prime Minister Dmitry Rogozin suggested this month that his nation might no longer allow U.S. astronauts access to its launch vehicles and may use the International Space Station without American participation.
From the beginning of this arrangement, NASA aimed to end the outsourcing of this work to foreign governments and turn it over to American industry. To accomplish this, the space agency has handed out hundreds of millions of dollars in seed money to companies to privately develop rockets and spacecraft that can launch astronauts into outer space.
NASA's contracts are part of the space agency's Commercial Crew Development program, which lays the groundwork for the potentially multibillion-dollar job of ferrying astronauts to and from the International Space Station.
Several companies are now embroiled in a new private space race. Of the various contenders to do the job, SpaceX is the only company to have its craft spaceflight-proven.
In 2011, SpaceX became the first private company to launch a spacecraft into orbit and have it return intact. The company sent up its Dragon space capsule aboard its Falcon 9 rocket.
The Dragon capsule was empty at the time, but it was a technological and financial feat that had been accomplished before only by government entities. The Apollo-like capsule has since delivered cargo to the space station three times.
SpaceX, which is short for Space Exploration Technologies Corp., has $1.6-billion contract with NASA for a total of 12 deliveries.
The company won additional contracts worth more than $500 million from NASA to develop its hardware to be astronaut-ready.
Other awards winners are Boeing Co., which has built nearly every manned spacecraft in U.S. history, and Sierra Nevada Corp. of Sparks, Nev., which is building a space plane that closely resembles a mini-space shuttle.
SpaceX builds its Falcon 9 rockets and Dragon capsules in a vast complex in Hawthorne where fuselage sections for Boeing's 747 jumbo jets were once built.
---
For reporting and exclusive analysis from bureau chief John Myers, get our California Politics newsletter.
You may occasionally receive promotional content from the Los Angeles Times.