Tesla Motors posts $293.2-million loss for second quarter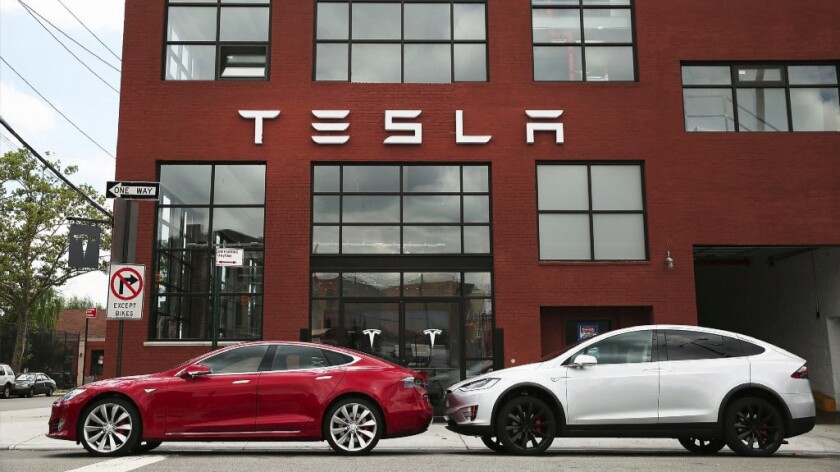 Tesla Motors Inc. posted a second-quarter loss of $293.2 million Wednesday — only the latest challenge faced by Elon Musk's electric-car company, which is grappling with a new car model, a government safety probe and a controversial merger.
The most recent in a string of quarterly losses was much worse than Wall Street expected for the company, which is ramping up production of its Model X sport utility vehicle and making plans for its Model 3 mass-market sedan. Tesla's mainstay car is the Model S sedan.
Tesla's revenue rose 33% from a year earlier to $1.27 billion, but its operating expenses jumped 34% to $512.8 million.
On a conference call with analysts, Musk said early snags in building the Model X were mostly behind the company and that "I feel we're in a good place at this point."
The company delivered fewer vehicles than projected during the last several months, something Musk had attributed to parts shortages and "hubris in adding far too much new technology" to the SUV.
"Basically we were in production hell for the first six months of this year," Musk said. "Now the production line is humming. Things are really quite stable with the S and X."
Tesla said the loss in the quarter using standard "generally accepted accounting principles," or GAAP, equaled $2.09 a share and compared with a loss of $1.45 a year earlier.
Tesla also focuses on non-GAAP results, which adjusts for employee stock-based compensation and other items, and that loss equaled $1.06 a share in the three months that ended June 30, compared with a loss of 48 cents a year earlier.
Wall Street had expected a non-GAAP loss of 59 cents a share, according to analysts polled by FactSet Research Systems Inc.
Musk said the Model 3, which is scheduled to cost about $35,000 and arrive on the market late next year, "is overwhelmingly our focus."
He also said that except for the capital spending required for engineering and ramping up production of the Model 3, Tesla would be profitable in the third and fourth quarters of this year.
The results were announced after the stock market closed. Earlier, Tesla's stock fell $1.41, or 0.6%, to $225.79.
Tesla reiterated that it produced a company record 18,345 vehicles in the second quarter, and that it ended the period building nearly 2,000 vehicles a week.
The Palo Alto company said it remained on track to build and deliver about 50,000 vehicles during the second half of the year.
"Vehicle production efficiency is improving rapidly and we are now increasing our weekly production rate even further," Tesla said, adding that production should reach 2,400 vehicles a week in the fourth quarter.
Tesla, which had burned through a substantial amount of cash as it geared up vehicle production and continued construction of a giant battery factory in Nevada, said its cash position rose to $3.25 billion as of June 30 from $1.2 billion six months earlier. That's mainly because it raised $1.7 billion in May in a secondary stock offering.
Tesla this week also announced an agreement to pay $2.6 billion in stock for SolarCity Corp., a leading provider of solar-power panels that's also led by Musk. Some analysts have questioned the benefits of the deal because both companies are losing money.
In addition, the National Highway Traffic Safety Administration is investigating Tesla's Autopilot semi-autonomous driving technology after a driver who was using the feature on his Model S was killed May 7 in a crash in Florida.
Musk said he was mystified as to why the agency launched the investigation
"We're not totally clear on why they opened an investigation because they actually had all the information" weeks earlier from the company, he said. "There wasn't really anything more to learn."
In any case, Musk said self-driving vehicles will eventually become a reality.
"Full autonomy is going to come a helluva lot faster than anyone thinks it will," he said. "I think what we've got under development is going to blow people's minds."
Musk also slammed California's air quality regulators for being tight-fisted with the zero-emission vehicle environmental credits, known as ZEV credits, through which the state encourages production of green cars. To comply with California Air Resources Board rules, automakers can earn credits by selling zero-emission vehicles or buy the credits from other automakers, such as Tesla.
Tesla sold nearly $170 million in ZEV and similar credits last year, but the company and other electric-car makers are concerned about the relatively low value of the credits that has resulted from what Musk called "pathetically low" standards.
"There's massive lobbying by the big car companies to prevent CARB from increasing the credit mandate, which they absolutely damn well should," Musk said. "As a result, you can barely sell the credits for pennies on the dollar. CARB should damn well be ashamed of themselves."
Twitter: @PeltzLATimes
ALSO
Tesla car mangled in fatal crash was on Autopilot and speeding, NTSB says
Tesla-SolarCity merger embodies Elon Musk's audacious plan for clean energy
Elon Musk tests Wall Street's appetite for unprofitable cash-burning ventures
---
UPDATES:
4:35 p.m. — This article was updated with additional comments from Musk on an analysts' conference call.
2:15 p.m. — This article was updated with additional detail about Tesla's financial report.
2:05 p.m. — This article was updated to reflect Tesla Motors' earnings report data.
This article was originally published at 9:35 a.m.
---