2016 Chevy Volt will have longer range, lower price tag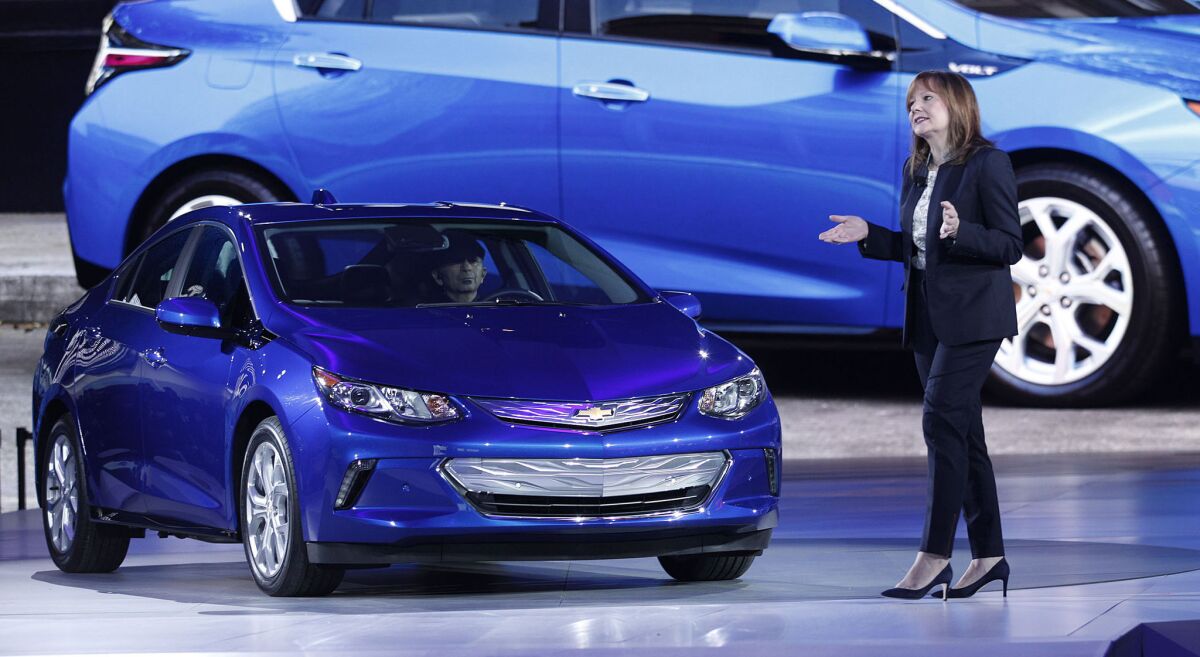 Consumers will be able to squeeze more juice out of the 2016 Volt.
Chevrolet has announced that the second generation of its plug-in electric hybrid sedan can travel 53 miles on electric power before its gas-powered engine kicks in.
That's well up from the 38-mile range offered on the first-generation Volt.
The new mileage marker puts the 2016 Volt in range of many leading all-electric vehicles, which are not equipped with gas motors and require a sometimes lengthy plug-in before they can begin driving again.
While a $100,000 Tesla Model S can go as much as 265 miles on a full charge, the more affordable EVs have a range of considerably less — and considerably closer to the new Volt's 53 miles.
A Toyota RAV 4 EV, for example, can travel a promised 103 miles before it runs out of juice. A Kia Soul EV can do about 92 miles. A Fiat 500e, Mercedes-Benz B-class, Nissan Leaf, Volkswagen e-Golf and BMW i3 Hatchback all get around 80 miles per charge. Not far behind are the Ford Focus Electric, Smart Fortwo and Mitsubishi i-MiEV, which can be driven between 60 and 80 miles before they need to be plugged in again.
Chevrolet estimates that the small four-door, four-person vehicle also will get 42 miles per gallon fuel economy on the highway under gas power alone.
In total, the new Volt will be able to achieve a miles-per-gallon-equivalent rating of 106, according to the Environmental Protection Agency.
SIGN UP for the free California Inc. business newsletter >>
The company said in making the announcement that many Volt owners will be able to use the vehicle for 90% of their daily driving and can expect to drive enormous distances between visits to the gas station if they consistently recharge their vehicles between trips.
"This means that the average Volt owner may expect to travel well over 1,000 miles between gas fill-ups, if they charge regularly," the company said.
With a full battery and a full tank of gas, the Volt will have a range of 420 miles, Chevy said. That's up from an estimated 380 miles on the 2015 model.
Chevrolet previously announced that the 2016 Volt also would sell for less than the 2015 car, with a starting MSRP of about $33,170, before federal and state tax credits that can reduce the cost of the vehicle by as much as $9,000.
That could boost sales for the admired but not wildly popular plug-in. Sales of the current model were just over 1,300 units in July.
The combination of a longer range and a lower price should mean better sales, said John O'Dell, fuel efficiency specialist at the online car-buying site Edmunds.com.
"This will certainly help sales," O'Dell said. "The 53 miles of all-electric range could make a lot of people very happy."
Chevy parent General Motors announced this year that it was developing an all-electric plug-in car, to be called the Bolt. The car will travel 200 miles between charges and sell in the low $30,000 range, after government incentives, GM executives said. The spacious four-door hatchback will go on sale in 2017.
Twitter: @misterfleming
ALSO:
Virtual used-car dealers gain traction
Mazda unveils a smaller, lighter Miata that still delivers thrills
Auto sales strong in July on SUV, luxury demand