Ferrari 250 GTO could break auction record at Monterey Car Week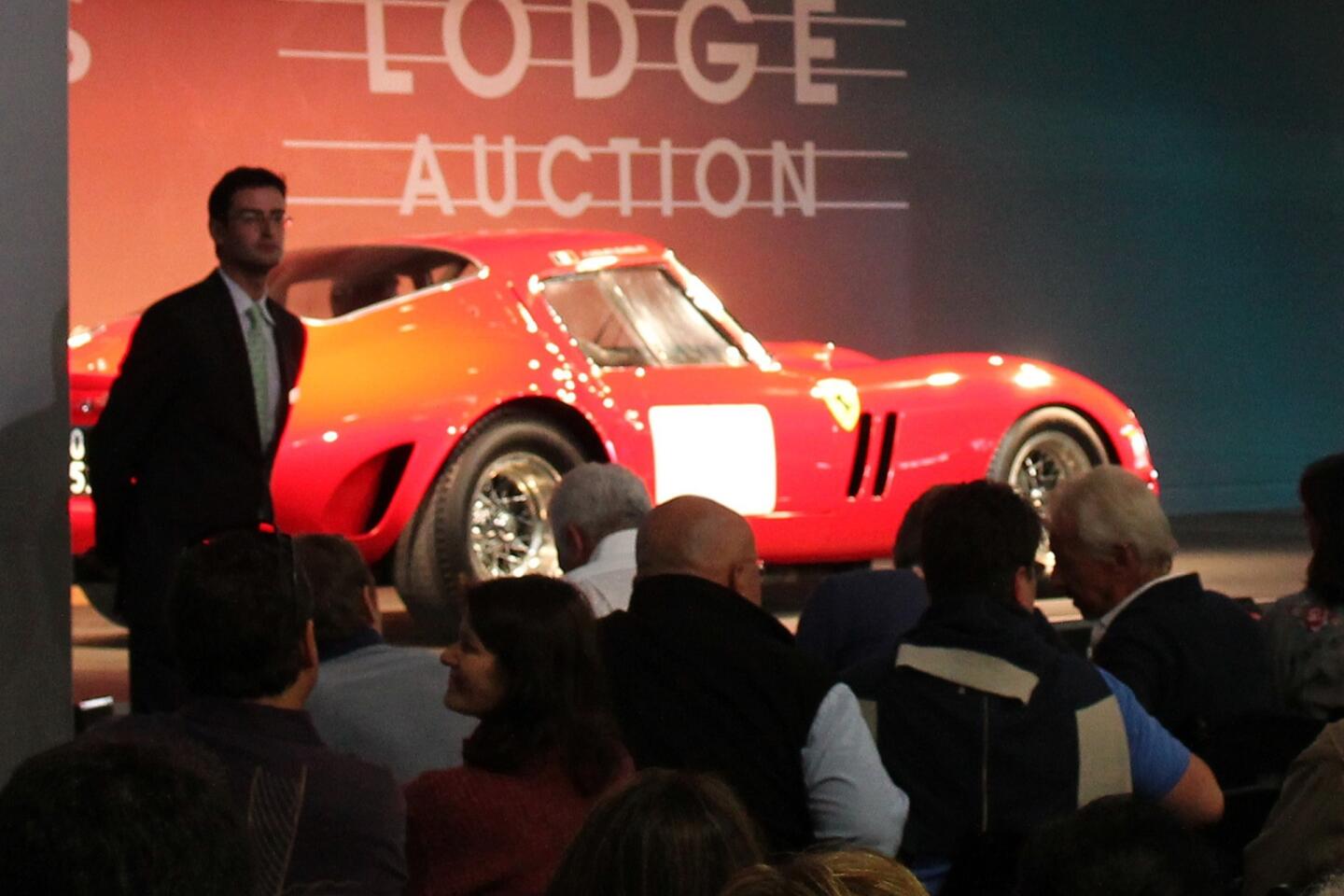 A 1962 Ferrari 250 GTO, regarded by many as the holy grail of classic cars, sold at auction Thursday night in Carmel for about $38 million.
(David Undercoffler / Los Angeles Times)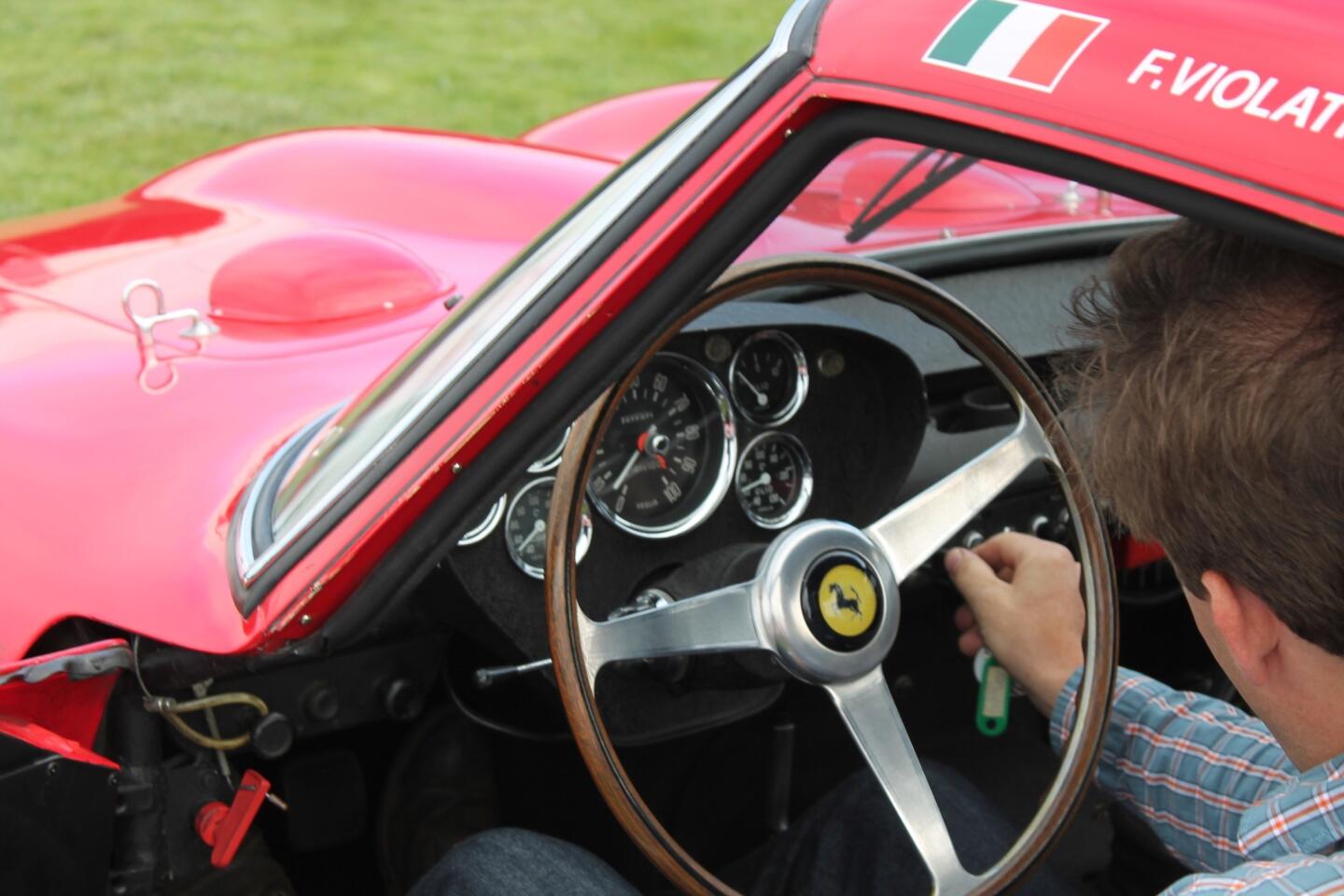 A 1962 Ferrari 250 GTO, regarded by many as the holy grail of classic cars, sold at auction Thursday night in Carmel for about $38 million.
(David Undercoffler / Los Angeles Times)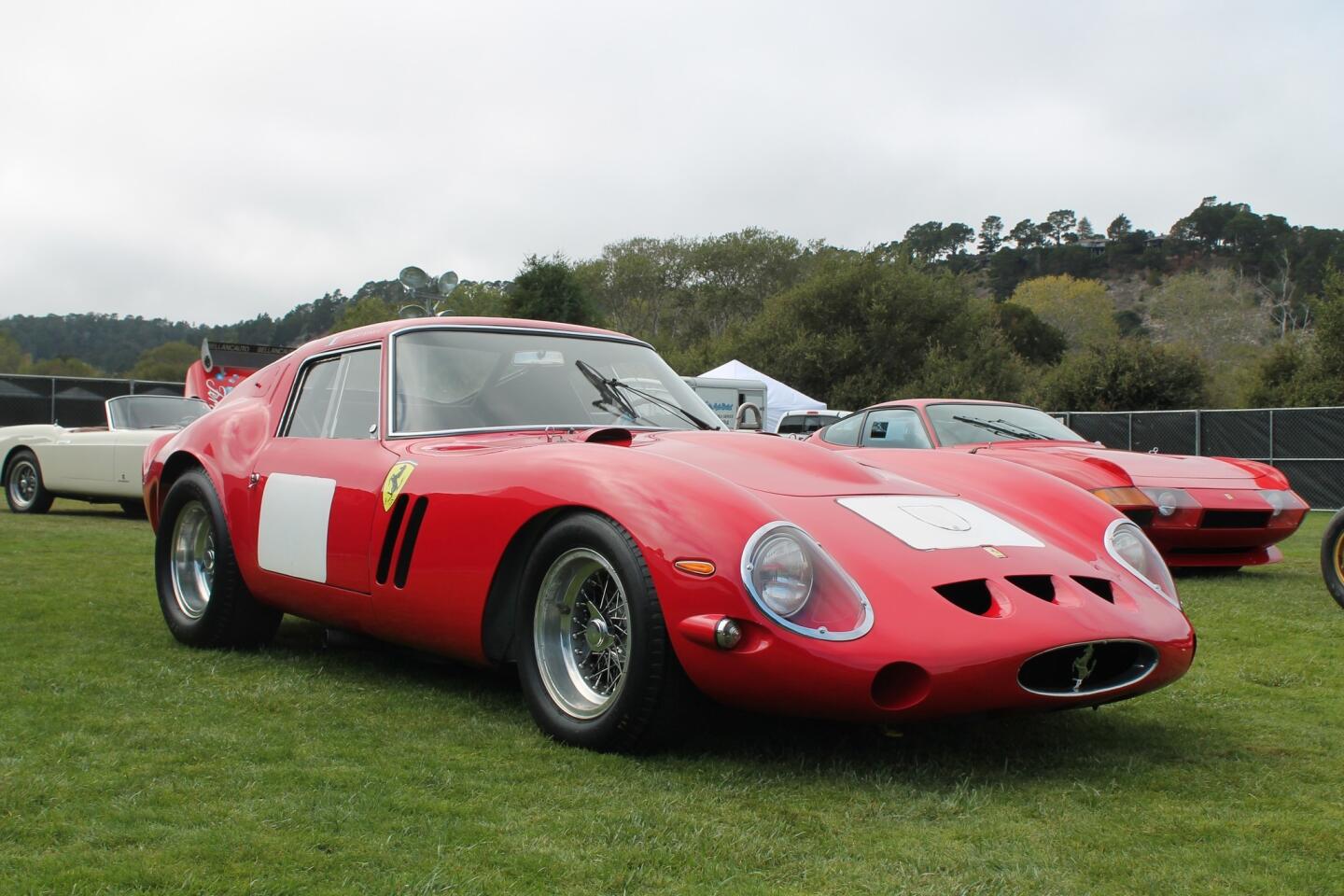 A 1962 Ferrari 250 GTO, regarded by many as the holy grail of classic cars, sold at auction Thursday night in Carmel for about $38 million.
(David Undercoffler / Los Angeles Times)
The pale gray machine, its chassis stamped 3851GT, rolled off an assembly line in Maranello, Italy, on Sept. 11, 1962.
Its first four owners abused it, thrashing through the skinny, pock-marked road courses of Europe. One of its first race drivers was killed in it. Another flipped it into a forest. After the reconstructions, its value dropped from about $12,000 to $4,000 in three years.
Its engine has been overhauled at least twice, and another owner slapped on homemade parts, including a small rear wing and modified air scoops. The aftermarket alternator "looks rough," a pre-sale inspector noted recently.
------------
FOR THE RECORD:
Ferrari auction: In the Aug. 14 Section A, an article about a 1962 Ferrari 250 GTO expected to sell at a Monterey Car Week auction for as much as $70 million included the wrong photographs. The picture showed a 1967 Ferrari 275 GTB/4 once owned by actor Steve McQueen. A photo of the 1962 Ferrari appears here.
------------
The price? Maybe $70 million, if the billionaire bidders get frisky.
And they often do during Monterey Car Week, which culminates Sunday with the Pebble Beach Concours d'Elegance. Here, the world's wealthiest car fiends swarm over a dwindling supply of collectibles.
The 3851GT, now painted brilliant red, is the 19th of just 39 Ferrari 250 GTOs, built at the end of an era when the fastest road cars did double duty on professional racing circuits. Racing technology thereafter radicalized to the point where automakers could no longer build cars that served road and track. Other GTO owners include Ralph Lauren, Pink Floyd drummer Nick Mason and Wal-Mart heir Rob Walton.
Classic car experts are predicting that the 3851GT sale could more than double the previous record price paid at an auto auction, nearly $30 million. (The record-setting car, a Mercedes W196 race car, sold last year at a Bonhams auction in England.) And two more Ferraris on the block this week — a 1964 275 GTB/C Speciale and a "Tre Posti" Ferrari 365 P Berlinetta Speciale — also have a shot at breaking the record.
Such eye-watering sums signal a broad and rapid run-up in classic car prices, especially at the top end. Collector car experts shy away from the term "bubble," but suffice it to say it's a good time to sell an old Ferrari.
Values of collectible Ferraris shot up 62% in 2013 alone, according to the Historic Automobile Group International, or HAGI, a London-based investment research company that specializes in tracking classic car values. The value of all high-end collector cars jumped 47%.
Indeed, the amount from just the top 10 sellers in Monterey this week could eclipse the total take from hundreds of cars sold during the same event in 2011, classic car experts said. The haves and have-mores could push total sales close to $500 million during four days of auctions, said McKeel Hagerty, founder and president of Hagerty Insurance, which insures classic cars and tracks their values.
That compares to $312 million last year and $123 million five years ago.
The stratospheric values are luring more investors who care little about cars — only flipping them for profit, as with the current owners of 3851GT, who bought the car just two months ago.
The GTO was one of 73 cars bought by an investors group in June for between $150 and $200 million, said Marcel Massini, a renown Ferrari historian based in Switzerland.
Robert Brooks, co-chairman of Bonhams auction house, declined to name the owners. But he said they clearly bought the cars with the intent to sell most of them for profit.
"They need a return on their investment," he said. "There's no question there's a commercial element in this deal."
There may be no better time, and no better place, to test the upper reaches of the market.
"All the money in the world will be in Monterey this week," Massini said.
The investors bought the car from the estate of Fabrizio Violati, the scion of a wealthy Italian family. He's the one who paid the Italian equivalent of $4,000 in 1965 for the GTO — and not to preserve it, at least at first.
Violati was 30 years old at the time. Fearing backlash from his parents, who worried about him racing, Violati long claimed he hid the car from them and only drove it at night. Years later, he kept the GTO in shape by entering it and other Ferraris in his collection in historic races, earning numerous championships in the process.
The racing pedigree is among the many factors that make the GTO, and Ferraris generally, appealing to collectors.
The brand has an unbroken streak of building some of the world's fastest F1 and GT race cars, which have been piloted by some of the world's best drivers. Ferrari has for decades sold exotic coupes in low volumes at high prices.
Combine those factors with a singular focus on selling two-door sports cars — unlike Porsche, Aston Martin or Lamborghini — and the prancing horse emblem has become synonymous with speed.
No Ferrari titillates collectors like the GTO. The model maximizes all the elements that can boost a classic car's value: rarity, exclusivity, beauty and racing championships.
The two-seat coupe, with a 3.0-liter, 300-horsepower V-12 engine under its long hood, did everything well.
"It was elegant on the street, and you could take it to the racetrack and really have a good chance of winning," Hagerty said.
Unlike owners of collectible wines, paintings or coins, many Ferrari owners don't keep their treasures locked in a vault or a museum. They race them.
Buying a 250 GTO grants entrance into one of the world's most exclusive clubs. Owners of 250 GTOs meet regularly in the U.S. or Europe for road rallies or tours. The only way to get an invite is to buy a GTO.
Walton, the Wal-Mart heir, crashed a Shelby Cobra Daytona Coupe — one of five ever made, worth millions — in a vintage racing event at Monterey Car Week in 2012.
The 3851GT, despite its own history of wrecks, should set off an intense bidding war, experts predict.
"It could definitely go as high as $60 or $70 million," Hagerty said.
Massini agreed, citing a recent private sale of a GTO in France for about $50 million. "This should be the same, if not more," he said. "This is a public auction; it only takes two to tango."
If this Ferrari doesn't pull in stratospheric money, it could be because of the fatal crash, the only one involving a GTO. In October 1962, Henri Oreiller, a retired Olympic gold-medal skier, slammed the car into the side of a building during a race, crushing its right flank. The Frenchman died a short time later in the hospital.
"But trust me, this isn't the only classic car people have died in," Hagerty said. "These [GTOs] are so rare, so sought-after, that it won't stall the sale."
Whatever this 250 GTO may lose in value because of Oreiller's death, it may gain back with its provenance. After three owners in three years, Violati or his estate owned the car for 49 years, an irresistible attribute.
The ideal classic should be built in exceptionally small numbers; have few previous owners; include thoroughly cataloged repair and restoration receipts; documented regular — if sparing — use; and a unique ownership story.
"We're getting to a new era of collecting," said David Gooding, president and founder of Gooding & Co., a high-end auction house in Santa Monica. "When you're talking about many, many millions of dollars, you see collectors get very picky. And they should."
The resulting prices are stunning of late, but classic car values have also held up over the long term. Since 1980, values of classic Ferraris, which tend to be more volatile than other high-end marques, have averaged a 16% annual gain, HAGI's numbers show.
That masks periods of boom and bust. In 1989 and 1990, the only major bubble in the classic car market burst, in sync with the savings and loan crisis and the Japanese asset bubble, sending prices spiraling downward. The value of high-end collectibles fell by more than 55%. Ferraris fell 70%. The market took 15 years to recover.
Could it happen again?
The major auction houses argue that both the car market and the economy have changed drastically, and that both can support the latest price run-up.
"The world has created more multi-millionaires than it has really good Ferraris," Hagerty said.
david.undercoffler@latimes.com
Twitter @latimes_driven