How Adam Carolla became the Paul Newman car guy
Adam Carolla is a comedian, carpenter, podcaster, filmmaker, best-selling author, race car driver and entrepreneur. He also owns more cars raced by the late actor-driver Paul Newman than anyone else.
That part was an accident. Carolla never set out to be the "Paul Newman collector car guy."
"I was interested in Datsun race cars, initially," Carolla said during a walk around his Glendale car collection recently. "The Paul Newman part was secondary."
At that time, Carolla explained, no one was bidding against him to acquire the vehicles owned or raced by Newman, star of such films as "The Hustler," "Cool Hand Luke" and "Butch Cassidy and the Sundance Kid."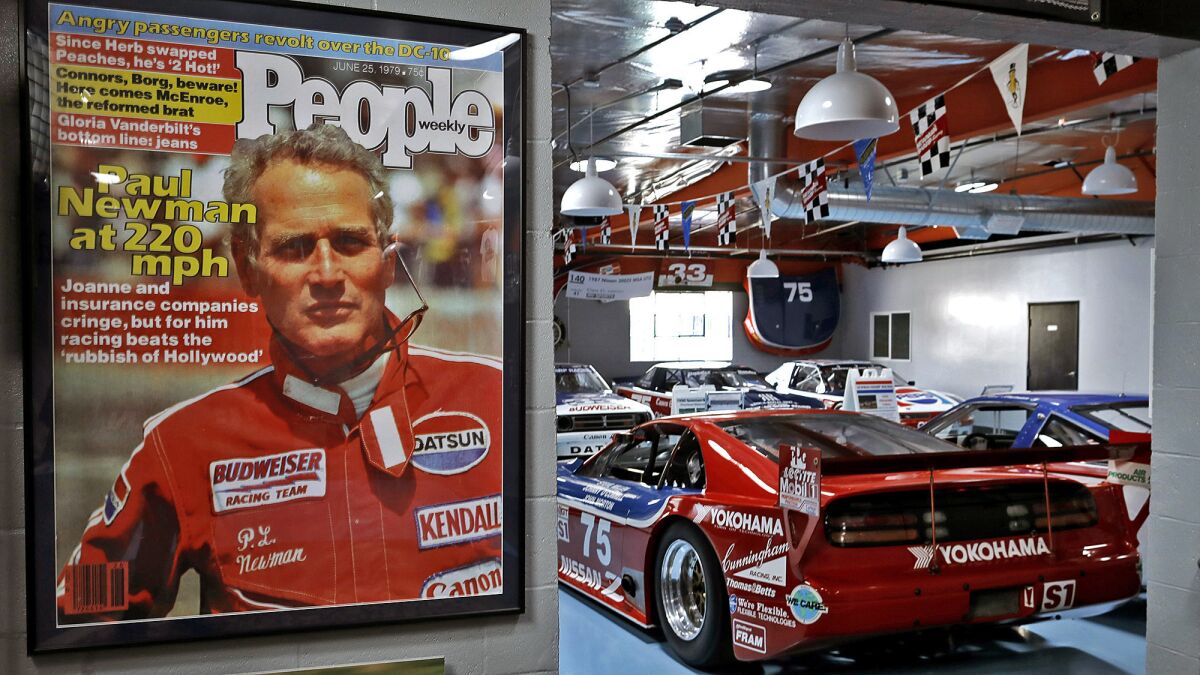 They were race cars, for one thing — and those hadn't taken off in value yet. They were Japanese cars, too, not Italian or German, and they were from the 1980s — and those weren't being collected a decade ago as they are now. And though they were driven by a movie star, the movie star wasn't Steve McQueen, whose vehicles all have much added value.
"The fact that they were raced by Paul Newman was neither here nor there," Carolla said.
Still, Carolla thought that cars raced by Newman, then in his early 80s, might increase in value after the actor died, making them a sensible investment.
So he invested more. Having bought his first, for a then-cheap $100,000, Carolla found he was the first buyer approached when another Newman car came up for sale. So he bought that one, too.
After Newman died in 2008 at 83, Carolla was approached by the movie star's former racing partner and offered a whole collection of Newman collectibles: cars, helmets, race suits and more.
Carolla didn't really want all that, but, as he said, "Who else is going to buy this stuff? If I didn't buy it all from him, I might end up having to buy each piece individually from other people. Besides, I kept an eye on the Steve McQueen stuff, which was going through the roof."
Soon Carolla had a stable and had spent $1 million or more buying Newman cars and at least that much again restoring them.
Then he heard that Newman's 1979 Porsche 935, which the actor and his team had driven to win their class and to place second overall at the 1979 24 Hours of Le Mans, was going to be auctioned by Gooding & Co. during the 2016 car week at Pebble Beach.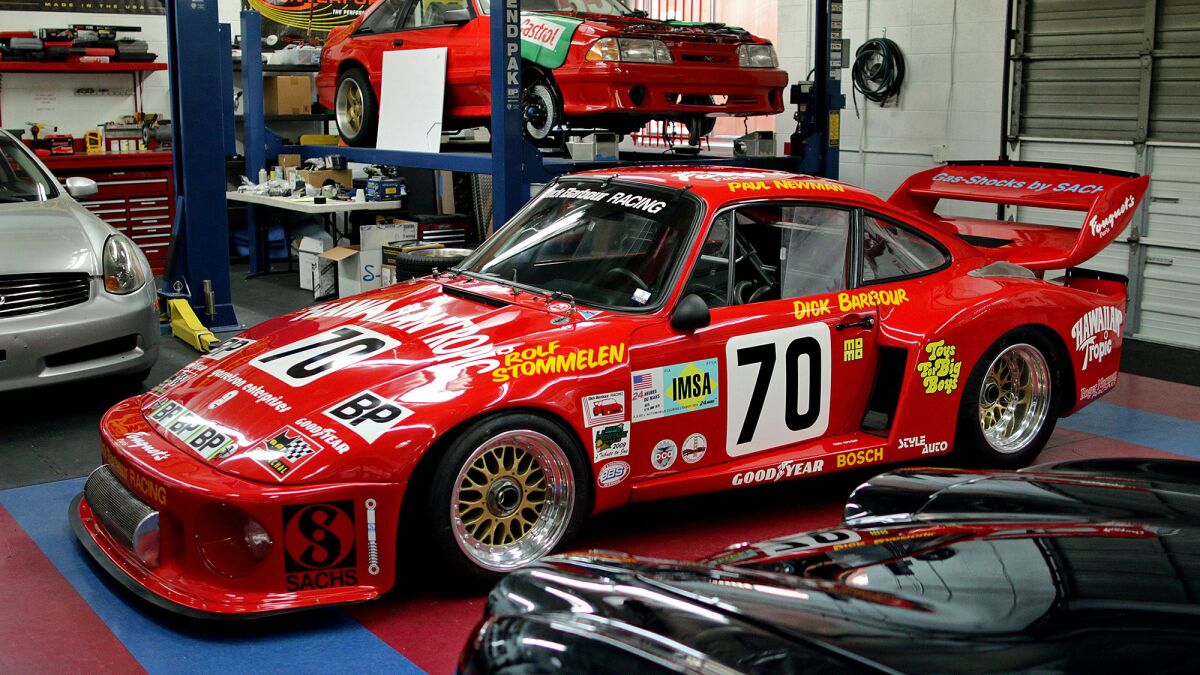 Carolla knew the car was going to cost a lot. But he also knew that, as the Newman collector car guy, he'd have to pay a lot more for it later if he didn't strike now.
"I knew this would be my one shot at getting this car," Carolla said, running his hand over the top of the bright red Porsche. "I knew the next time it came up for auction, it would be $10 million. I was never going to have $10 million. In fact, I didn't really have $4 million. But I knew this was my chance. I figured I could always pay for it by selling a bunch of other cars."
Carolla won the auction with a $4-million bid, bringing the acquisition price, with fees, to about $4.4 million. Carolla, who calls that purchase the biggest he'll ever make, "not counting whenever I get divorced," brought the car home and began selling off some of his collection of vintage Lamborghinis to fund the deal.
Unlike some collectors, Carolla, who is also the force behind the 2015 documentary film "Winning: The Racing Life of Paul Newman," doesn't keep the cars in pristine condition and store them in a museum. He restores them to competition level, and then races them.
This year, he'll take Newman cars to the Goodwood Festival of Speed in England in July, the vintage races at Laguna Seca during the Rolex Monterey Motorsports Reunion in August and to the same track for the Rennsport Reunion in September.
Carolla, to his regret, never got to see Newman drive any of the cars he has since acquired, though the actor was still active on the track into his early 80s.
"I'm from North Hollywood. My dad didn't like racing. No one I knew was into that stuff," Carolla said.
Carolla's garage is not open to the public, and the Newman cars have never been displayed together. But all 10 of them will be arranged on the lawns of San Marino's Lacy Park for the San Marino Motor Classic on June 10.
Admission to the one-day event is $25. Kids under age 12 get in free.