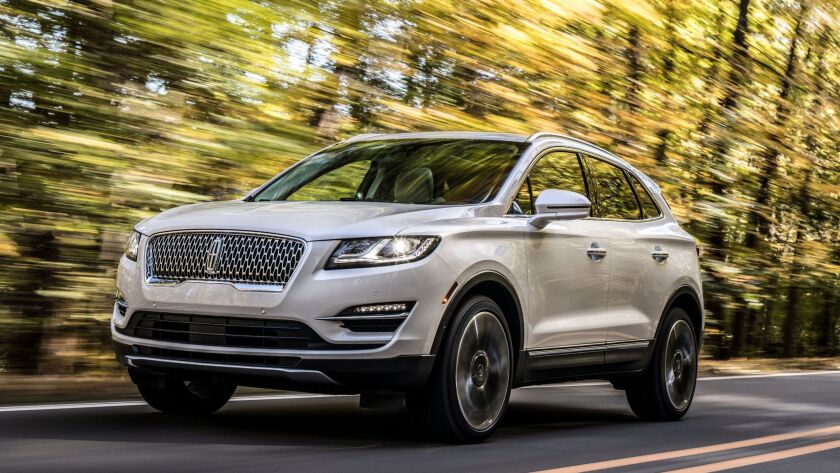 Lincoln is more known for big touring cars (Continental! Navigator!) than small SUVs, but the Ford Motor Co. luxury brand is going where the customers are by delivering a pair of upgraded entry-level crossovers for 2019.
What are they?
The newly reconfigured MKC and MKX, now known as the Nautilus, are affordable SUVs that retail from the mid- to high-$30,000 range, offering consumers a chance to mix a little Lincoln luxe with crossover capability. This is the MKC's first substantial face-lift since its 2014 introduction. Since then, the national obsession with SUVs has skyrocketed, and the luxury SUV market has bloomed, suggesting a rosy retail future for both Lincoln's new crossovers.
Why they matter
The SUV segment continues to be the hottest American car-buying niche, and it's getting hyperactive in other territories where sales are growing. (I'm looking at you, China.) Lincoln says these entry-level cars are gateway vehicles to the brand. The MKC is a conquest vehicle that draws more than half of its buyers from other brands. Moreover, it's pulling women: Lincoln says half of MKC buyers are female. The Nautilus puts new life into the vehicle that Lincoln calls its "best selling midsize luxury SUV."
What's new?
The MKC gets a new face and new design elements that indicate a brand-wide design change for Lincoln. Inside, it's tech time: The car also gets heated and ventilated seats and, for drivers using the Lincoln Way phone app, it can be turned on, turned off, locked, located and pre-warmed or pre-cooled remotely.
The Nautilus, in addition to its new name, gets new technology such as improved cruise control, lane-keeping assist, pre-collision assist, active parking assist and an auto-hold feature that allows the driver to ignore the brake pedal during stop and go traffic.
The competition
What nameplate doesn't make a medium-priced, mid-size luxury SUV? Hardly anyone. So Lincoln is fighting for customers with Mercedes (GLA and GLC), BMW (X1 and X3), Audi (Q3 and Q5), Jaguar (E Pace and F Pace), Lexus (NX and RX), Volvo (XC40 and XC60), Acura (RDX and MDX) and Cadillac (XT5). How to choose?
The details
The new MKC will be offered with a 2-liter or 2.3-liter turbocharged engine, the larger one making 285 horsepower and 305 pound feet of torque. Both engines will be mated to an all-wheel-drive system.
The Nautilus also gets two engine options under the hood. The five-seater will now be available with the standard 2-liter four-cylinder engine and an optional turbocharged 2.7-liter engine that makes 335 horsepower and 380 pound feet of torque.
Both vehicles will be in Lincoln dealers by next summer.
---
---