A closer look at the Formula E cars racing to L.A.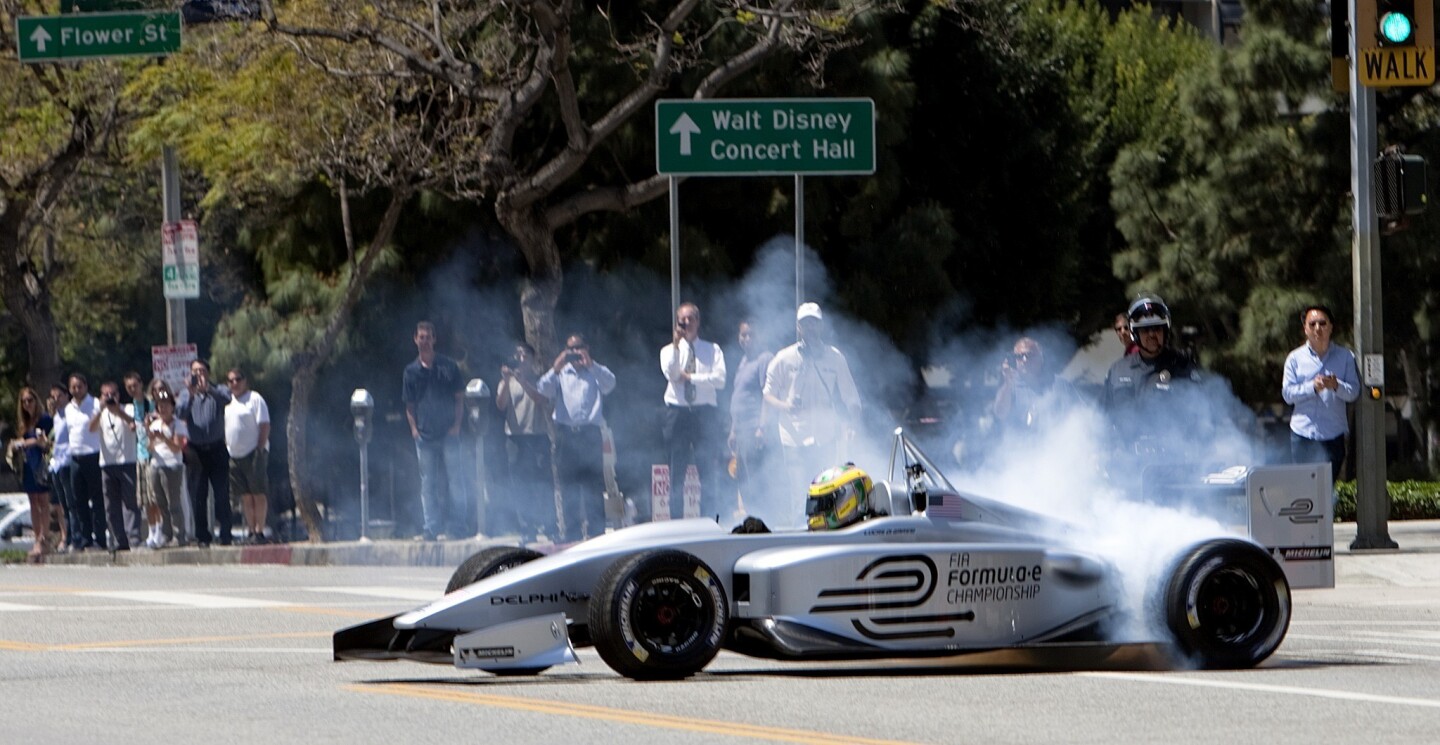 Driver Lucas di Grassi spins his wheels making turns while demonstrating the new Formula E electric race car prototype on Hope Street in downtown L.A.
(Gina Ferazzi / Los Angeles Times)
A mechanic with the new Formula E electric race car prototype.
(David Undercoffler / Los Angeles Times)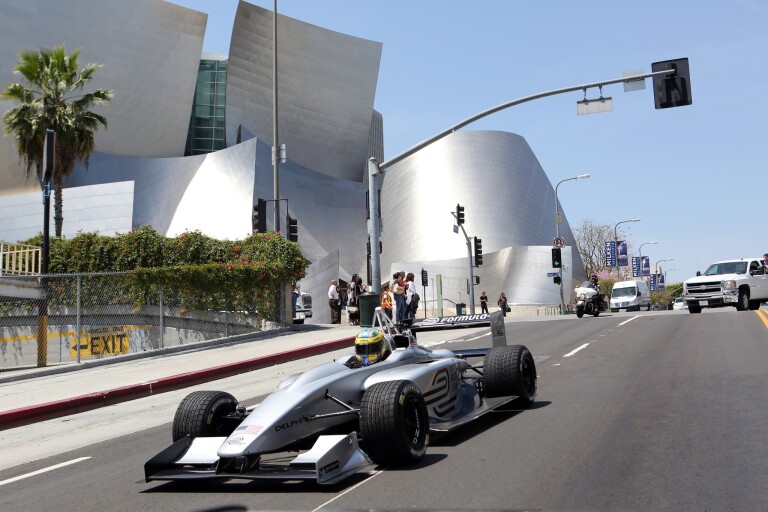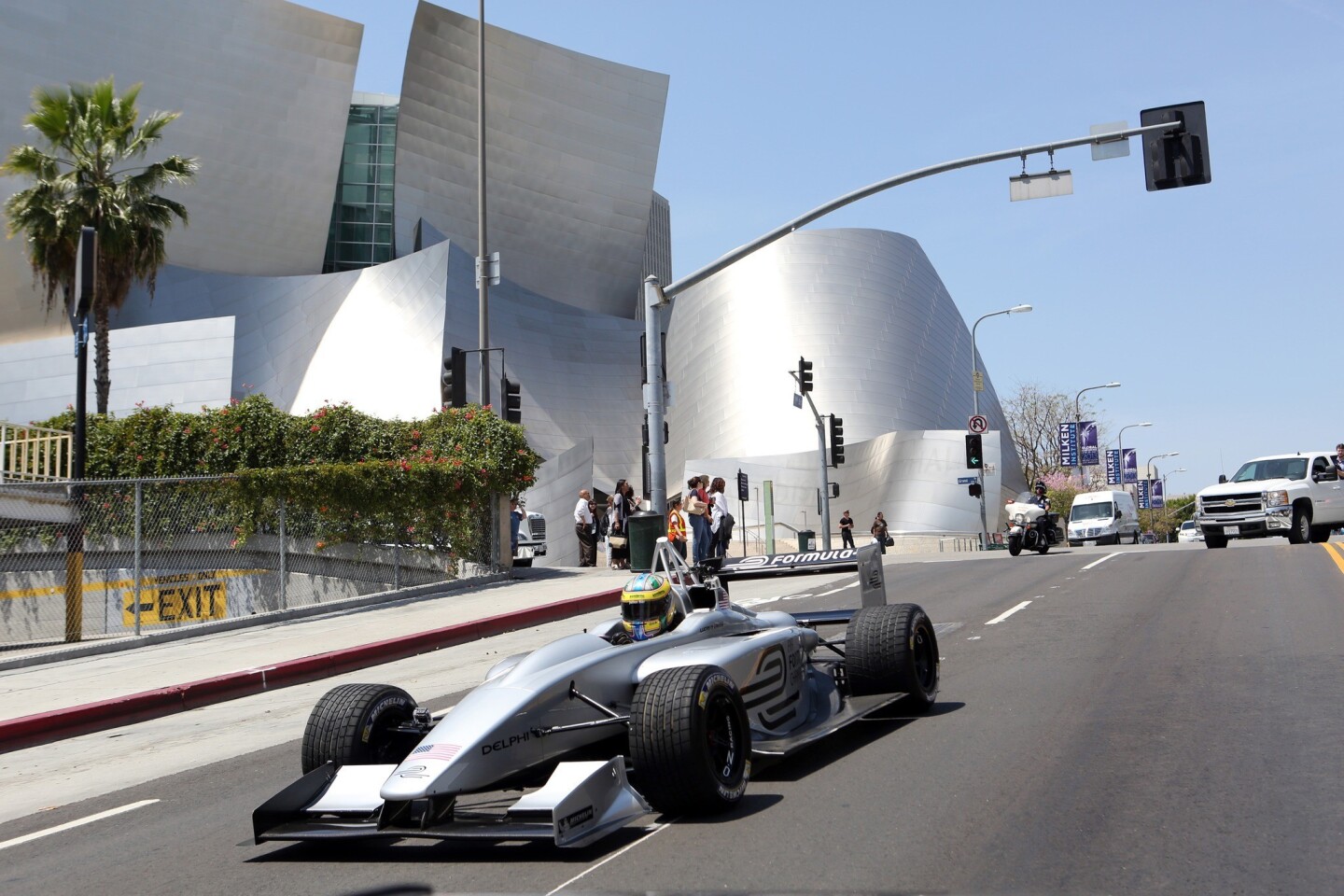 In this image released by Formula E Holdings, Lucas di Grassi drives a fully-electric Formula E race car past Disney Hall.
(Rene Macura / Associated Press)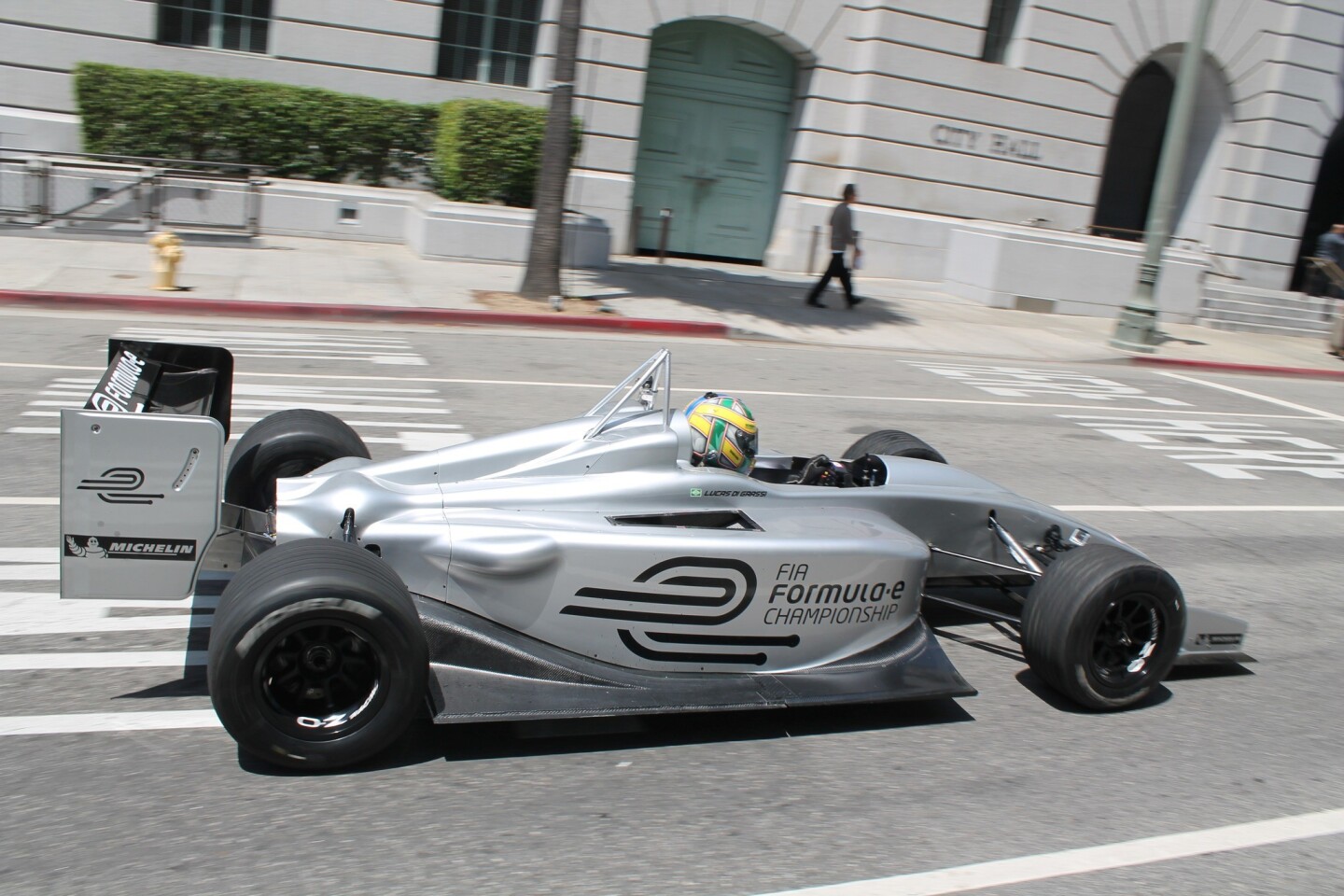 Lucas di Grassi drives the new Formula E electric race car prototype.
(David Undercoffler, Los Angeles Times)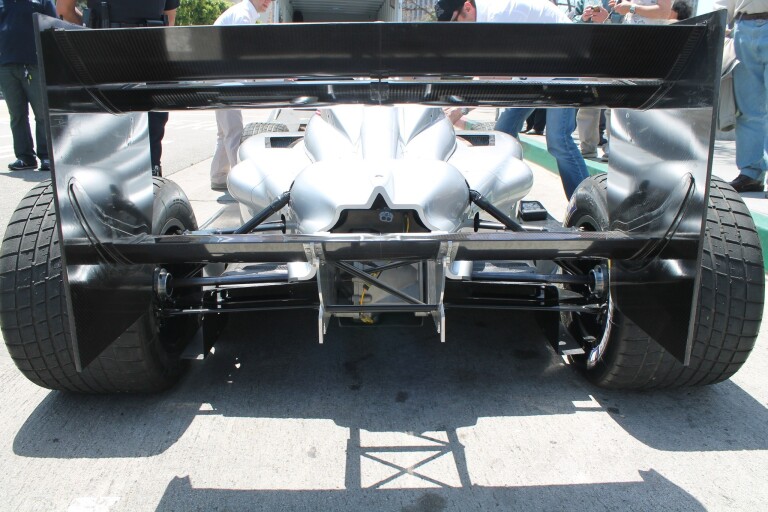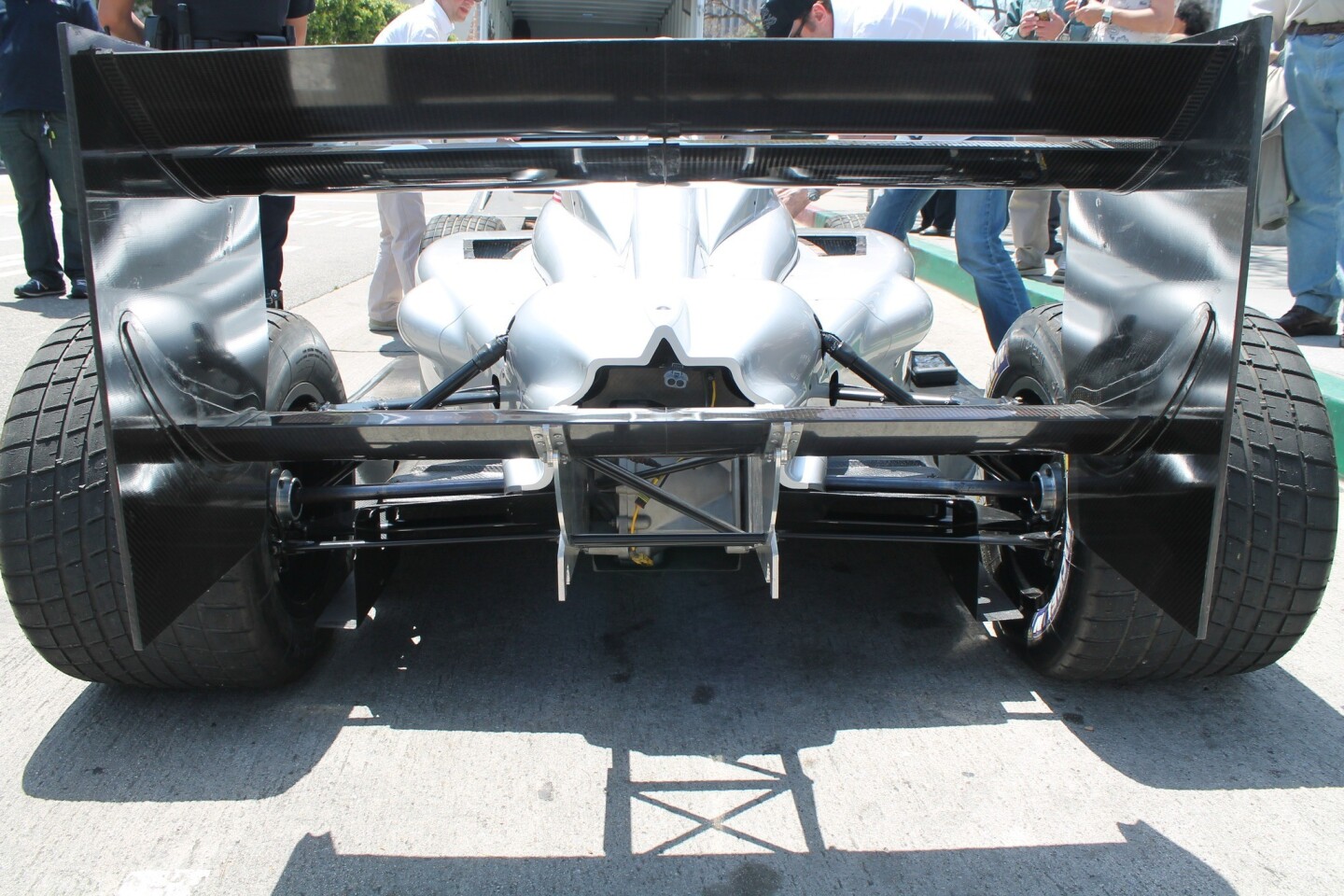 The Formula E electric race car prototype.
(David Undercoffler, Los Angeles Times)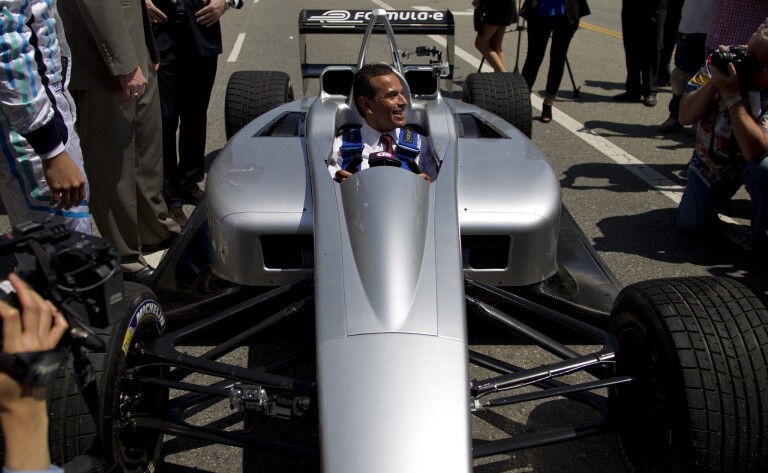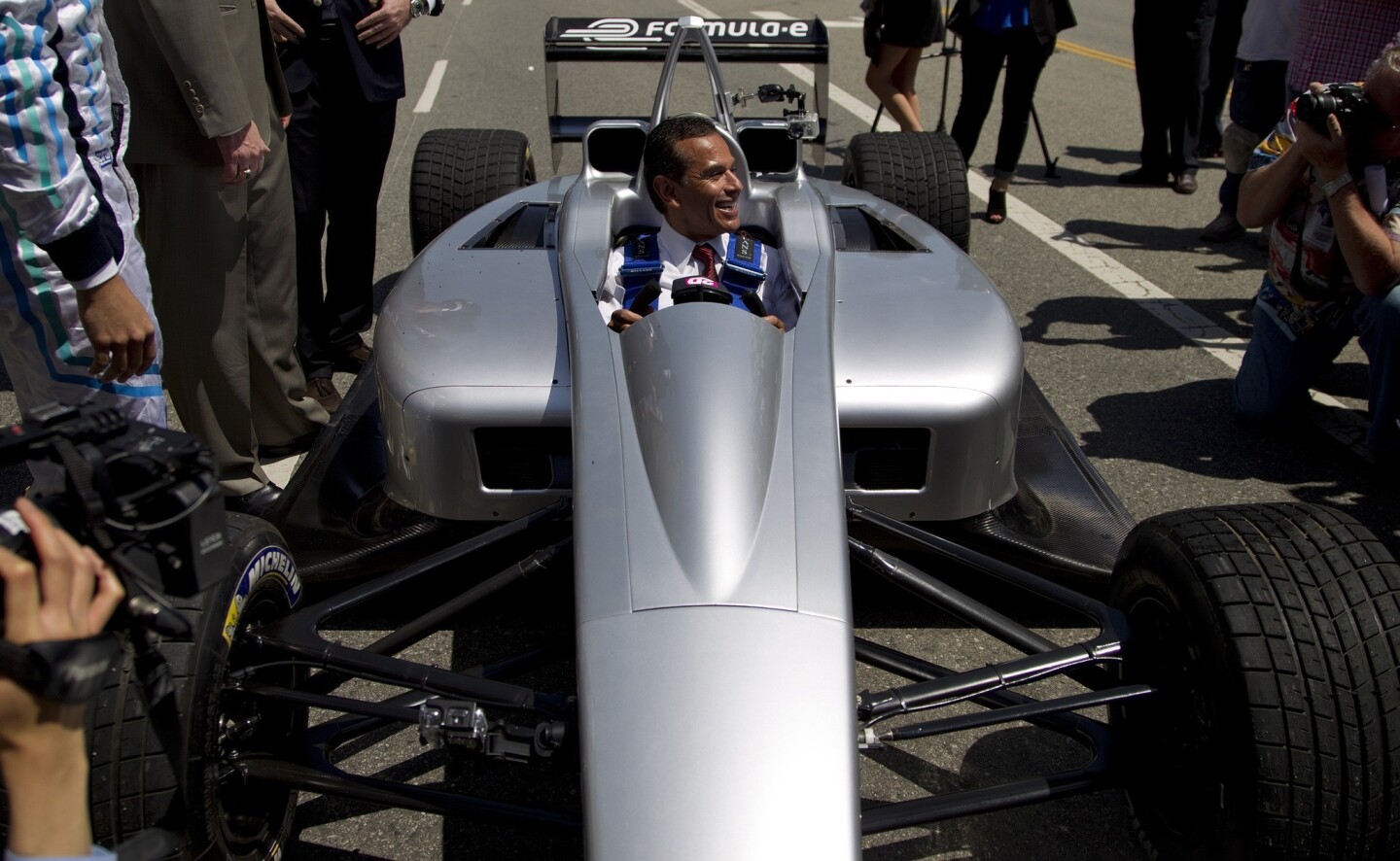 L.A. Mayor Antonio Villaraigosa sits in the new Formula E electric race car prototype on Hope Street.
(Gina Ferazzi / Los Angeles Times)
"These are not your grandma's Priuses."
So began Los Angeles Mayor Antonio Villaraigosa at Monday's press conference announcing Formula E racing was coming to the city. The open-wheel race series will make 10 stops around the world in its inaugural year, with L.A. expected to host a race in late 2014 or early 2015.
Indeed, the cars used in these races are indeed nothing like Priuses. Capable of speeds up to 140 mph, race organizers said these fully electric cars are built to demonstrate to the public that EVs don't have to be boring or slow.
PHOTOS: L.A. to host all-electric Formula E race
To demonstrate this, Formula E Holdings, the private group that is organizing the race series, is working with several companies steeped in racing history to build four cars for each of the 10 expected teams.
The electric motor, two-speed transmission, and electronics are being provided by McLaren, the company with 182 Formula One race victories to its name. Supercar fans will also know the McLaren as the automaker behind the F1, the MP4-12C, and the recently announced P1.
The Formula E cars are powered by an electric motor putting out 322 horsepower and 354 pound-feet of torque. Those may not sound like race-worthy figures, but keep in mind the Formula E car only weighs about 1,650 pounds, or about half what the average family sedan weighs.
The electric motor is powered by three lithium-ion batteries; two are mounted on either side of the driver, while the third is immediately behind the driver. The batteries are air-cooled, while the electric motor and inverter are water-cooled.
The transmission has two forward gears. The first is for lower speeds and for acceleration. The second gear is for high-speed racing; the driver usually shifts around 112 mph.
At maximum power, each of these cars will be able to race for about 15 minutes, though race organizers said the cars' ability to draw power from the batteries would be reduced slightly. This would allow them to run for 20 to 25 minutes.
Each team will have two drivers, and two cars per driver. Rather than swapping out batteries during pit stops, drivers will switch cars. The batteries can recharge to 80% of their power in 45 minutes, using an 800-volt connector (most home chargers for electric cars use 240 volts). Another 25 minutes is needed for the remaining 20%.
The chassis of the Formula E cars are built by Dallara. This Italian company is the force responsible for numerous IndyCar and Formula Three race cars. Dallara was also involved with a poor-performing Formula One team from 2010 through 2012.
Despite the cars running on electric power, Formula E test driver Lucas di Grassi said engineers can program the motors to behave the same as the average gas engine on a Formula One car.
The biggest difference, di Grassi said, was the sound. As anyone who's been to a professional car race will tell you, it can be a deafening experience. This changes when the cars are electric, di Grassi said.
"You can hear so much more of what the car is doing," di Grassi said. "You can hear the gearbox, you can hear the tires screeching, you can hear the brakes, it's a different experience."
Yet because the cars' designs and construction mimic those of other open-wheeled racing cars, di Grassi said it's not too difficult for professional drivers to adapt to these new electric cars. The only minor adjustment was to the Formula E cars' weight distribution, which is altered slightly because of the weight of the batteries.
"In terms of driving ability, a guy which is fast in a normal combustion engine, single seater, will be fast in this one," di Grassi said.
No word yet on how fast your grandma would be.
ALSO:
L.A. to host all-electric race series
Photos: Highlights from the 2013 New York Auto Show
Long Beach Grand Prix: Previewing the course in a modified Toyota Camry
---