NHTSA fines GM for not turning over information for recall probe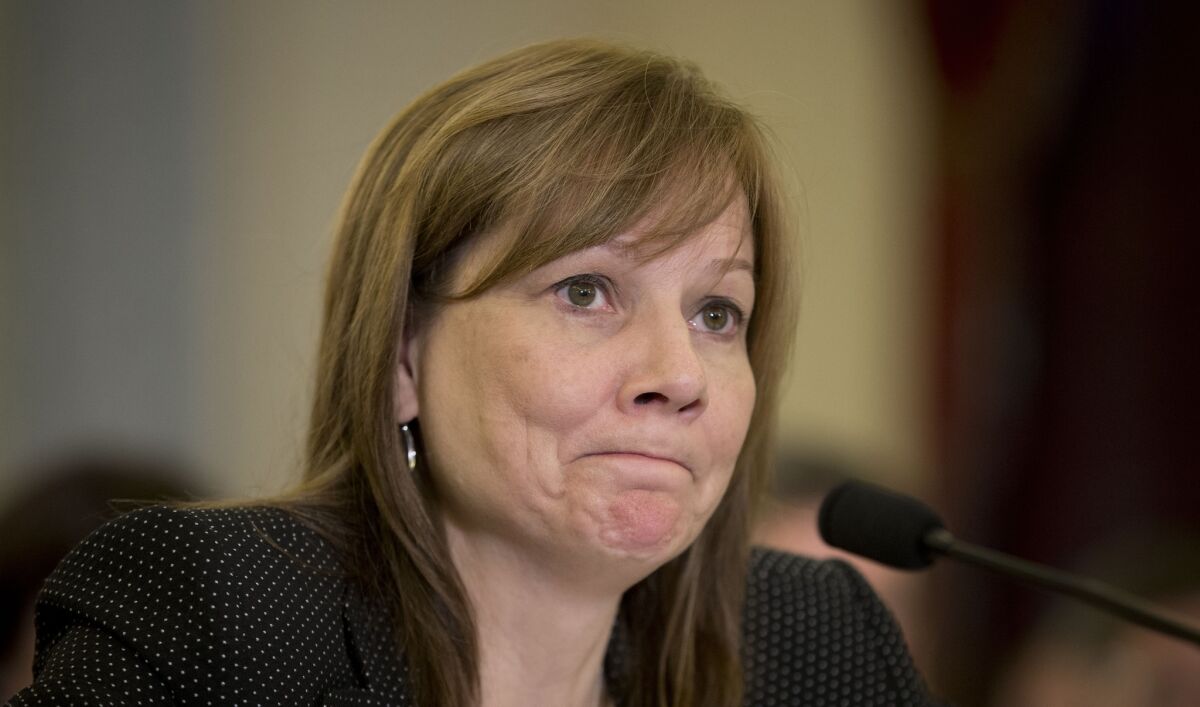 Federal regulators have fined General Motors Co. $28,000 for missing a deadline to turn over key information about a faulty ignition switch linked to 13 deaths and the recall of 2.6 million vehicles globally.
Regulators will continue to fine the automaker $7,000 daily until it fully complies with the request, an attorney for the National Highway Traffic Safety Administration wrote in a letter delivered to the automaker Tuesday. The fine could go as high as $35 million.
It is the maximum NHTSA can fine GM under current law. NHTSA said it is missing about a third of the information it requested.
The agency also told GM that it may ask U.S. Atty. General Eric Holder to take the automaker to court to make it provide the information.
The safety agency sent what is called a "special order" to GM on March 4 giving the car company until April 3 to respond to 107 specific questions. NHTSA is investigating why GM recalled the vehicles only this year even though it has known about the problem for more than a decade.
The agency is seeking details about how the defective part malfunctioned and about any crashes, injuries and deaths linked to the defect. The switch can shut off the car unexpectedly and disable the air bags.
NHTSA also wants to review consumer complaints, warranty claims, dealer reports and lawsuits concerning the defect. Additionally it seeks engineering details for the switch from GM and its supplier, and wants to trace production of the part through the automaker's supply chain.
Regulators also asked GM to explain why it did not recall the vehicles with the switch years earlier. GM also faces a probe by the Justice Department into why it did not recall the vehicles sooner.
The recalled models include 2003 to '07 Saturn Ions, 2007 to '10 Saturn Skys, 2006 to '11 Chevrolet HHRs, 2006 to '10 Pontiac Solstices, and 2005 to '10 Chevrolet Cobalt and Pontiac G5 models.
In a letter to GM, NHTSA chief counsel O. Kevin Vincent said the automaker has only partially replied to the agency's request. He said GM deflected answering some questions while an internal investigation into the same issues by former U.S. Atty. Anton R. Valukas is pending.
GM said in a statement that it "has worked tirelessly from the start to be responsive to NHTSA's special order and has fully cooperated with the agency to help it have a full understanding of the facts."
The automaker said it has already handed over nearly 21,000 documents totaling more than 271,000 pages. It said the production process of the affected cars "spans a decade and over 5 million documents from 75 individual custodians and additional sources" and noted that in some instances, NHTSA has agreed to a rolling production schedule of documents past the April 3 deadline.
"We believe that NHTSA shares our desire to provide accurate and substantive responses," GM said. "We will continue to provide responses and facts as soon as they become available and hope to go about this in a constructive manner. We will do so with a goal of being accurate as well as timely."
Although the amount of the fines levied so far is small, this is a fight that GM probably wants to avoid, said Carl Tobias, a University of Richmond law professor who follows auto liability issues.
In congressional hearings last week, lawmakers criticized GM and NHTSA for not recalling the cars sooner.
"NHTSA may be frustrated," Tobias said, and is taking a hard line now.
"GM does not want to be going to court with the Department of Justice right now," he said. "They need to find a way to each some accommodation with NHTSA."
ALSO:
Automobile recalls are on pace to break recent highs
Telsa's U.S. sales slow as analysts question growth prospects
Consumer Reports demotes Honda, Kia, Mazda SUVs after they flunk crash test
---