Highlights of Quail Motorsport Gathering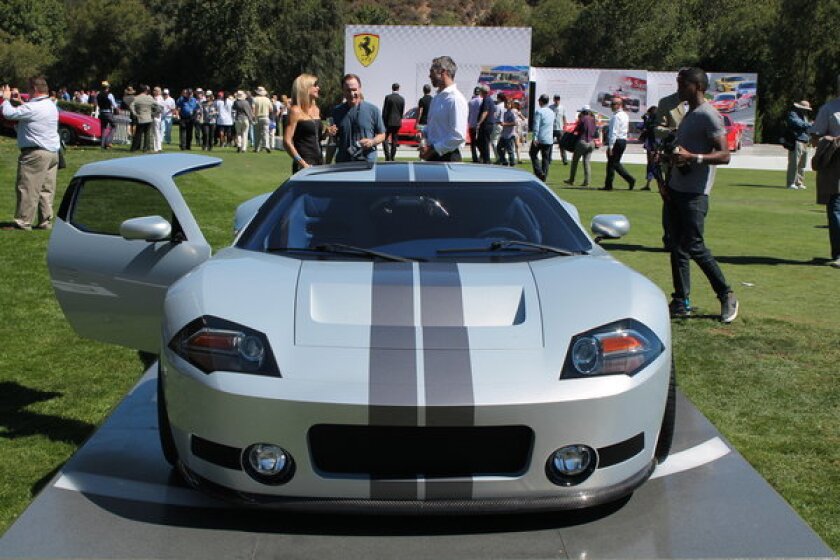 A million-dollar Ford built in Southern California. A concept convertible from Dutch brand Spyker. A wild -- even by Italian standards -- Lamborghini. These were some of the highlights from Friday's Quail Motorsports Gathering in Carmel, Calif.
Quail, as it's referred to throughout the car world during the weekend, is a private event, mini car show, and new car expo all rolled into one. Brands like Rolls-Royce, Bugatti, Aston Martin, Lamborghini, McLaren, BMW, Spyker and Jaguar all had vehicles on display.
Here are some of the day's highlights. You can check out photos from the day here.
Galpin Ford GTR1:
Galpin Auto Sports, the Van Nuys-based dealership, is expanding into the car-building business. The company debuted at Quail the GTR1. This car takes the chassis of the Ford GT that was built from 2004 to 2006 and swaps out the body for a custom-built carbon fiber body built by Fountain Valley's Metalcrafters.
Galpin then takes the 5.4-liter V-8 and throws on a pair of turbochargers. The company says this boosts the car to 1,024 horsepower and 739 pound-feet of torque. Galpin says this motor is mechanically capable of 225 mph and a zero-60 mph time of around three seconds. Full testing has yet to be completed, the company said.
The car will cost around $1.024 million, and the company is taking orders now. That price includes the cost of the original Ford GT on which this model will be based. Galpin needs just six orders to start the project and said it expects to build about 25 cars.
Spyker B6 Venator Spyder:
Company founder Victor Muller was on hand with a prototype of his B6 Venator Spyder. This is the drop-top version of the B6 coupe concept the company debuted at the 2013 Geneva Motor Show. Both cars are powered by a V-6 engine from a yet-to-be-named automaker, which pushes power to the rear wheels through a six-speed automatic transmission.
Like its coupe brethren, the B6 Spyder has an aluminum chassis and a carbon fiber body. Muller said he expects the car to start at around $150,000, or about $10,000 more than the coupe. Production on the coupe will start within the year, Muller said, with the convertible rolling off the line six months later. Muller said he was hoping to sell between 250 and 500 of the cars a year, a relatively high number for the small Dutch brand.
BMW:
Just a day after revealing to journalists the styling concept for the BMW M4 coupe that will debut later this year, BMW brought the M4 Concept Coupe to Quail to show it off to the public. Powertrain details haven't been announced yet, but the car seen here is largely what the production car will look like. You can read our full story on the car here.
Lamborghini:
The wild Veneno supercar is one of only three that Lamborghini is building for some of its most loyal customers. The $3.9-million car is based on the Aventador, though this car has 750 total horsepower from the 6.5-liter V-12 engine. Curb weight is lowered through the extensive use of carbon fiber, for a savings of 275 pounds over a stock Aventador. Lamborghini says it will do zero-60 mph in 2.8 seconds and has a top speed of 220 mph.
Lamborghini also debuted a special edition of its Aventador Roadster. Built to commemorate the company's 50th anniversary, the Aventador LP 720-4 Roadster 50° Anniversario car bumps the standard Aventador Roadster's horsepower to 720 from 700 and upgrades the car's front and rear bumpers.
Aston Martin:
With a year-long celebration of its 100-year anniversary in full swing, Aston Martin didn't waste another opportunity to show off some of its latest products. The British automaker brought the Vanquish Volante -- a convertible version of its carbon fiber bodied Vanquish -- and the V12 Vantage S.
Like the coupe version, the Vanquish Volante is powered by a 6.0-liter V-12 engine that makes 565 horsepower and 457 pound-feet of torque. Power flows to the rear wheels via a six-speed automatic transmission with paddle shifters. Top speed is 183 mph.
The V12 Vantage S is the fastest car in Aston's lineup, with a 205 mph top speed. It does this with the help of a 6.0-liter V-12 similar to that in the Vanquish, which is paired with a seven-speed automated manual transmission.

ALSO:
Photos: Highlights from Pebble Beach car week
In Monterey, car collectors race rare vintage vehicles
Review: 2014 Chevrolet Corvette Stingray Coupe shifts from tradition
---
Your guide to our new economic reality.
Get our free business newsletter for insights and tips for getting by.
You may occasionally receive promotional content from the Los Angeles Times.