Feds issue guidelines for self-driving cars like Google's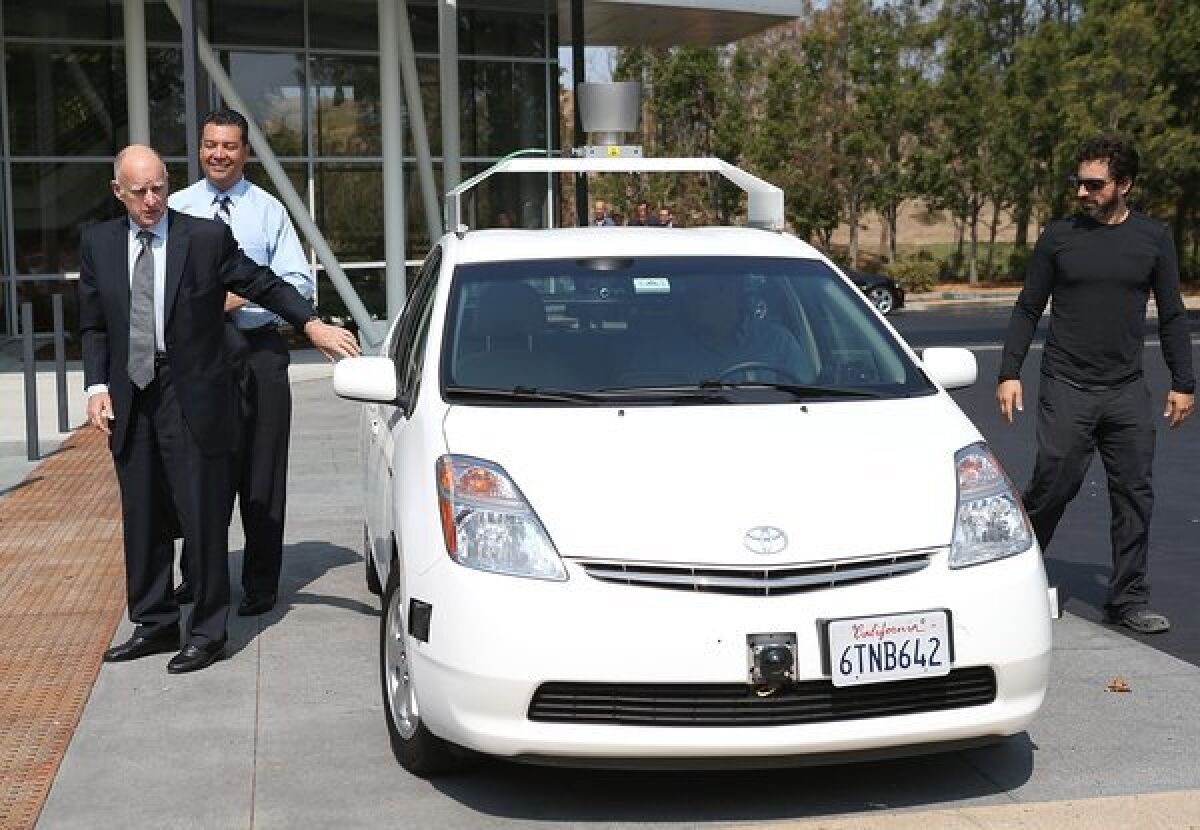 With self-driving cars all but certain to hit the road in the coming years, federal safety regulators on Thursday announced new guidelines for companies and states eager -- or reluctant -- to make them a reality.
The 14-page report from the National Highway Traffic Safety Administration outlines the numerous benefits varying levels of vehicle automation could have, but makes it clear that fully autonomous vehicles are not yet ready to be used for anything other than research.
"We believe there are a number of technological issues as well as human performance issues that must be addressed before self-driving vehicles can be made widely available," the agency said in a statement.
Currently only California, Nevada and Florida have enacted laws allowing self-driving cars on public roads.
NHTSA said other states considering joining this trio, and companies interested in testing this emerging technology in a public space, had asked the agency to recommend how to safely allow these vehicles on the streets.
"As additional states consider similar legislation, our recommendations provide lawmakers with the tools they need to encourage the safe development and implementation of automated vehicle technology," NHTSA Chief David Strickland said in a statement.
While self-driving cars from private companies like Google or Lexus get the lion's share of the attention when it comes to automation, NHTSA also sees numerous safety benefits from less-intrusive crash avoidance systems and vehicle-to-vehicle communication systems. Many of these systems are already available in cars today.
Additionally, NHTSA is considering mandating features like automated braking on all vehicles sold in the U.S., similar to the requirement that all cars built after the 2010 model year come standard with electronic stability control.
The effect automation technologies, even mild ones currently available, could have is difficult to underscore. By reducing or mitigating accidents that are the result of driver error, NHTSA says the technology could "reduce significantly the many thousands" of deaths and injuries that happen each year.
It could also reduce the hundreds of billions of dollars in societal costs -- deaths, missed work, medical bills, etc. -- that are the result of such accidents.
To make the varying degrees of this technology easier to define, NHTSA's report spelled out five levels of vehicle automation, from zero (no automation whatsoever) to four (vehicle requires no input from the driver other than destination commands).
The few self-driving vehicles being tested right now rate a three on this scale; nothing to date is completely capable of driverless transportation. Mild systems such as stability control or braking ahead of a collision would rate a one.
Also crucial in the agency's recommendations is a limit on states regulating these fully autonomous vehicles too much, for fear of inhibiting research and development of autonomous technologies.
"Premature regulation can run the risk of putting the brakes on the evolution toward increasingly better vehicle safety technologies," the NHTSA statement said.
But self-driving technology in vehicles is still too new to be put in the hands of anyone other than the states or companies researching the feature, the agency urged. And those that do test such self-driving cars should include in them a number of safety features including a separate licensing process for drivers and the quick switch from autonomous to manual control.
ALSO:
Tesla boosts its charger network -- but only for the Model S
Rare 1953 Ferrari sells for nearly $13 million at Italy auction
Honda joins EV price war with $259 monthly lease on all-electric Fit
---