Crash-related deaths up for first time since 2005, report says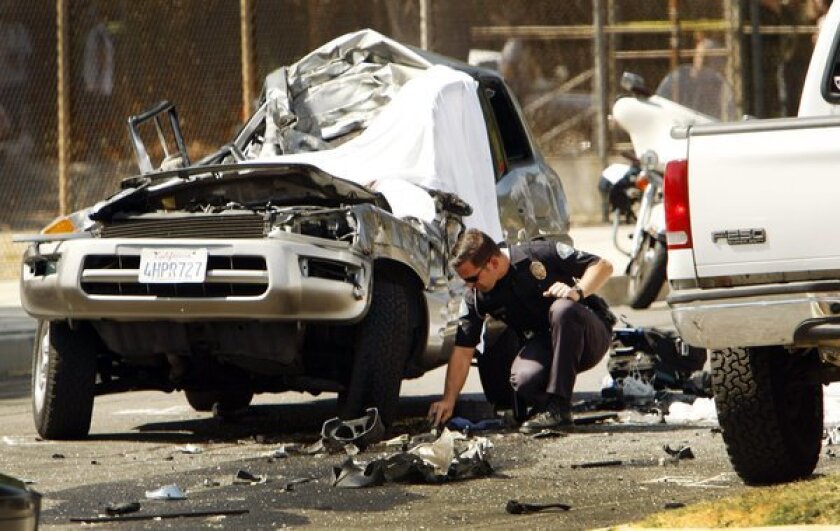 For the first time since 2005, the estimated number of people killed in the U.S. by car crashes went up, according to the National Safety Council.
Vehicle crashes killed an estimated 36,200 people in 2012, according to a council report released Tuesday. That's a 5% increase from 2011, making it the first time the number of deaths has risen since 2004 to 2005.
Much of the increase can be attributed to more people on the roads, according to the report. "Total miles driven across the nation have been on the rise since December of 2011," the report said.
"When the nation is driving more miles, there are typically more crashes," said John Ulczyck, vice president of the National Safety Council.
A mild winter in 2012 probably had the greatest impact on the increase in deaths, according to Ulczyck, because more drivers were on the roads. "We think bad weather causes more crashes, but actually bad weather causes people to drive less, which leads to fewer crashes," he said.
States in the Northeast were reporting motorcycle deaths in winter months for the first time in decades, Ulczyck noted. States like Connecticut, Delaware, New Hampshire and Maine all reported double-digit percentage increases in motor vehicle deaths. Yet New Jersey, Pennsylvania and New York reported only small increases.
The number of deaths in California increased 7% from 2011 to 2012, according to the report.
An improved economy also put more drivers on the road, Ulczyck said. With more people in vehicles for work and travel, the likelihood of crashes increased.
The report also notes that the estimated cost of motor-vehicle deaths, injuries and property damage in 2012 was also up 5% from 2011. In all, $276.6 billion was spent on things like vehicle repairs, lost wages and productivity, medical expenses, and insurance costs and premiums, according to Ulczyck.
New technologies -- both inside and outside of the vehicle -- are making driving safer, Ulczyck said. Cars are more structurally sound, and the more widespread use of features like traction control, lane-departure warnings, and hands-free communication are reducing fatal crashes.
Meanwhile, the design of new roads is also helping to keep people safe, Ulczyck said. States are using wider shoulders, rumble strips, and divided highways.
Yet the impact these features are having on overall traffic deaths is offset by the wider use of cellphones for calls and texting, and the failure of state and local agencies to adequately crack down on speeding, Ulczyck said.
"The amount of money that is available for speed enforcement is a concern, because speeding is roughly involved in a third of all fatal crashes," Ulczyck said. "When state and local governments are pressed for funding, they tend to look at spending money on law enforcement on other kinds of violent crimes."
The NSC said its report may be revised as more data become available. The group expects to have complete figures in another six months, Ulczyck said.
Both the NSC, a non-profit organization, and the National Highway Traffic Safety Administration issue annual reports on traffic deaths. Yet the NSC's said its report differs because it counts traffic and non-traffic deaths that happen within a year of the crash. The federal report looks only at deaths that happen within 30 days of the accident.
ALSO:
Rare Tucker 48 headed to Amelia Island auction
Microcar sells for world record at Georgia auction
Chevy debuts 415-horsepower SS at Daytona International Speedway
---