Review: Chevy's 2017 Bolt EV is an all-electric all-star — sturdy, swift and silent
Chevy's new battery electric hatchback is Detroit's answer to the promised Tesla Model 3 - a long range, plug-in that won't break the bank.
I was invited to take a spin last September in an early version of the Chevrolet Bolt EV. The battery-electric affordable sedan was poised then to make its debut in dealerships, and I had my doubts.
Would it drive like a science experiment? Was it just a "compliance car," designed to meet fleetwide emissions standards? Could it really go 238 miles on a single battery charge, as the Environmental Protection Agency had said?
The answers were "no," "no" and "yes!" My daylong drive from Monterey to Santa Barbara was a great success. I really liked the drive, and I really liked the car.
But that Bolt EV was a prototype, and the drive was curated and supervised by Chevy executives. How would the car hold up in the real world, during a more traditional weeklong test drive?
Sturdy, swift and silent
The Bolt EV is a solid, straightforward car that might feel a little overpriced — were it not for the battery-electric component (hybrid and BEV powertrains always add to the suggested retail price).
The firm front seats are comfortable, the cabin space is ample and even the rear seats don't feel cramped — a result of Chevy engineers having found a way to build the Bolt's 288-cell lithium ion battery into the chassis, where it sits low and assists with handling.
The car is designed to be driven: The air conditioning system is strong; the sound system is adequate; the USB plug-ins are placed where you can actually reach them; visibility is good, aided in front by wind wings that expose what could be a blind spot; and the wide, user-friendly information screen delivers data in a way that's intuitive and clear.
Unlike some plug-in hybrids and battery electric vehicles, it also has a full-size trunk and back seats that fold flat to accommodate larger loads. I'm not sure whether the 16.9 cubic feet of storage space would accommodate a full set of golf clubs — not being a golfer — but it felt more than adequate for everyday use and for weekends away.
I found it a delight to drive. The 150-kw electric motor is strong and silent, and delivers a very satisfying 266 pound-feet of torque. The Bolt EV dashes from corner to corner — from zero to 60 miles per hour in 6.5 seconds, Chevy claims — and accelerates beautifully on the freeway.
The torque, and the advertised 200 horsepower, make the Bolt EV drive lighter than its 3,563 gross weight.
The car is electronically limited to a top speed of 93 miles per hour, Chevy said — a fact confirmed by a Bolt-driving friend who told me he hit 92 miles per hour and could go no higher.
The car gets up to speed, and stays at speed, silently and without any vibration, which is part of the delight of driving electric.
But it doesn't suffer from the curse that can plague battery electric and hydrogen fuel cell cars: A vehicle with a silent powertrain can feel very loud in other respects, as the absence of engine sounds can expose wind noise, tire noise and any squeaks that may come from some other part of the car.
I found none of that with the Bolt EV. It was quiet even at freeway speed, and seemed almost as silent as the much more expensive and luxurious Tesla Model X that we reviewed earlier in the year.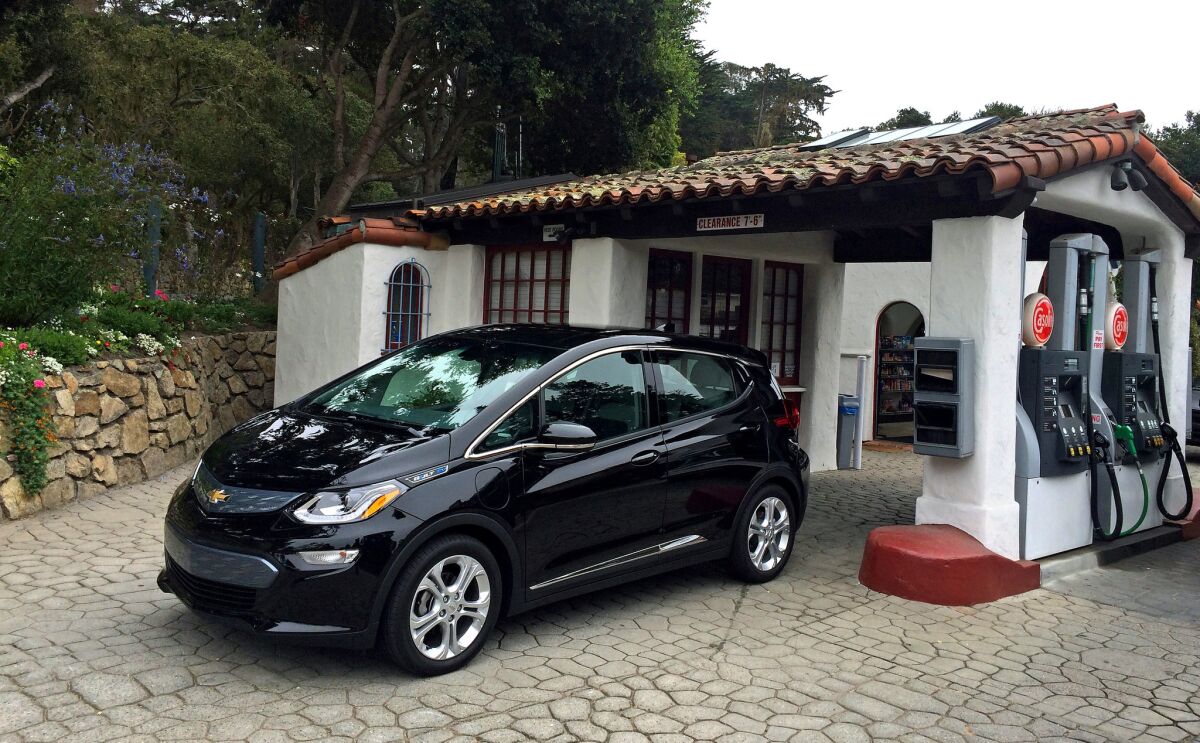 Curing range anxiety
Test runs conducted by the EPA determined the Bolt EV's range at 238 miles per full battery charge.
My experience on the run from Monterey to Santa Barbara bore that out. Over a full day of driving that included mid-speed country roads, slow-speed coastal roads and some high-speed highway miles, I finished the 240.5-mile route on a single tank of electric juice.
At the end of the run, the on-board computer said I had 50 miles of charge left. So 238 seemed conservative.
After a week of driving in Southern California, which included a mix of city streets and freeway flying, I had similar numbers.
The first time I recharged the car, I had stopped to have dinner with a friend who drives a Volt, Chevy's plug-in electric hybrid. Before we dined, I plugged the Bolt EV into his 240-volt home charging unit.
This rejuvenated the car, at the rate of about 25 miles of range per charging hour, and restored my range from 145 miles to 222 miles.
Had my friend been equipped with only a standard household 120-volt system, I would have collected only about 15 miles of range per hour charged. (The trunk space, where you won't find a spare tire, contains the hardware needed for a variety of charging options.)
But if I'd had access to a DC Fast Charging system, I could have replenished the electricity at the rate of 160 miles of range per hour, according to Chevy.
Trim levels
The Bolt EV is being leased and sold in two trim levels. The standard LT model, which starts at $37,495, features the same powertrain, same battery and same range as the more deluxe Premier.
The Premier, which starts at $41,780, comes with fancier wheels, custom door handles, upgraded mirrors, roof-mounted side rails, heated front seats, rear seats and steering wheel, and a variety of driver assist options not offered in the LT trim.
The Premier model I drove, which was equipped with a special infotainment package, extra safety features and the DC Fast Charger hardware, came to $43,510.
Small sales so far
As is the case with other electric cars, sales of the Bolt EV haven't been brisk. Through the end of April, Chevy had sold just under 5,000 — more than half of them in California, where the Bolt EV was the fourth-bestselling car in the state in the first quarter.
The low number is partially a result of the limited availability: The Bolt EV is for sale in only 16 states, though it will be available nationwide by summer.
It's also the result of an American buying public that has failed to embrace plug-in electric vehicles. Despite the stellar reviews for the Bolt EV and the popularity of other plug-ins, such as the Fiat 500e, sales of battery electric vehicles account for less than 1% of all U.S. car purchases.
That's too bad. For a Southern California commuter, driving in a landscape that is increasingly dotted with charging stations, and driving to and from homes and workplaces that offer improving options to plug in and juice up, this car could provide welcome relief from the gas pump and a pain-free way to help diminish air pollution and the global climate change associated with internal combustion engines.
It's also a relatively affordable option. California buyers can qualify for as much as $10,000 in state and federal inducements to go electric.
If I were buying a car, I'd be serious about buying this one.
2017 Chevrolet Bolt EV
Times' take: The auto industry's best affordable EV
Highs: Sporty, silent and surprisingly sturdy
Lows: Still too slow to charge for some buyers
Vehicle type: Four-door, five-passenger hatchback
Base price: $ 37,495
Price as tested: $43,510
Powertrain: Electric motor, 60-kWh lithium-ion battery
Transmission: Direct drive
Range: 238 miles
Recharge time: 9.3 hours on 240-volt system
Horsepower: 200
Torque: 266 pound-feet
EPA fuel economy rating: 128 miles per gallon equivalent city / 110 highway / 119 combined