Appreciation: 'Easy Rider' bike designer Cliff Vaughs, 79, lived many lives: Photographer, filmmaker, boat captain
Cliff Vaughs, largely credited with designing and building the choppers that starred in the 1960s counterculture motorcycle movie "Easy Rider," died Saturday at his home in Templeton, Calif. He was 79.
Long denied creative credit for the look and style of the iconic bikes after having been fired from the movie early in its production, Vaughs spent decades as an expatriate before winding up back in America, broke and homeless.
But in the past two years, Vaughs had suddenly begun to experience some delayed stardom.
Motorcycle historians, festival organizers and bike bloggers were increasingly acknowledging the African American photographer, documentary filmmaker, music producer, political organizer and biker as the artistic author of the iconic "Captain America" chopper, with its long chromed forks, high sissy bar and star-spangled red, white and blue gas tank.
"It's the most famous motorcycle in history, and that deserves some recognition," said Paul D'Orleans, motorcycle historian and Cycle World columnist. "But as a man, he's so much more interesting than that."
I met Vaughs in late 2014 while reporting a story. A motorcycle purporting to be the original "Captain America" chopper was headed for the auction block and was expected to become the most expensive motorcycle ever sold.
There were suggestions the bike was a fake. Most experts I interviewed said only Cliff Vaughs, who'd built the original, could determine its authenticity.
Vaughs was hard to find. He was living on a boat in the Caribbean, some thought. He had moved to Serbia, others said.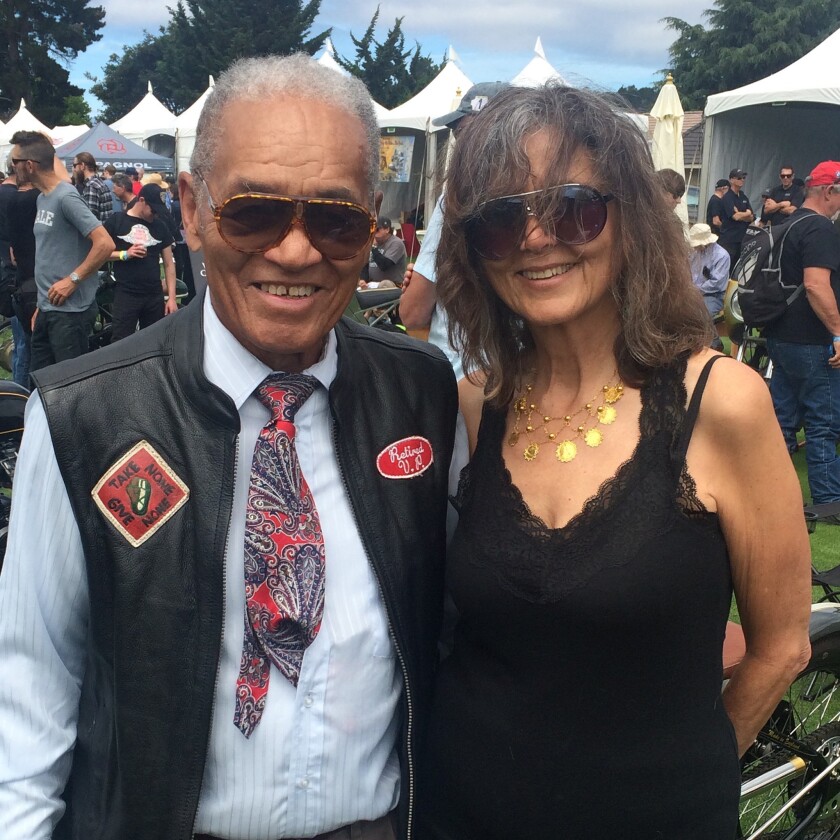 After much digging and probing, I got an email address, and — to my surprise — a reply. Vaughs said he didn't like talking to reporters, but he might talk to me — if I was related to Karl Fleming, the Newsweek reporter he'd known while working as a civil rights activist in the early 1960s in Mississippi and Alabama.
That was my father, I told him.
Vaughs, who had been living in Serbia but had just returned to the U.S., agreed to discuss the motorcycle up for auction. He had seen it and believed it had no connection to the original "Easy Rider" bikes, which were all destroyed in the making of the movie or disappeared shortly after.
When the auction ended — with the chopper's provenance still in dispute, and a $1.35-million sale that later fell through — Vaughs invited me to visit him in San Diego, where we spent the day talking about his life.
It was checkered, marvelously so. Born in 1937 in Boston to a teenage mother who worked as a housekeeper and a nurse, Vaughs never knew his father. He grew up poor but excelled in school, eventually attending Boston Latin School and Boston University.
His early professional career included stints as a news photographer, an assistant for fashion photographer Richard Avedon, Vaughs said, and work as an organizer for the Student Nonviolent Coordinating Committee.
After SNCC sent him west to open a Los Angeles chapter, my father helped him get jobs in TV and radio news, said Vaughs, who later used his Hollywood connections and Southern ties to produce the race relations documentary "What Will The Harvest Be?" The admired but now-lost film, featuring interviews with Martin Luther King Jr., Stokely Carmichael, Julian Bond and others, aired on ABC in 1965.
It was in his capacity as news reporter that Vaughs met Peter Fonda. Fonda, then a young actor, had been charged with possession of marijuana and was being arraigned. Vaughs went to the courthouse, and the two men became friendly.
Their mutual interest in bikes led to a meeting at Vaughs' house in West Hollywood. Seeing a garage full of motorcycles, Fonda asked him if he could build some bikes for a movie he was setting up with fellow actor Dennis Hopper.
"I gave him some drawings I had made, and told him the gas tank had red-and-white stripes and white stars on a blue field," Fonda remembers. "It had a tall sissy bar, and fishtail pipes. But Cliff did all the rest."
He didn't do it alone. Vaughs teamed with Ben Hardy, a veteran African American bike builder who had a shop in Watts. The two men were hired to create four motorcycles: a "Captain America" and "Billy" bike for Fonda and Hopper to ride in the movie, and two copies to be used by stunt doubles.
Vaughs and Hardy bought four used Los Angeles Police Department Harley-Davidsons at an auction and went to work. Vaughs was to be responsible for the bikes during filming and to get an associate producer credit.
Not long after the four choppers were built, though, Vaughs was fired. Fonda remembers the decision being made by Hopper, who wanted his friend Tex Hall to be the movie's motorcycle wrangler.
The 1969 film became a box-office sensation and is generally credited with popularizing the chopper movement and with giving Harley-Davidson an enormous financial boost.
Vaughs and Fonda remained in touch, working together on the 1972 motorcycle safety documentary "Not So Easy."
But as the "Easy Rider" reputation grew, and Fonda and Hopper's careers went more mainstream, Vaughs and Hardy — who died in 1994 — were left out of the "Captain America" conversation. Vaughs developed a grudge, and added the "Easy Rider" experience to what was, for him, a long list of being treated badly by white America.
So Vaughs left the States altogether. In 1975, he bought or borrowed a sailboat — there's some dispute about whether he actually paid for the boat, said his friend Lew Irwin, who claims to have put up the $40,000 purchase price for a boat he never saw again — and headed for the Caribbean.
For the next three decades, Vaughs told me, he worked as a boat captain, ferrying passengers between islands, smuggling political refugees out of Honduras, moving bales of marijuana from Bimini to Miami and maybe transporting guns and weapons from time to time.
"He was the original 'Pirate of the Caribbean,' " said D'Orleans, who heard many of the same stories in meetings with Vaughs.
During that period, he said, he was arrested and imprisoned multiple times, and had several boats stolen or seized by government agents of various countries.
Was Vaughs a bit of a fabulist? It was hard to know. He also said he had boxed on the U.S. Marines team during his military service, that he had been recruited to train the Nicaraguan military by the Somoza family and that he had produced three records by drummer Buddy Miles, best known for his work with Jimi Hendrix (though no Buddy Miles records I've been able to locate list Vaughs' name in the credits).
His sailing career ended, he said, when his last boat was boarded by pirates, who robbed him of all his belongings, threw him overboard and sailed away. It took him months to get back to the United States.
By the time I located Vaughs by email, he was living in his car, getting meals and taking showers at a Veterans Affairs facility in San Diego. He didn't want to burden his five children, from whom he was somewhat estranged, he said. He celebrated Thanksgiving and Christmas alone, eating VA meals in a huge Quonset hut with 150 other homeless men.
But when we met in San Diego a month later, Vaughs' situation had improved. One of his sons had helped him get a room in a friend's house. Vaughs' health was better. He'd put on a little weight. He posed for photographs in a vest bearing the insignia of the Chosen Few, the primarily African American motorcycle group he rode with in the '60s.
Things began to look up. D'Orleans helped get Vaughs invited to a motorcycle film festival in New York, where the "Captain America" bike builder saw the completed "Easy Rider" — for the first time — and participated in a panel discussion on chopper style.
"My arm is weary from handshakes, accolades, good will," he told me in a jubilant email.
Soon, there were other invitations. He was weighing offers to attend a motorcycle gathering in Sweden, and another in Japan. Harley-Davidson had offered to lend him a bike, so he could start riding again.
In May, he appeared in Carmel at the Quail Motorcycle Gathering, an annual event that celebrates bike design and culture. There, dressed again in his old Chosen Few colors, Vaughs looked healthy and happy.
He credited his well-being to Daniella Sapriel, a former flame with whom he had recently reconnected, 53 years after they had broken up. They were living together at Sapriel's home in Templeton, Calif., but the long-term plan was to sell the home, buy a boat and return to life at sea. Vaughs, beaming, introduced Sapriel as "my other half."
It was at the Templeton home that, on July 2, Vaughs died. Sapriel said they'd been out that afternoon to see "The Legend of Tarzan" and were planning to spend the evening at home. Vaughs went outside to wash the car. Sapriel found him there a short time later, lying on his back, eyes open, but dead, blood streaming from a wound in the back of his head. San Luis Obispo County officials said a cause of death has not yet been determined.
"He was the most brilliant man with the most fierce, sharp intellect," Sapriel said. "Even though he broke my heart when I was 21, I loved him so much."
Vaughs was pleased by the belated attention he was getting for his role in "Easy Rider." "The recognition is important for my progeny," he told me.
He was also gratified when Fonda, at the time of the suspicious "Captain America" motorcycle auction, made a public declaration of Vaughs' contributions to the design of the "Easy Rider" bikes.
"I apologize profusely for not being more forceful about your role in their existence and their perfect design," Fonda told Vaughs in an email.
But he tended to downplay the importance of the movie in his life.
"I've done so many other things, and I've been so many places," he said. "I'm happy about it, but that was just a month out of my life."
ALSO
Yamaha goes retro with its SCR950 motorcycle
Review: Riding the Harley-Davidson Low Rider S
Motorcycle deaths jump nationwide but fall in California. Why?
---