L.A. billionaire Elon Musk protests media scrutiny after Tesla fires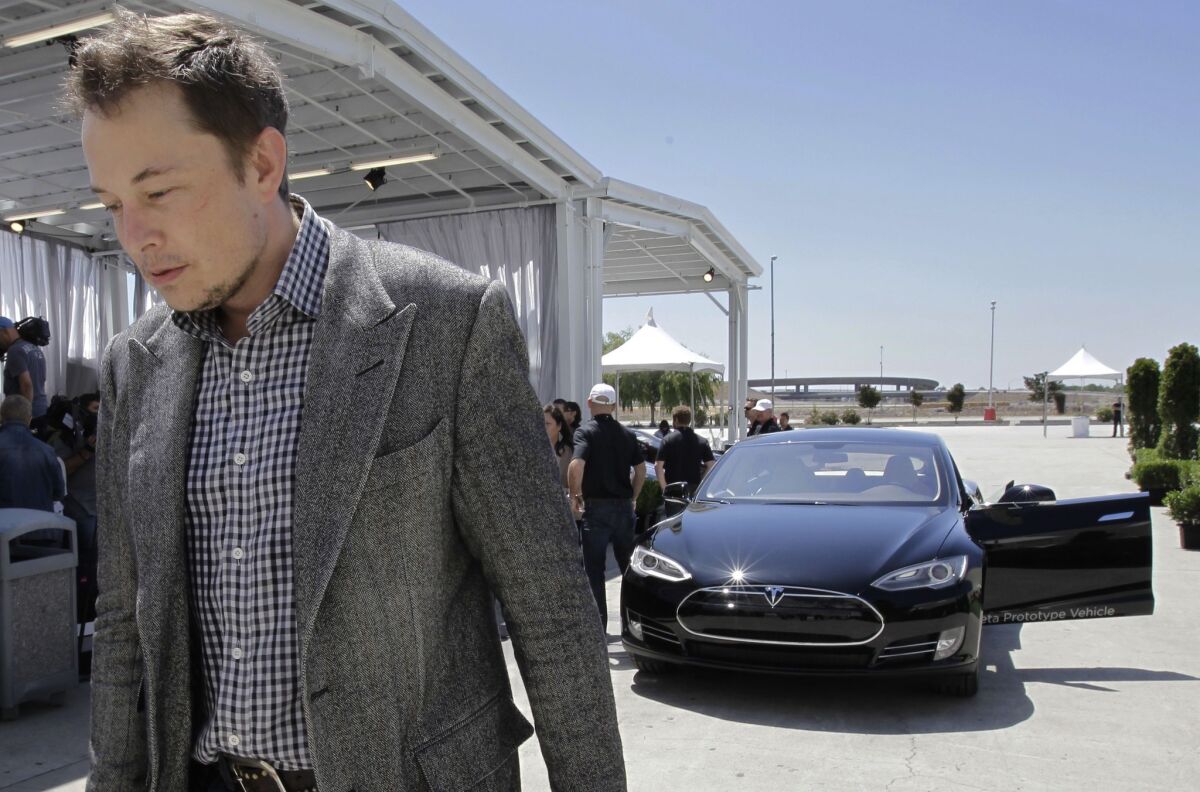 Los Angeles billionaire Elon Musk said Tesla Motors Inc. was being overly scrutinized by the media after three fires broke out in recent months on its expensive electric cars.
Musk, chief executive of Tesla, addressed the topic during a wide-ranging interview before a Los Angeles World Affairs Council banquet Monday at the Hyatt Regency Hotel in Century City.
"Our car is basically the safest car you can possibly drive if you care about fires," he said. "And that's not the impression you would have if you read newspapers. In fact, you would have the opposite impression."
PHOTOS: L.A. Auto Show model debuts
He said that traditional gasoline-powered autos are much more fire prone, but that fact doesn't garner nearly the media attention that his electric cars have received. Musk addressed the matter before the Los Angeles Auto Show next week.
"Newspapers seem to want to answer the question: 'What was the worst thing that happened on Earth today?' " he said.
Tesla is dealing with increased scrutiny after three fires in five weeks in its Model S hatchbacks. The latest fire was after a crash Nov. 6 near Smyrna, Tenn. That followed two other fires: the first in Seattle and the second in Mexico. Both cars were in crashes, and the fires caused no injuries.
The National Highway Traffic Safety Administration said Tuesday that it would investigate why the $70,000 hatchbacks caught fire.
The fires have also had a major effect Tesla's stock price, contributing to a 37% drop in the value of its shares since reaching a high of $193.37 on Sept. 30.
Shares were trading up nearly 4%, or $4.34, to $125.92 in mid-session trading Tuesday.
"It kinda sucks running a public company," Musk said. The stock goes through "these huge gyrations for seemingly arbitrary reasons, and then you have to explain why it changed."
The conversation, which took place in front of a crowd of about 1,200 people, lasted about an hour and also touched on Tesla's current work on self-driving cars and his cautiousness of hydrogen-powered autos -- about which he said: "It's one of those things: It's the future and it always will be."
ALSO:
Photos: Top 10 cars with lowest cost per mpg
Honda will unveil hydrogen fuel cell vehicle at L.A. Auto Show
Feds investigate Tesla fires: Elon Musk's idea? NHTSA disputes that
---