Faraday Future seeks approval to build electric cars in California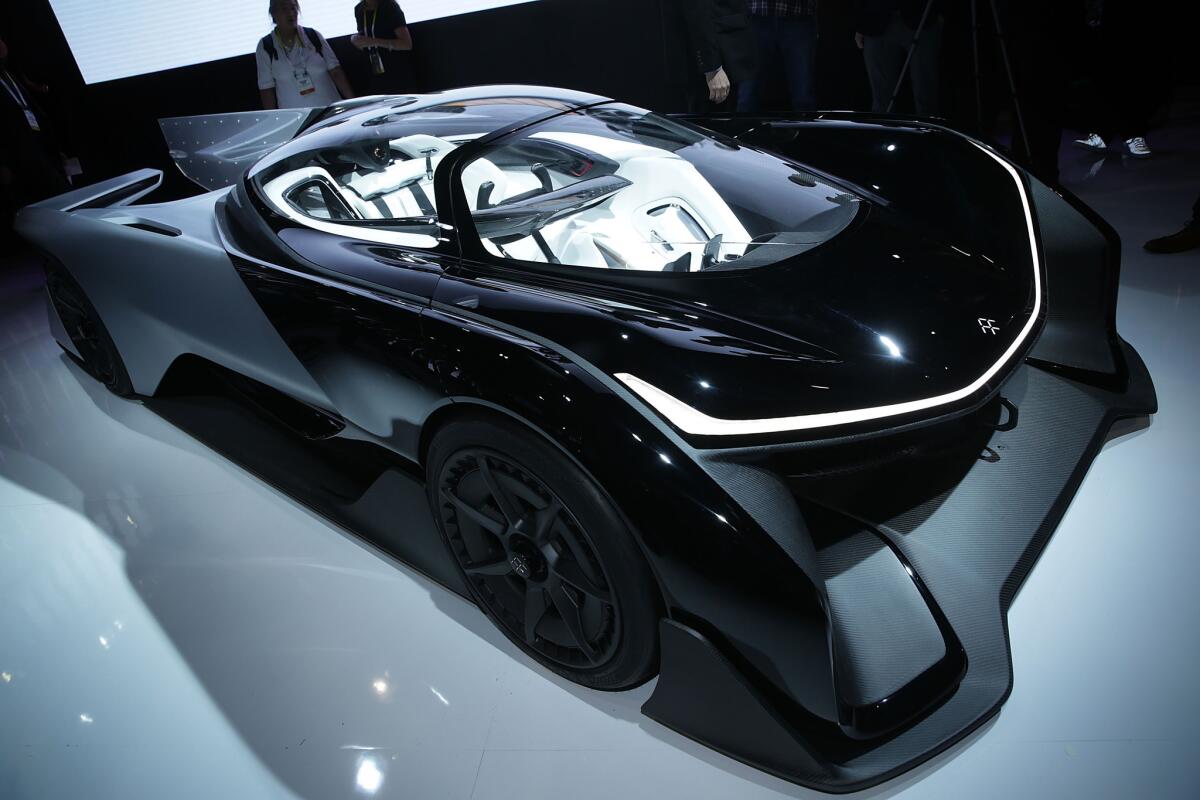 Faraday Future, the Gardena-based electric car company, is eager to begin building its battery-electric vehicles in California.
Having broken ground only a month ago on a $1-billion car factory in Nevada, Faraday could add a Vallejo facility to its production plans.
Pending the outcome of a city council vote Tuesday, the car company could take over a 157-acre parcel on the area's Mare Island and begin building cars within two years, Faraday said Wednesday.
"Faraday Future believes strongly in the growing demand for electric vehicles," the company said in an email to The Times. "Our vision is to create a second manufacturing facility to align with our future manufacturing development plan."
The proposed new facility could help Faraday better compete with Tesla, as well as attract talent and technological development from nearby Silicon Valley.
"It's almost like they're imitating Tesla, but in their minds, they're trying to do it better," said Akshay Anand, senior analyst at Kelley Blue Book. "This is Faraday betting on their future, in addition to trying to fit their brand image into where they want to go."
Both automakers still face significant challenges in scaling up production to meet mass-market demand in a timely manner. If they're able to do this, Anand said "a lot" could be at stake.
"We saw the first glimpse of potential for [electric vehicles] with the pre-order numbers for the Model 3," he said of Tesla's forthcoming electric vehicle, which will have a starting price of about $35,000.
If given the green light, Faraday would use the facility on Mare Island, which once housed substantial U.S. military operations, for vehicle construction and corporate offices, but also has plans to open a "customer experience and delivery center."
Andrea Ouse, community and economic development director for Vallejo, said the electric car factory could help boost the city's economy, which has sought to redefine itself after the U.S. Navy closed its base in Vallejo in 1996.
"We're ecstatic to continue discussing the potential out there," she said. "We believe it is a tremendously good fit for our community and for Faraday."
Faraday wowed visitors at the January CES in Las Vegas with a look at its Batmobile-like FFZERO1 concept car.
In April, Faraday's parent company, the Chinese company LeEco, showed off a more likely production vehicle. Called the LeSee, the four-door battery-electric sedan is more reminiscent of a Tesla Model S than something parked inside Bruce Wayne's Batcave.
Faraday recently received a $12.7-million tax credit from the state of California, through the Governor's Office of Business and Economic Development, or Go-Biz, against the promise of job creation here.
Asked how many workers the Mare Island facility might employ, Faraday said: "We anticipate creating hundreds of construction-related, ongoing professional and manufacturing jobs."
Though the tax break and the Mare Island plan are not directly linked, Faraday said, the site "further establishes our commitments to grow within the state," and the company acknowledged that Go-Biz had a hand in helping make the deal.
"Go-Biz helped broker the deal with Faraday Future. We are thrilled they continue to expand in California," agency spokesman Brook Taylor said.
See more of our top stories on Facebook >>
Faraday, in addition to its Gardena offices, already has California facilities in San Jose and Rancho Dominguez, south of Los Angeles.
A Faraday spokesperson said Wednesday that the Nevada factory should reach maximum production capacity "within two or three years of opening," and that the company is actively seeking a second location.
The company did not say what other sites were under consideration, or where Faraday might set up its second facility should the Vallejo City Council fail to approve the plan.
The Vallejo facility would further establish California as the center of the world's electric vehicle production.
Tesla, based south of Vallejo in Fremont, Calif., is already the state's largest vehicle producer, and one of the state's largest private employers.
The electric car company Karma has built a production facility in Moreno Valley, where it soon will begin manufacturing electric cars.
Follow me on Twitter @misterfleming
MORE FROM BUSINESS
Why the golf market is in the rough
Nearly half of U.S. households would struggle with an unexpected $400 expense, Fed study finds
SeaWorld attendance sinks while other theme parks rise in 2015
---
UPDATES:
12:26 p.m. This article was updated to add comments from an analyst and a director for the city of Vallejo.
This article was originally published at 6 a.m.