Expenses from Fiat merger topple Chrysler into first-quarter loss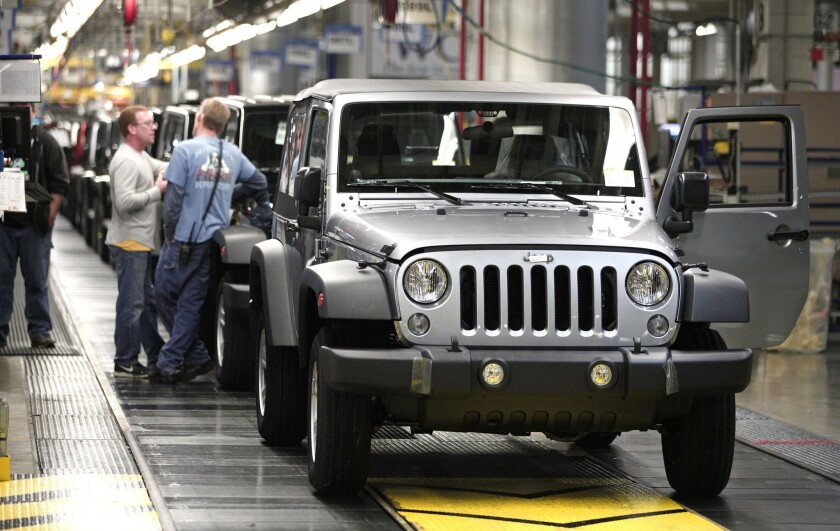 Expenses associated with Chrysler Group's merger with Fiat dragged the U.S. automaker into a loss in the first quarter.
Chrysler said Monday that it lost $690 million in the period compared with a profit of $166 million in the same quarter a year earlier.
The loss included a $672 million charge related to a component of a $4.35 billion transaction reached in January through which Italian automaker Fiat took full control of Chrysler by buying out the shares held by a United Auto Workers union-controlled trust fund. The loss also included an additional $504 million incurred from the early retirement of borrowings from the union trust.
The charges result from a deal between the union and Fiat reached on New Year's Day for the automaker to acquire the 41.5% of Chrysler's shares that were held by the UAW Retiree Medical Benefits Trust. Fiat already acquired the rest of Chrysler's shares through a deal launched during the bankruptcy restructuring of the Auburn Hills, Mich., automaker in 2009.
Without the special charges, Chrysler would have earned about $486 million during the quarter. Although it is owned by Fiat, Chrysler still reports its financial results separately.
Chrysler's revenue rose 23% to $19 billion for the quarter, up from $15.4 billion in the prior-year period. Much of the gain comes from increased sales of its Ram pickup trucks and new Jeep Cherokee sport utility vehicle.
Chrysler's U.S. market share rose to 12.5% for the quarter, up from 11.4% in the same period a year earlier. Its U.S. inventory stood at 71 days at the end of the quarter, compared with 79 days at the end of the prior quarter and 66 days at the end of the same period a year earlier.
International vehicle sales rose 18% to 79,000 from the same period a year earlier.
Last week Fiat announced an ambitious five-year plan to increase worldwide sales to about 7 million vehicles by 2018, up about 60% from 4.4 million last year.
Chrysler's Jeep division is the key component of much of Fiat's planned growth.
Fiat Chief Executive Sergio Marchionne said he wants to more than double Jeep's global sales to 1.9 million by 2018 from the 732,000 it sold last year. Jeep is intended to account for about half of the automaker's growth through 2018.
About 75% of Jeep sales are in the U.S., but now Fiat Chrysler plans to add six factories in Europe, China and Latin America as the automaker targets sales in those markets. Jeep will stick to selling only sport utility vehicles, Marchionne said.
The automaker also plans to bring its Alfa Romeo brand to the U.S. as a luxury nameplate that will compete with Audi, BMW and Mercedes-Benz.
---