First Ride: Ducati's hot new Scrambler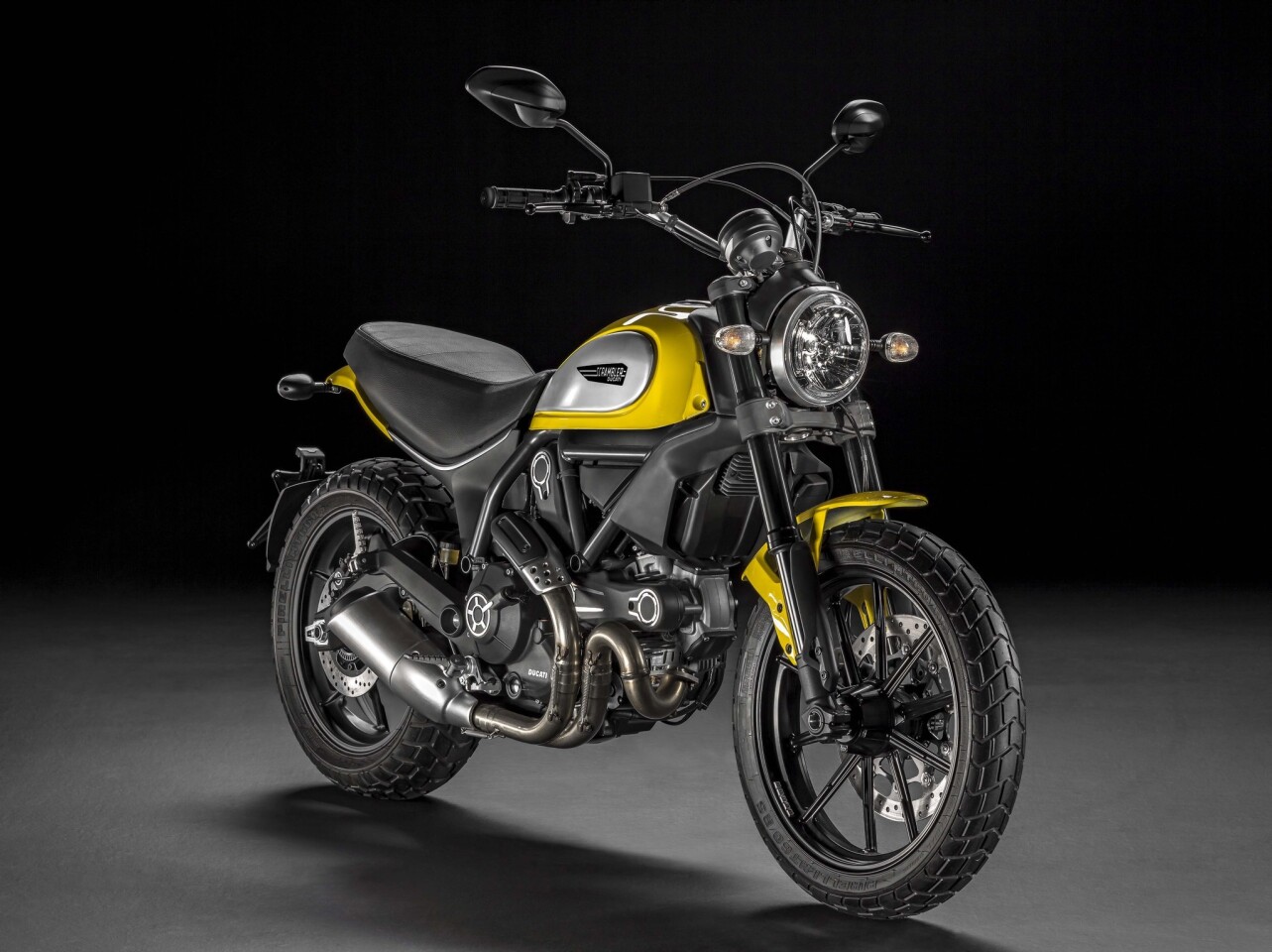 The baseline Icon version of the Scrambler, retailing at under $8500.
(Ducati )
The Scrambler comes in four versions, including this camouflage-look Urban Enduro model.
(Ducati )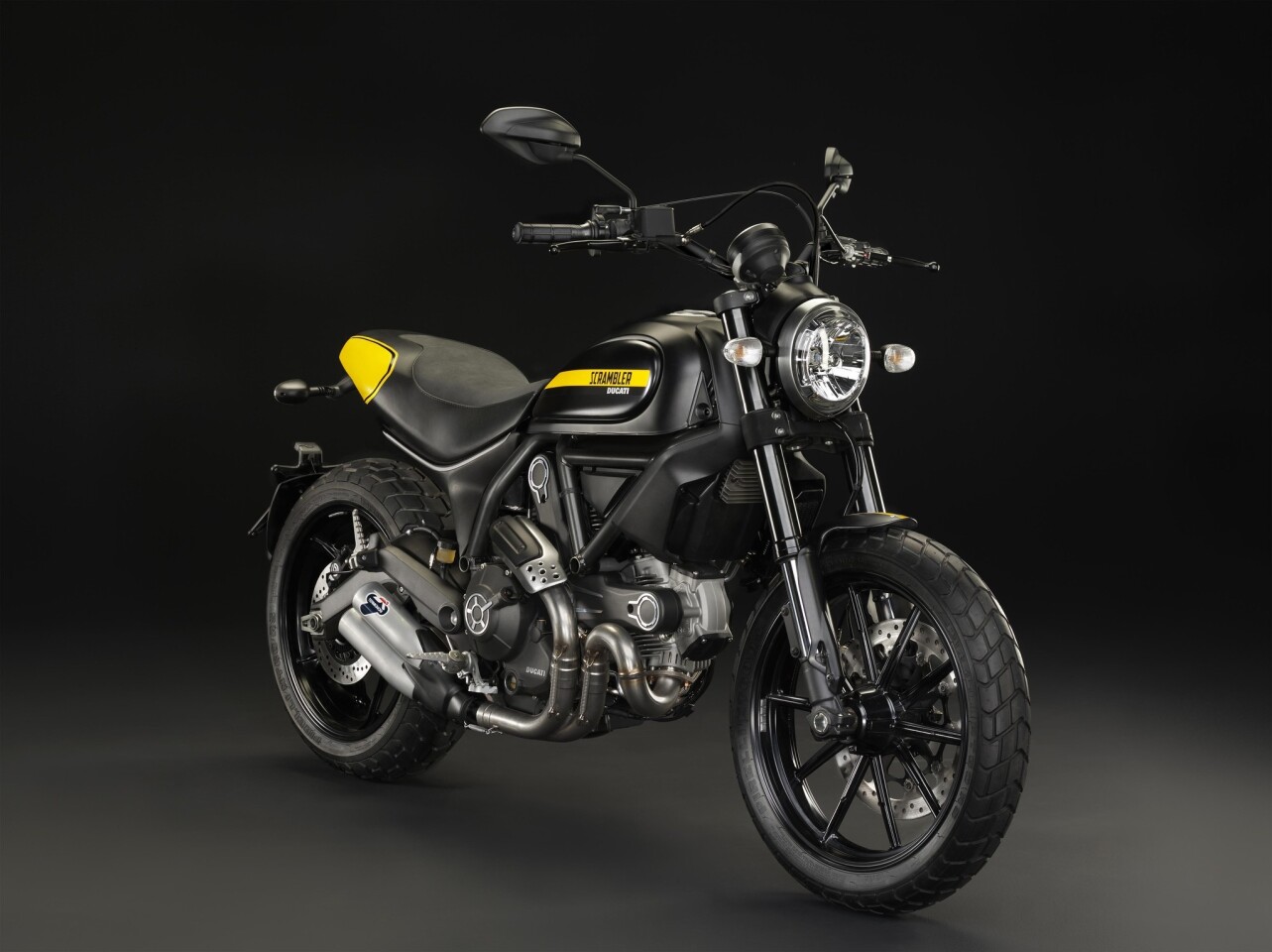 The flat-track styled Full Throttle features custom pipes and lowered bars.
(Ducati )
The Classic version of the Scrambler features a custom seat and retro-look spoked wheels.
(Ducati )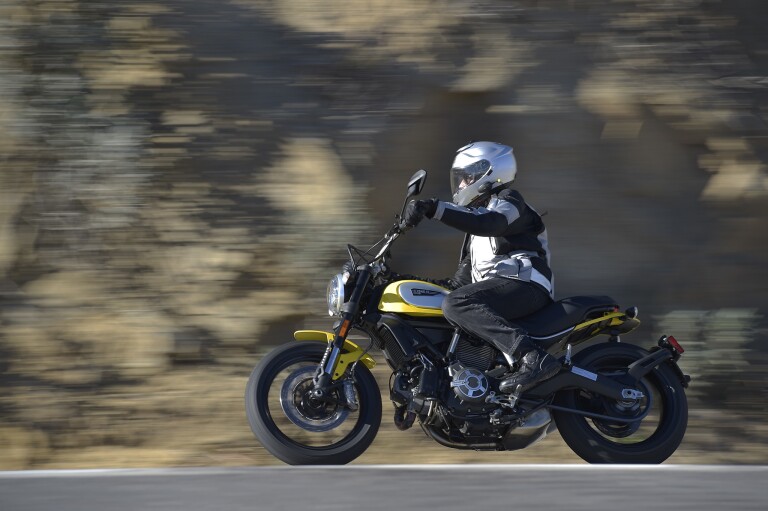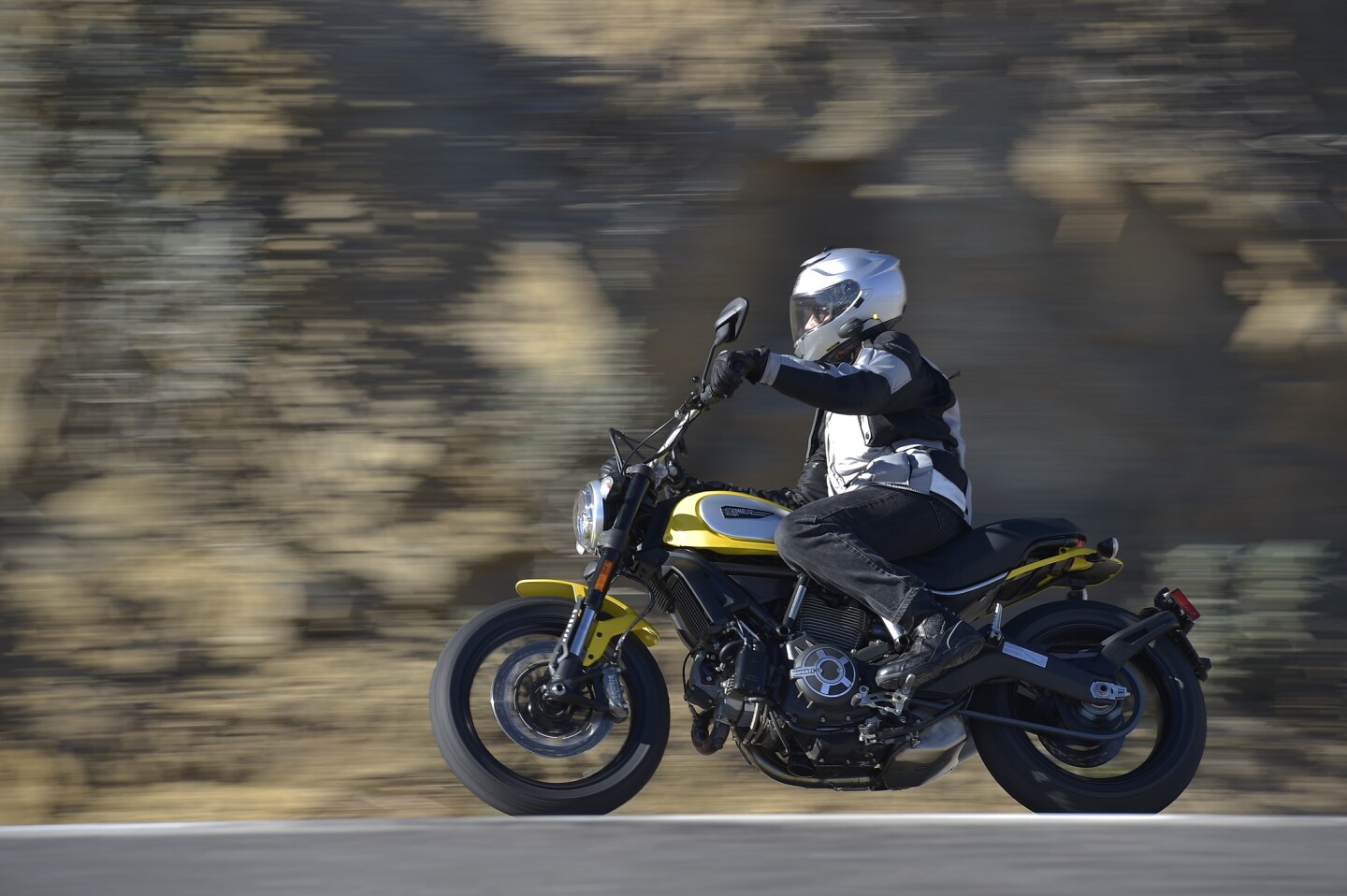 The Scrambler is an easy rider, with a comfortable low seat, high, wide handlebars and a pleasant, if not dramatic, power band.
(Ducati )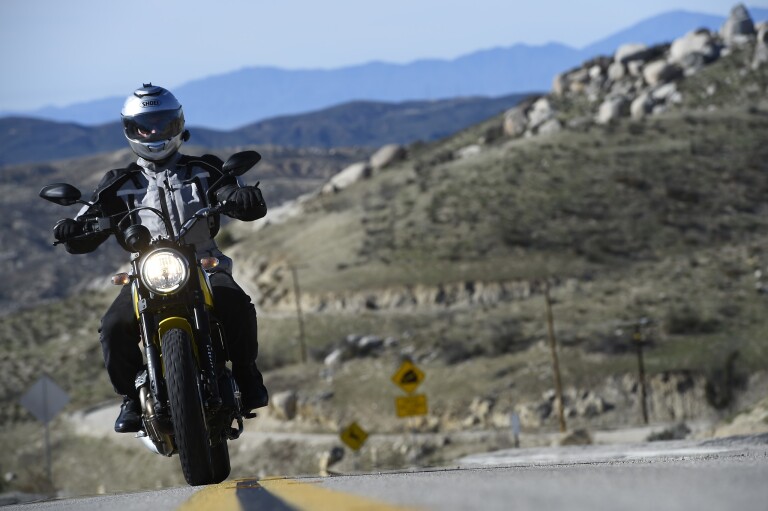 The upright seating position is one of the Scrambler's calling cards. New riders, beginner riders and riders who never thought they could operate a high performance Ducati will feel comfortable.
(Ducati )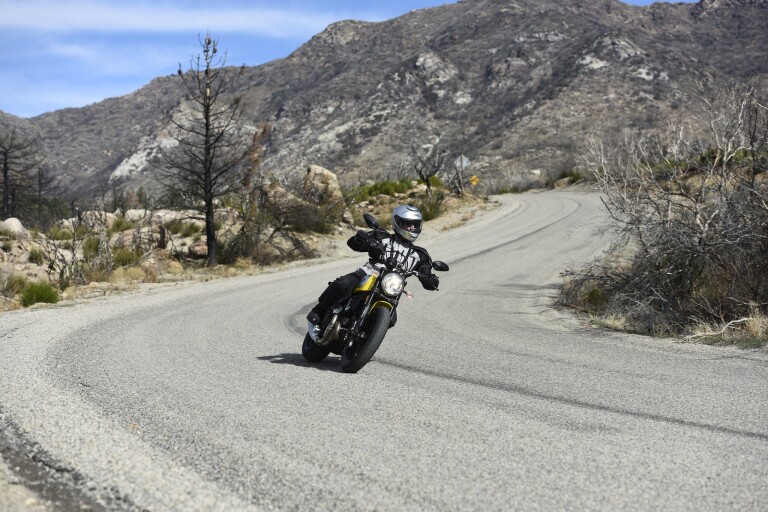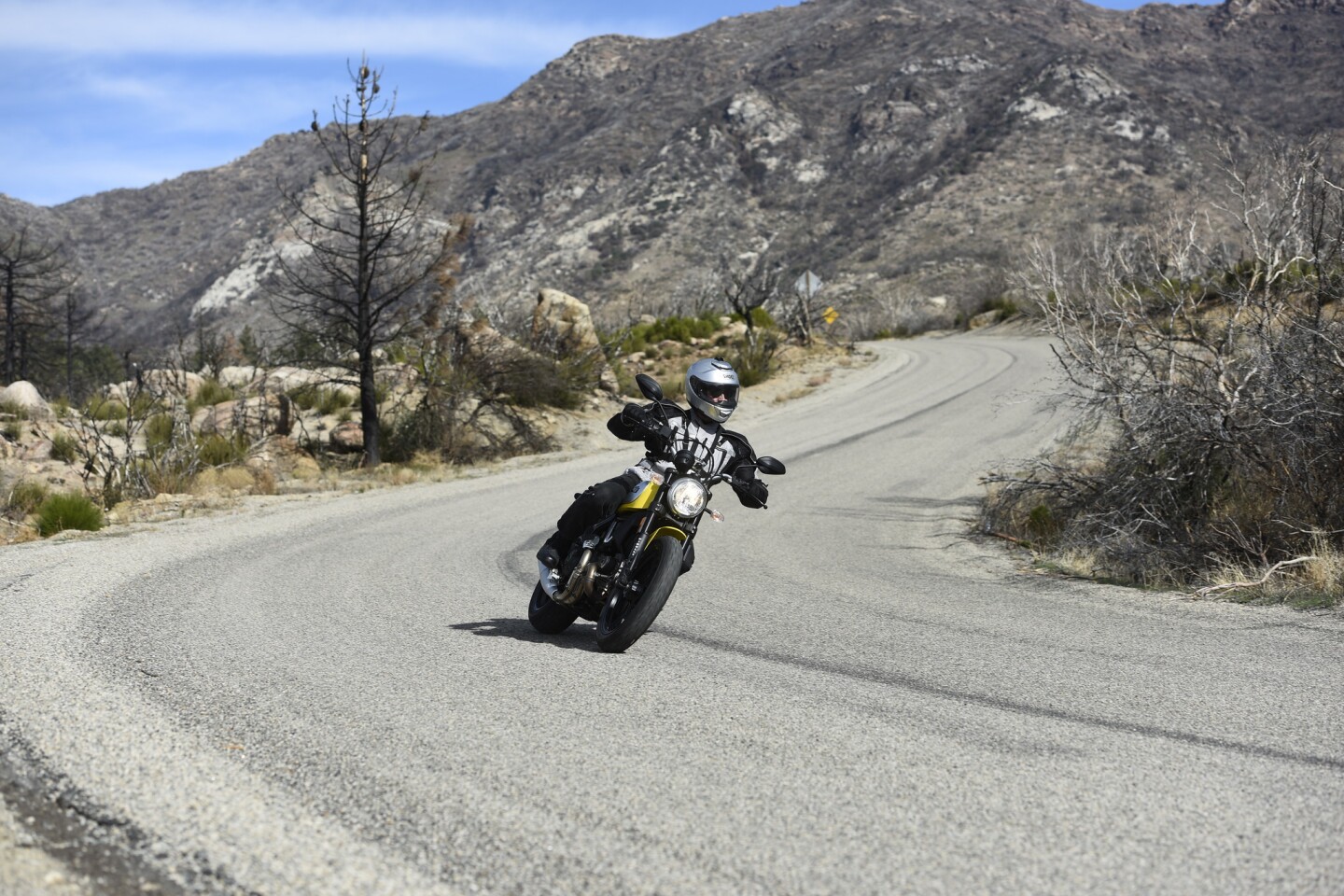 The Scrambler sits upright but corners well, like its more high-performance brothers. The bike is fitted with custom-made Pirelli tires, specifically designed for this new machine.
(Ducati )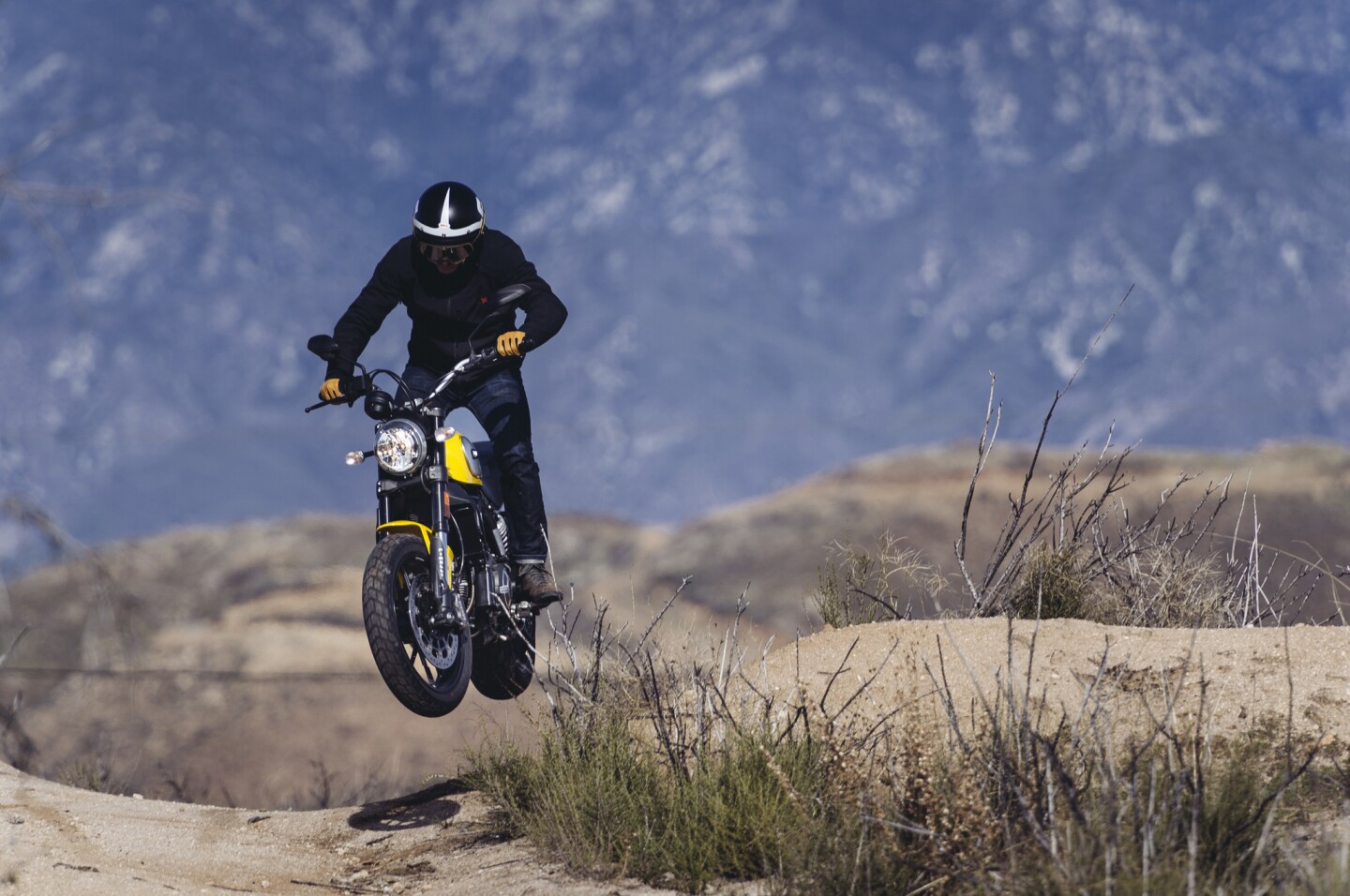 The original scramblers, from the 1950s and 60s, were designed to be street and off-road machines. Here, a Ducati representative tests the Scrambler's dirt capabilities.
(Ducati)
The Scrambler is powered by a very user-friendly 800cc, L-twin, air-cooled engine. It puts out 75 horsepower and 50 pound-feet of torque, not much for a Ducati, but enough to have fun.
(Ducati)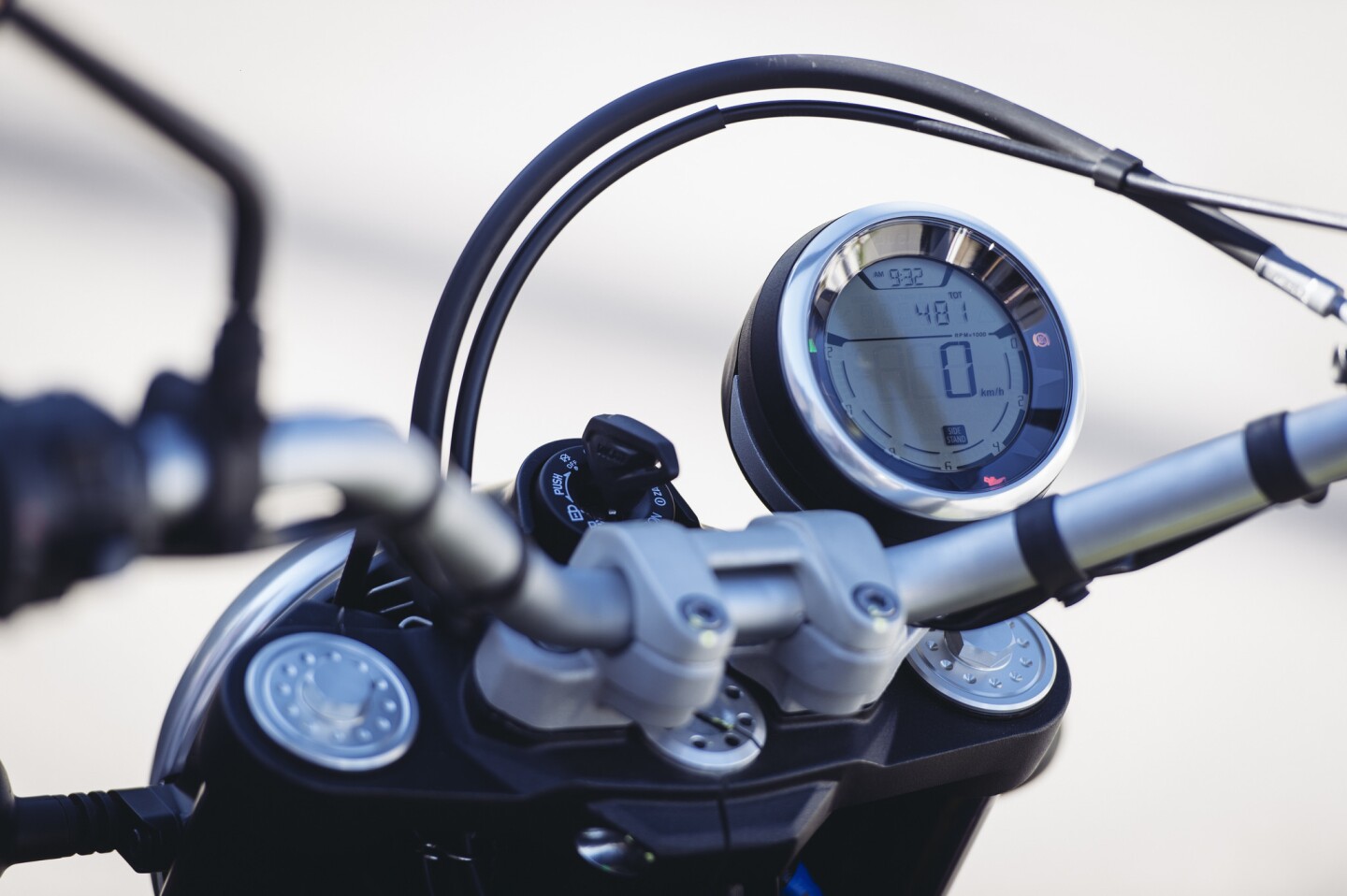 Part of the new Scrambler's charm is its stylistic closeness to the 1962 original. Witness the spare, clean instrumentation.
(Ducati)
Ducati introduced the original Scrambler to the American market in 1962, eight years before it began selling the Scrambler in Europe. The company used this iconic model as the design jumping-off point for the 2015 re-launch.
(Ducati)
The citrus-scented gardens at the Ace Hotel shook with the sound of Ducati this week as the Italian motorcycle maker came to Palm Springs to introduce its highly anticipated new Scrambler.
Ducati flew an entire staff and more than 40 motorcycles from its Italian base in Bologna and flew or bused in almost that many journalists from all over the two-wheel world to unveil the new motorcycle -- the first of three such waves of journalists being flown to the desert to ride, test and admire the new machine.
The massive rollout means Ducati is introducing much more than a single bike. For Ducati, the Scrambler is a brand -- a lifestyle choice that comes with a vast array of gear, accessories and apparel, all emblazoned with the "Scrambler" logo and all designed to drive sales beyond the core Ducati customer.
On display throughout the three-day desert affair were racks of Scrambler jackets, hoodies and T-shirts, shelves of branded gloves, goggles, boots and helmets and displays of optional saddle bags, handlebars and even an official Scrambler knapsack.
All of these, Ducati executives explained, are designed to make each of the four Scrambler models a canvas for personalization -- and drive accessorie sales.
"The core value of the Scrambler is self-expression," said brand designer Mario Alvisi. "That is why we created the brand."
The new line comes in four flavors -- the Icon, pictured here; the Classic, which has an orange tank and spoked wheels; the Full Throttle, which has lowered bars and a custom exhaust pipe, and the Urban Enduro, which has spoked wheels, camo paint and a raised front fender for off-road riding.
The Italian company acknowledged that it has painted itself into a difficult, if lucrative corner. For years, Ducati North America Chief Executive Dominique Cheraki said, the company was intent upon building a better, faster, lighter and more powerful motorcycle.
"What we discovered, as we raise the bar higher and higher, we were separating ourselves from a certain portion of riders," Cheraki said.
The Scrambler starts with an MSRP of nearly $8,500. That's very inexpensive for a Ducati, which often sells Multistradas, Diavels, Hypermotards and Monsters at retail for twice that.
The lower Scrambler price and certain design elements -- particularly the low seat height and manageable 800cc engine -- are aimed at putting "the new customer into the Ducati family," said Claudio de Angeli, a Scrambler product manager.
That new customer, company officers said during the Palm Springs riding event, could be a rider new to motorcycling, a woman or someone of smaller physical stature, all of whom should be attracted by the Scrambler's vintage look and comforted by the Scrambler's relative ease of use.
For a Ducati, particularly, it's a gentle, accessible machine. The bike sits 31 inches high and weighs 450 pounds fueled, with 75 horsepower and 50 foot-pounds of torque.
That compares unfavorably, from a performance standpoint, with a Ducati Monster 821 (135 horsepower) or new Multistrada (160 horsepower).
But, as Cristiano Silei, vice president of Ducati global sales, explained, "The Scrambler is not about performance. It is about the simple joy of riding."
Translation: Don't be scared. Anyone can ride this bike.
On the twisty mountain roads between Palm Springs and Idyllwild, the Scrambler was agile and smooth -- not powerful enough to be challenging, but certainly powerful enough to be fun. The wide, predictable power band, thanks in part to fuel injection, begins low and runs high and produces good, even acceleration.
You could get the front end up, but not by accident.
The wide bars and wide seat make a comfortable platform for around-town and canyon riding. And the well designed six-speed gearbox enables easy riding at 70 mph on the freeway, though the absence of any wind screen, fly screen or fairing make that a difficult speed to maintain comfortably for any length of time.
Ducati made sure its guests got plenty of time in the saddle, offering them a 150-mile highway loop and an extended exposure to the Scrambler lifestyle. Portions of the trendy Ace Hotel were transformed into what the company called its "Land of Joy," a beachy space with swimming pool, ping pong, open bar and musical acts.
The company rented a mountain camp for its midday break, reproducing the "Land of Joy" experience there with tri-tip barbecue lunch, archery and games. The midday event featured hand-rolled cigars. The evening event featured a barbershop, free haircuts, a graffiti artist spray-painting a canvas and a live band.
Ducati's Scrambler team hopes the Palm Springs rollout is a return to glory for the iconic marquee. The original Scrambler made its debut in North America in 1962, eight years before being sold in Europe, and was for a while a successful alternative to the more dominant scrambler-type motorcycles being sold by Triumph.
It won't be clear until next spring whether the company's substantial bet on a new line pays off.
Already, though, the buzz is audible.
"The enquiries we are getting are huge," said Silei. "We are very happy."
Twitter: @misterfleming
---