Jared Mees squinted dubiously at the dirt motorcycle track.
"That ain't no mile," the Grand National champion and X Games gold medalist said.
Indeed, the short indoor course was a temporary track laid out by American Supercamp, a training academy that had come to Los Angeles with its techniques and teachers — including 2016 flat track champion Bryan Smith and seven-time national champion Chris Carr — as part of a broad effort to help get flat track racing back into public view.
Flat, or dirt, track racing was once the dominant motor sport in America, when daring men on twin-cylinder Harley-Davidson and Indian motorcycles went handlebar to handlebar on mile and half-mile dirt ovals before thousands of screaming fans.
But the sport began losing speed in the 1980s, eclipsed by rising enthusiasm for the wheelies and wild jumps in motocross and the high speeds and sleek machines of Grand Prix racing — which led manufacturers to concentrate their budgets on dirt bikes for off-road use and sport bikes for the street. Flat track was left in the dust.
Now a disparate group of promoters, investors, motorcycle companies and race veterans are hoping to restore luster to this American-made sport — and profit from doing so.
With new corporate sponsorship, a cable TV deal, major investments by top manufacturers, revised racing classes, schedules and events, and a coincidental wave of interest in vintage machines, flat track may be headed back toward the mainstream.
"The history of American motorcycle racing is the history of dirt racing," said motorcycle historian Paul D'Orleans, creator of the Vintagent website and coauthor of "Cafe Racers: Speed, Style and Ton-Up Culture." "This is a whole new era."
Spectators new to the sport are often shocked by the visceral action, which features racers traveling at speeds up to 135 miles per hour down the straightaways before sliding at 90 mph, inches apart, through the turns.
"It's far more exciting to watch than car racing," D'Orleans said, "partly because it's clearly so much more dangerous."
Students learn flat track riding techniques on 10-horsepower, 125cc motorcycles at the American Supercamp Motorcycle Technique School. Professional racers can reach speeds of 130 mph. Students will see speeds of about 10 mph.
The sport's principal steward is American Flat Track, a division of AMA Pro Racing, which is a subsidiary of Daytona Motorsports Group. (The companies are not affiliated with the nonprofit American Motorcyclist Assn., the sport's largest race-sanctioning organization and lobbying group, which is also known as the AMA.) DMG also manages motocross and hill climb events.
Michael Lock, chief executive of AMA Pro Racing, has overseen the overhaul of AMA Flat Track.
Starting with the 2017 racing season, all 18 U.S. races will be televised as part of a Thursday night package on NBC Sports Network. Many of the events will take place at horse racetracks, part of an effort to upgrade the facilities and attract new fans.
The former GNC 1 and GNC 2 racing classes, which contained a complex set of rules defining what machines were qualified to race, have been simplified to AFT Twins and AFT Singles. That has created new interest in manufacturers, and has revived a historical rivalry.
Earlier this year, Indian Motorcycle unveiled a flat track racing version of its 750cc Scout V-twin motorcycle. In September, the company took the new FTR750 to the famed Santa Rosa Mile and went head to head with former archenemy Harley.
"Flat track and the Harley-Indian wars were a huge part of our history, but a lot of people don't know we're back as a serious competitor," said Indian's marketing director, Reid Wilson. "Through flat track and competing directly with Harley, we hope to reintroduce Indian to a lot of the brand."
Harley welcomed the competition.
"We love flat track racing and we've been doing it longer than anybody," said company spokesman Matt King. " Indian is just another player that we have to step up and compete with, but I think they are going to be a credible competitor."
Indian finished 7th at Santa Rosa, but announced after the race that it had hired the day's top three racers — Harley riders Mees and Brad Baker, and Kawasaki's Smith — to man its 2017 race team.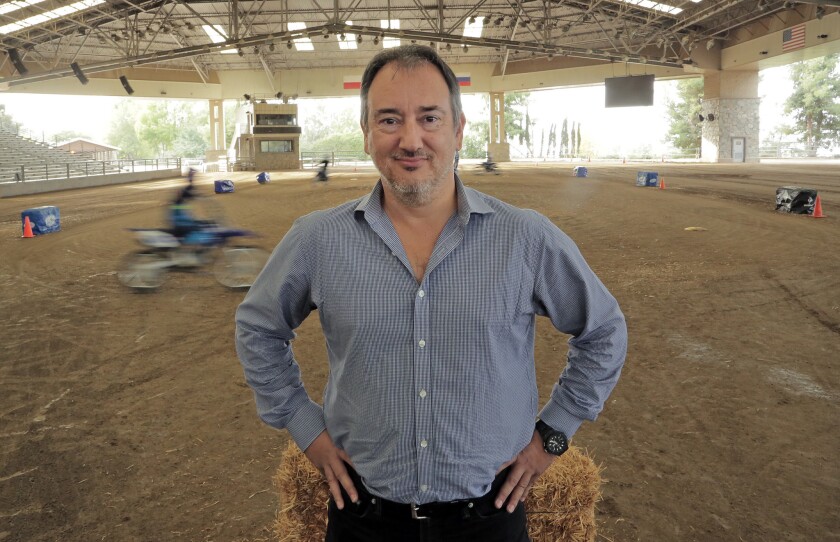 Industry boosters welcome the coming battle.
"There's nothing bigger than Harley-Davidson, and there is no bigger competitor than Indian," said Richard Varner, Petersen Automotive Museum board member and chief financial officer for the motorcycle road racing organization MotoAmerica. "This rivalry is really exciting."
There will be less historic but equally intense rivalry in the AFT Singles class, which will draw riders on machines made by Honda, Yamaha, Kawasaki, Suzuki and KTM.
But equally key to flat track's future is television. Already popular globally and among hardcore fans — thanks in part to the sport's availability on the FansChoice online app — AMA Flat Track's new deal with NBCSN could attract a prime-time audience.
"To be back on a mainstream TV channel is huge," Varner said. "It gives the sport real credibility, and it gives it more access."
"It's critical," said Gavin Trippe, a motorcycle industry veteran who has promoted racing since the 1970s. "Sponsorship, factory teams and TV are what build the sport."
Flat track supporters are hoping to attract younger viewers. They may capitalize on a parallel motorcycle movement already taking place, independent of the race scene.
Millennial motorcycle builders, artisans and promoters have embraced a retro look in styling of their bikes and their attire that hearkens back to flat track's glory days.
Racers from other disciplines are exploring flat track too. Grand Prix champions Valentino Rossi and Marc Marquez both use flat track ovals to hone their technique. Motocross giants Jeremy McGrath and Ryan Villopoto were recently spotted roaring around the Perris course, home of the Southern California Flat Track Assn.
This has inspired major manufacturers to offer new vintage-looking motorcycles, like Indian's Scouts, Ducati's Scramblers, BMW's R nine Ts, Yamaha's SCR950s and Triumph's Bonnevilles.
Some of these bikers have shown up at non-American Flat Track events, like Brian Bell's annual IV League Flat Track race at the historic Del Mar horse track near San Diego.
Bell's experience is a snapshot of the flat track revival. His first event as a promoter, in late 2014, was at an exposition center in Imperial Valley that drew 39 racers and 300 spectators. His second event, held four months later at Del Mar, hosted 390 riders and a crowd of 3,000.
"Flat track was not nearly what it is now when we started," Bell said. "It was barren. Now there are events all over."
Sometimes flat track racing can be fatal. Two riders died on the 2016 circuit — on the same day. GNC2 racers Charlotte Kainz, 20, and Kyle McGrane, 17, were killed in separate accidents, in different races, at different points on the Santa Rosa Mile course, on the last race day of the season. It was later determined that the racetrack would not be part of the 2017 schedule.
The 2017 flat track racing season will begin on March 16 at Daytona International Speedway, when for the first time in the sport's history, the race will take place inside the historic arena — the result of some extremely creative construction plans.
In order to hold their race during the crowded Bike Week schedule, the flat track crew will lay out their quarter-mile oval underneath the massive Supercross track. Dirt bikes will race on that circuit on Saturday, March 11, and again on Monday. ATVs will run on Tuesday. On Wednesday, the entire track will be bulldozered away, revealing the already-constructed oval beneath — allowing the flat track races to take place Thursday, before it in turn is cleared away to make room for the Daytona 200 road racing event on March 18.
Lock said it will be the kickoff event for the best-attended season in decades.
Last year, his organization estimated, about 85,000 spectators bought tickets to the season's 14 races. This year, with 18 events planned, many of them in improved venues, Lock said that number should hit 150,000.
"This is our year," Lock said. "We are currently the fastest-growing motorcycle sport. With the TV deal, this is our time to sit at the big table."
---
UPDATES:
11:30 a.m.: This story was updated to include a more complete description of the American Motorcyclist Association.
---