American Flat Track motorcycle racing closes season with strong numbers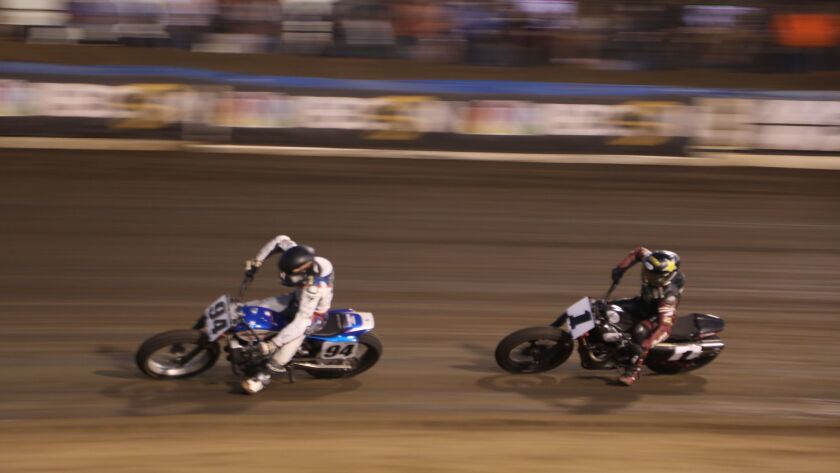 The season is over. The numbers are in. Flat track is back and it's big again.
The American Flat Track race schedule for 2017 ended Oct. 7 at Southern California's Perris Auto Speedway. At the conclusion of the 18-race series, the top three positions in the main class were held by Jared Mees, Bryan Smith and Brad Baker — all riding Indian Scout FTR750s, in that machine's first head-to-head season against the traditionally dominant Harley-Davidson motorcycles.
But the more impressive statistics are for the sport itself. In the first full year of its modern resurgence, race attendance topped 100,000 fans, up 76% over 2016.
An estimated 1.5 million viewers watched races on NBCSN. An additional 250,000 tuned in online via FansChoice.tv.
"This is our breakthrough season," said Michael Lock, CEO of American Flat Track. "We have taken the sport to a new level and a higher state of awareness than anything in the last 30 years."
In flat track racing, a uniquely homegrown discipline that has its roots in the earliest days of American motorcycling, riders chase each other around a quarter-mile, half-mile or mile-long dirt oval. They ride twin-cylinder motorcycles in one class and singles in another, on high-powered, lightweight bikes stripped of fenders, front brakes and other non-essential gear.
The sport is in its 64th year, but management of the series changed hands in 2008, when Daytona Motorsports Group took control of AMA Pro Racing, which includes motocross, supercross, flat track, hillclimb and other two-wheeled race categories.
Lock, a 20-year veteran who had done corporate stints at Triumph and Ducati, joined the group in 2015.
Since then, the competitive events have taken on fresh flavor. The twins division long dominated by Harley-Davidson has now been conclusively challenged by Indian Motorcycle, which built its Scout FTR750 to go up against the Harley machine.
Racing is a global affair. Claiming that it is the only motorcycle sport to attract competition from manufacturers from three continents, AFT representatives note that the current flat track races feature riders on machines made by Honda, Kawasaki, Yamaha, Suzuki, Triumph, Ducati, KTM and Husqvarna.
New sponsorship emerged as well, after American Flat Track cut deals to bring races to first-rate venues and secured its TV license deal with NBC's sports network. The sport now attracts twice the sponsorship dollars as it did in 2016, the organization said.
Much of that is due to the NBCSN deal, Lock said, but a lot is also due to the replacement of tired, old motorcycle and car racing venues with modern horse racing venues.
Half of the season's races took place on horse racetracks, designed to showcase thoroughbred racing, near urban centers. These tracks tend to be newer and cleaner, and offer better amenities than traditional motorcycle racetracks, Lock said.
Next year will see more of the same. The 2018 season will begin with a race at Daytona International Speedway, but will also include new venues. Lock's group has just finalized a deal to hold the season finale at Canterbury Park, a horse track 20 miles outside of Minneapolis — hometown of Polaris Industries, the parent company of Indian Motorcycle.
American Flat Track will also hold a second summertime race at South Dakota's Buffalo Chip, the events center at the Sturgis Motorcycle Rally, the world's largest annual bike gathering. The 2017 AFT debut at Sturgis, with 15,000 fans, was the season's best-attended race.
The horse track events particularly, Lock said, are representative of AFT's intention to take flat track racing to the public, rather than holding races and hoping the public shows up.
"You have to go to the people, and not just to middle-aged white guys who ride motorcycles," Lock said. "The motorcycle industry is facing tremendous headwinds. But if you have a great, unique product, and present it properly, people will show up."
Twitter: @misterfleming
---
Your guide to our new economic reality.
Get our free business newsletter for insights and tips for getting by.
You may occasionally receive promotional content from the Los Angeles Times.