No longer able to ride, famed Hollywood photographer to auction his rare motorcycles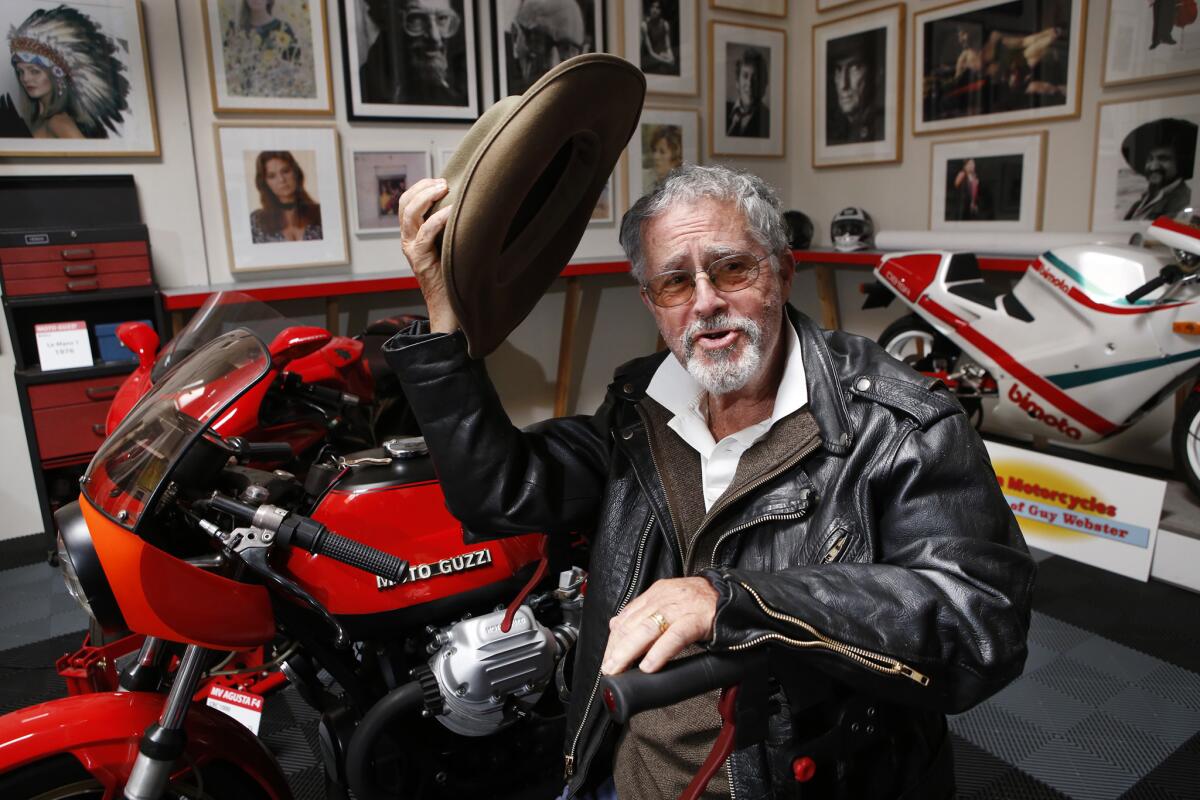 "Should I look more depressed?" the subject asked the photographer — and then laughed, raised his cowboy hat and whooped "Yeehaw!"
Guy Webster had reason to be grim. The famed photographer, motorcycle collector and bon vivant suffered a debilitating stroke two years ago. It left him unable to move his left arm and left leg, and denied him the principal pleasures of his life.
"I was 76 years old, and suddenly I had to quit golf, tennis, volleyball, skiing, dancing and photography," Webster said. "And motorcycling, which for me was the No. 1 passion."
It wasn't just the riding. Webster was a passionate buyer, amassing one of the finest collections of Italian motorcycles in the world.
Hobbled by the stroke, Webster began a systematic de-acquisition of the bikes he had spent decades pursuing. Motorcycles he had hunted down -- for which he'd paid top dollar, and after which other collectors had lusted for years -- went to new homes.
This weekend, he will follow the last of them to Las Vegas and watch them cross the auction block.
"I don't want them anymore," he said. "If I can't maintain them myself, if I can't ride them, I don't want to own them."
Webster grew up in Beverly Hills, the son of Paul Francis Webster, one of Hollywood's most successful songwriters. He studied at Whittier College and later at Art Center College of Design. Introduced to photography during a stint in the Army, he accepted a proposition from a buddy who was starting a record company and needed a house photographer.
The buddy was Lou Adler, the record company was Dunhill, and two of the first acts Webster shot were Barry McGuire ("Eve of Destruction") and The Mamas & The Papas ("California Dreamin'").
Webster shortly became the town's top photographer. He would go on to shoot many of the most iconic album covers of the 1960s and '70s — The Doors' debut release and Simon and Garfunkel's "Sounds of Silence" among them — and chronicle the careers of such recording artists as The Rolling Stones, The Beach Boys and The Byrds, and Hollywood stars including Jack Nicholson and Dennis Hopper.
"Within one year, I was making money," Webster said. "Within two years, I was rich. Suddenly I was a celebrity."
He turned his earnings into houses in Beverly Hills, Martha's Vineyard and Ojai. He married, and began a family. (He would raise three children with first wife Bettie Beal, and two with second and current wife, Leone James.) He took time off to live in Europe, buying a farmhouse in Spain and spending two years studying art in Florence, Italy.
That's where he fell in love with Italian motorcycles.
He already owned one, in Los Angeles, a 175cc MV Agusta Sport that he'd bought from a friend for $300. He had a Triumph, too, a 750cc Bonneville given to him by family friend Dean Martin.
But on the streets of Florence he saw fine Italian machines that were completely new to him — works of rolling art made by Gilera, Moto Rumi, FB Mondial, Benelli, Ceccato and Moto Morini, as well as bikes he'd never seen from Ducati, Moto Guzzi, MV Agusta and Laverda.
Ogling a shop near his flat, he told himself, "One day, I'll have all of these bikes in my own shop."
In Florence, he bought an MV Agusta, which he rode around Europe and shipped back to the U.S. Then he began to acquire.
"I decided I needed three or four different bikes, because they were good for different kinds of riding," he said. "But when I had 10, I decided to let myself go up to 20. Then I went up to 30."
Webster filled two garages with his motorcycles, some of which also occupied places of honor inside the house.
Eventually, he built a two-story barn on his property in Ojai. The collection grew to 150 as Webster bought, sold and traded increasingly rare machines.
As many as 400 bikes passed through his hands — a parade of mostly Italian classics that all together were worth $5 million or more, Webster said.
Retired wine entrepreneur Robb Talbott, who now operates the Moto Talbott Collection motorcycle museum in Carmel Valley, said he became faint when he first visited Webster's collection in 2003.
"There is no other museum that could have come close to it, for the quality, the artistic value of the bikes, and the rarity of the bikes," Talbott said."Some of them are one of only one in the world, or one of three in the world. In America, he was No. 1."
Webster confirmed that.
"There have been people in Italy with better collections – guys who are barons or counts or something," he said. "But mine was the best in the U.S., no doubt about that."
Webster, who for a period shot photographs for The Times, helped inspire the newspaper's former publisher Otis Chandler to begin acquiring motorcycles for a much-admired collection he established in Oxnard.
Later, five of Webster's most prized machines were included in the seminal 1998-99 Guggenheim Museum show, "The Art of the Motorcycle."
The Ojai collection was private, and Webster tried to keep it a secret from his mother, who like all parents in America had been horrified by Marlon Brando's biker bit in "The Wild One." Webster promised he would never ride a motorcycle.
When she visited the house, and looked inside the barn, Webster said, she burst into tears. He soothed her with a lie.
"I told her, 'Don't worry — I don't ride these things. I only collect them,'" Webster remembered.
Visitors came to Ojai from around the globe, like faithful pilgrims, on rare days when Webster opened his private collection to guests. On days it wasn't opened, several riders said, Webster could often be persuaded to give a private tour.
Webster kept shooting photographs, working out of a huge studio space in Venice. He helped establish the ground-breaking avant-garde magazine Wet. He divorced and married again. His signature dark mop of hair gave way to shorter, gray locks. He took to wearing a broad cowboy hat when he shot celebrities.
Webster's health troubles started in Washington, D.C. in 2015. Webster was touring his book "Big Shots," a coffee table compilation of his most famous photographs, when he experienced difficulty breathing. Suspecting pneumonia, he went to see a doctor — who immediately scheduled quadruple bypass heart surgery.
Webster died on the operating table, he said, but was brought back. When he awoke, he was paralyzed on his left side.
Told that he would never ride again, he soon began selling motorcycles from his collection.
Talbott got some of Webster's best, acquiring more than 20 bikes, among them a Mondial GP factory racer, a rare Capriolo Corso and a pair of Ceccatos.
Now, the rest of the famed collection is headed to auction. Over four days starting Thursday, at events held in Las Vegas, eight of Webster's finest will cross the block.
Bonhams will sell a 1988 Ducati Corsa race bike that may fetch $34,000, and a 2000 Ducati MH900E that may sell for $24,000, the auction house said. (A 1959 Ducati 175 F3 it sold in 2015 brought $89,000.)
The six motorcycles to be sold by Mecum are a rare Ducati, two Ceccatos, a pair of FB Mondials and three MV Agustas — including the first 175cc Webster bought in 1959 for $300.
The motorcycles could together return as much as $500,000. But Webster claimed indifference to those figures.
"I don't care about the money at this point," he said. "Those days are gone. I'm happy to know they'll go to good homes."
But not all of them will. Webster eventually admitted he is retaining a few bikes for himself.
Rising with difficulty and moving slowly forward with a walker, Webster led a pair of visitors into a small display space attached to his Ojai office.
There, set between walls with some of his most famous portraits — Mick Jagger and Keith Richard, Ronald and Nancy Reagan — were five motorcycles with which he could not bear to part.
One was the bike he named as his favorite of all time, a 1976 Moto Guzzi 850cc Le Mans 1. Behind it sat a rare 1988 Bimota 750cc Super Sport 750cc.
Posing between the motorcycles in a leather riding jacket he's worn since the 1960s, Webster smiled, mugged and waved his cowboy hat around, trying to be helpful for the photographer taking his picture.
"I should be so depressed, because life is really hard for me now," he said. "But I'm not. I've been a Buddhist all my life. It's part of the Buddhist thing, that you have to find beauty even in pain."
Three days a week, he said, Webster undergoes physical therapy, building up his strength and readying himself for the next chapter. He said he didn't mind being photographed with a walker. "Everyone my age uses a walker," he said. "The difference is, I'm going to get well."
His immediate goal, he said, was to get strong enough to play golf again.
He said the question of riding motorcycles again was "a conundrum."
"It'll take a couple of years, if it happens at all," he said. "But it drives me crazy that I can't ride. Seriously. I love motorcycles."
ALSO
Beef versus bikes: Proposed U.S. tariff threatens to hurt European motorcycle manufacturers
Mattel stock dives 16% after holiday sales disappoint
Comcast defies cord-cutting trend, while 'Sing' and 'Wizarding World' boost NBCUniversal's revenue